"I am a three-and-a-half-year survivor of Triple Negative Breast Cancer," states Deanna Cummaro of Wappingers Falls with pride. After experiencing chest pains in September of 2010 at age 40, doctors identified Deanna's cancer at a stage nearly past the point of treatment. Though the cancer was only found in one breast, she opted for a double mastectomy just days after the diagnosis, having claimed "my breasts aren't worth my life." Despite 16 rounds of chemotherapy, the removal of all breast tissue, and the stretching of her skin, the aftermath of Deanna Cummaro's cancer has been erased and replaced thanks to a local tattoo artist.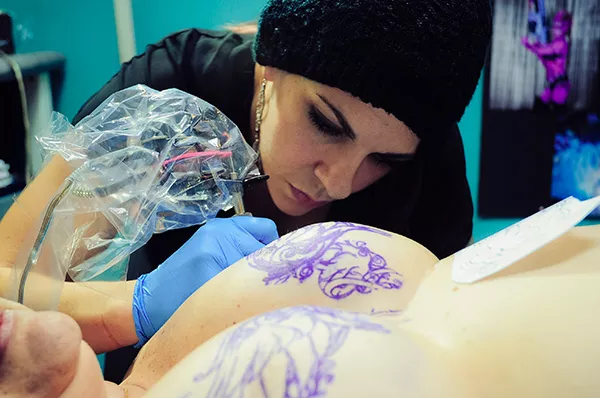 Kelly Torres works at
Black Cherry Tattoo Studios
in LaGrange. Torres's tattooing and body painting has led her to work closely with many women, including clients with Lupus, Lyme disease, and cancer survivors. After reading a series of news articles about breast cancer survivors who often no longer feel beautiful after going through mastectomies, Torres decided offer a free tattoo to a deserving woman. "It's an amazing way to give someone back a piece of them," she states. Using social media as a vehicle, Torres got the word out: Through a process of interviewing possible clients she would hide one woman's scars. Within four minutes of meeting Deanna Cummaro, Kelly Torres ended her search.
Even while undergoing chemo, Deanna Cummaro finished her degree at Dutchess Community College, continued to work at her job caring for developmentally disabled patients, and looked after her daughter as a single mother. She took part in her first Making Strides Walk 11 days out of mastectomies. "It was her positive outlook on the situation that struck me the most," said Torres, "She told me people would go up to her and actually tell her, 'You're too happy.'"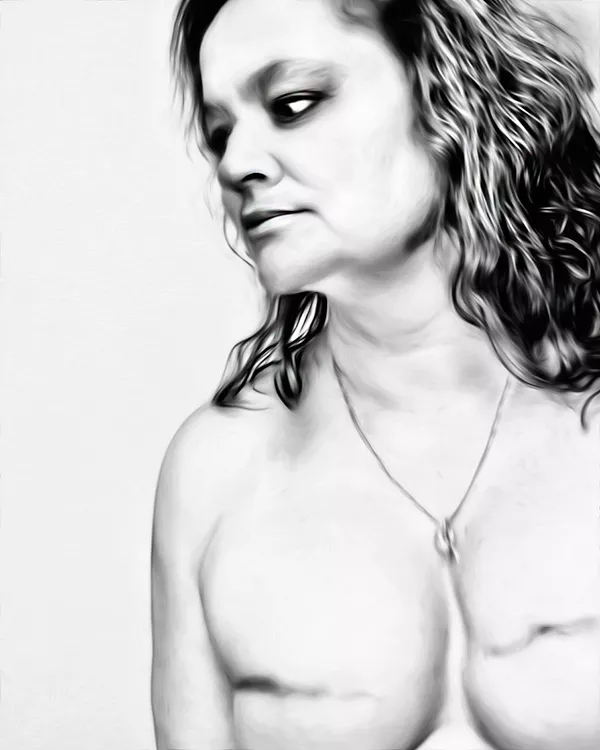 Tina Quatroni
Deanna before her tattoo
While Torres was delighted to begin tattooing her inspiring client, she admits she was nervous. Every bit of her Deanna's breast tissue was removed, which came as a shock to Kelly. Because of her lack of tissue, Deanna's skin was stretched in order to support implants. These drastic surgeries left her with a large scar, stretching across her chest from one armpit to the other.
"When offered the donation of a tattoo by Kelly it was so surreal," says Cummaro, "I was overwhelmed with emotion and went home and cried. She told me I could do whatever I wanted no matter how extensive." Integrated into the design are primarily pinks and purples, symbolizing breast cancer and survival. There are three ribbons—one on each breast with one in the center of her chest—representing Triple Negative Breast Cancer. Finally, there are two hearts with roots, referencing a piece of jewelry Deanna received during her treatment that she holds dear.

Tina Quatroni
The work in progress
Photographer Tina Quatroni of Pawling, also working free of charge, captured the whole process. With the pictures to prove it, there is practically no evidence of scarring. Torres used shadowing and coloring techniques not only to hide the scars, but to create symmetry despite skin damage from surgeries. The outline took two-and-a-half-hours and the coloring four hours—since Cummaro did not have much nerve regeneration in her chest, it was not a painful process. In addition, Torres says that Cummaro's skin took in the color beautifully, as if it were meant to be tattooed. There was no need to touch up the original art on her next visit. One of Torres's favorite parts of the work is that it's Cummaro's first and only tattoo, making the process all the more special.
"I walked away with the utmost respect and gratitude toward these beautiful women," says Cummaro, referring to Torres and Quatroni. "They made me feel a whole new level of beautiful and sexy since my mastectomies." Thanks to these artists, Deanna Cummaro's self-confidence has been rightfully restored to her positive outlook on life. Her story proves that adversity can be faced head on, battled fiercely, and conquered gracefully. "Dare to be different, embrace your journey with the originality it's supposed to have. There is always a positive in a negative, you just have to be open minded to see it."