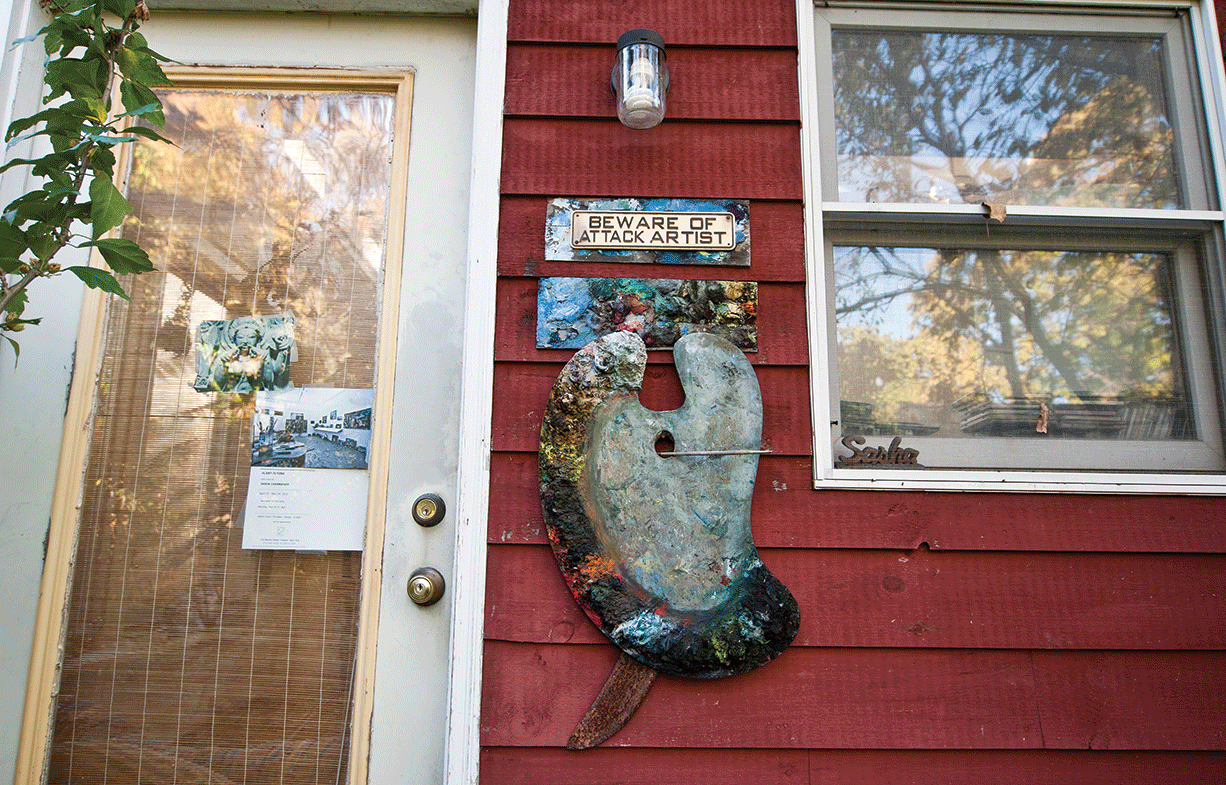 Deborah DeGraffenreid
The front of Sasha Chermayeff's studio.
They were the lucky ones.
On both sides of West Main Street in Catskill, the houses flooded during Hurricane Irene in late August 2011—but Philip Howie and Sasha Chermayeff's stayed dry because it sits on a high knoll above the bank where the Catskill and Kaaterskill Creeks intersect. In a light moment, after their yard disappeared beneath the rising water, Howie and his daughter, Olivia, kayaked above their garden.
"Then it got very grueling," says Chermayeff, a painter, and the wife of sculptor Howie. "None of us believed the water could get any higher—we just thought it was over."
But it did get higher, flooding Howie's studio and sparking days of frantic work, first to save the art, including a sculpture commission he had been working on intensely for a year, and then to clear the layer of mud left behind.
On September 1, an exhausted Howie and Chermayeff drove into Hudson for dinner, then headed home to bed. "I woke up because he was hiccupping in his sleep," Chermayeff says. "I said, 'Phil, wake up, you have the hiccups.' And all I got back was more hiccups. I was shaking him. Then I jumped up, flipped on the light, and looked at his face. I could see half of his face was dangling down. I could see his right arm and right leg were dangling down, and he was looking at his hand and leg with a question like, 'What's happening?' I saw the whole thing and realized he was having a stroke."
It turned out to be a massive stroke. Howie's right side was totally paralyzed, and he had lost his capacity for speech. Over the next four years, in his personal version of posthurricane rebuilding, the right-handed Howie painstakingly taught himself to sculpt and draw with his left hand and to speak again.
He has since produced dozens of sculptures—including a commissioned bust of Michael Pulitzer of the Pulitzer publishing dynasty—and thousands of drawings, held workshops at his studio, and had seven exhibitions. His latest runs through November 10 at the Rose Gallery in Hudson.
Far from being compromised, Howie's art has been enriched by his stroke, art experts who know him say. Whereas he once focused on capturing classical ideals of physical perfection, his sculptures and drawings now are infused with emotion.
Deborah DeGraffenreid
Philip Howie in his studio
"I was completely bowled over by his work," says Nancy Cobean, director of the Rose Gallery, who first saw Howie's drawings at the Spotty Dog bar and bookstore in Hudson, then later at his studio. "There's more passion in work of his done after the stroke. There's a whole different pool of inspiration that he draws from because of what he's gone through."
Chermayeff, daughter of famed graphic designer Ivan Chermayeff, also thinks her husband's work has changed for the better. "The stroke knocked something loose in him, in a good way," she says. "He's a little wilder now. There's more emotional content. I wouldn't wish him to be hurt, but I think it's incredible that his artwork has become something alive and new."
Or, as Howie puts it, "It's really not superficial. It's real stuff."
He started drawing three weeks into his six-week stint at Albany Medical Center, when the doctors still didn't know if he would ever walk or talk again. "He couldn't feel his right arm and leg," Chermayeff says. "You could see his soul was intact, but he was entirely unable to communicate."
Deborah DeGraffenreid
Sasha Chermayeff and Chai Wallah by the Catskill Creek in the backyard.
Though wobbly, his drawings illustrated that his vivid imagination was untouched. "I remember drawing flowers—the right hand was bold, and the left hand is really sketchy and trembling," Howie says. "I practiced thousands of drawings."
On his release from the hospital, Howie began physical, occupational, and speech therapy, which continues to this day. He left the hospital in a wheelchair but insisted on using a walker at home. At four months, he was walking unassisted, dragging his right leg. His speech took longer to return, and he has only recently begun to use full sentences. He has also become a fine left-handed harmonica player and a regular at Helsinki Hudson's Tuesday-night open mike, wowing audiences with his heartfelt blues renditions.
"I work really hard trying to get back what I used to be," Howie says. "I'm determined as hell—and stubborn, too."
Howie and Chermayeff, both 55, met in 1984 as grad students at the New York Studio School of Drawing, Painting and Sculpture in Manhattan's West Village. They moved into an East Fourth Street apartment that same year, and each rented a separate studio nearby. After marrying in 1992, they decided that buying a house would be a wiser use of their money. They fell for an 1870s Federal-style three-bedroom on three acres—plenty of space to build two wood-frame studios (Chermayeff's is much farther from the riverbank and didn't flood). They moved upstate in 1993 with their one-year-old son, Phineas, now 23; daughter Olivia, 20, was born two years later. A decade ago, they added a modern open living area and a downstairs master bedroom and bath, doubling the house's square footage to about 1,800.
Deborah DeGraffenreid
Sasha Chermayeff's painting studio.
Their art inhabits nearly every horizontal and vertical surface. On a counter near the front door is a collection of Howie's classical sculptures with arms outstretched; a series of Chermayeff's small landscapes, many of scenes just outside the windows, hangs above one stairwell. Among eclectic touches, textiles from around the world adorn the furniture, and a cowhide rug shares floor space with a Navajo rug. In the upstairs bathroom are colorful tiles sculpted, fired, glazed, and laid by Howie. Small, comical men's faces that he sculpted serve as andirons for the living-room stove.
He still chips in around the house as much as he can, taking the couple's rescue hound, Chai, for long walks and mowing the lawn, which doubles as a sculpture garden for his work, complete with an eight-foot-long reclining figure he dubbed Big Lady. He spends most of each day in his studio drawing, sculpting, and making molds to cast his sculptures in bronze, all of which takes much longer now that he has full use of only one hand. To help compensate for lost income, Chermayeff teaches yoga.
In the first few years after his stroke, Howie spent hours sketching the regulars at the Spotty Dog, where Chermayeff would drop him off while she ran errands. With their exaggerated yet naturalistic features, those striking drawings culminated in three shows, at the Sideshow Gallery in Brooklyn, the Thompson Giroux Gallery in Chatham, and the Spotty Dog, where they still hang.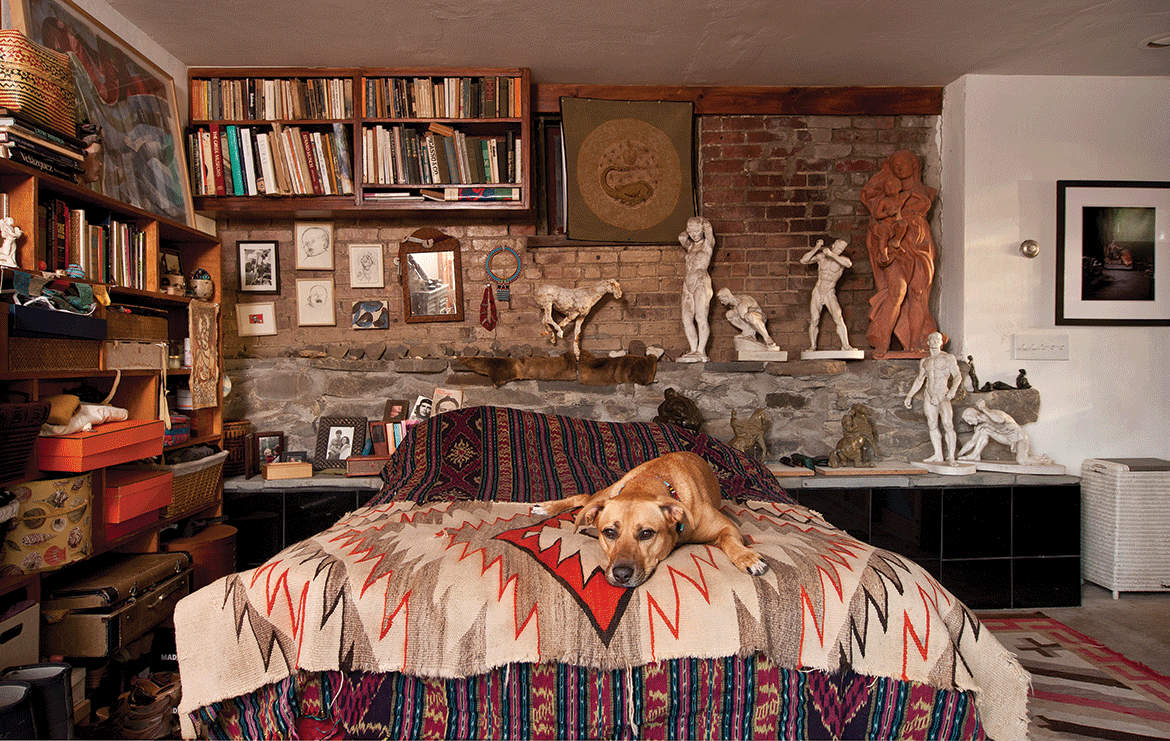 Deborah DeGraffenreid
Chai Wallah in the bedroom.
"The lines were barely in control in the early drawings, but even they had a beautiful quality," says Alan Coon, co-owner of the Spotty Dog. "This was a really safe place for him to spend time and draw and focus on his recovery."
Along with the Pulitzer commission, one of Howie's proudest recent moments was an invitation to submit work for a show last summer at the renowned Naumkeag estate in Stockbridge, Mass. "He's really inspiring," says Margaret Moulton, an organizer of the show. "He just works so hard."
Howie says he is grateful for this second chance, and it shows. "He was somber before," says Coon, who first met Howie a dozen years ago. "He smiles a lot more now. I'll be at work on a day like today, and he'll be on the bench out front playing his harmonica. It's beautiful."