Eight Months of Salad
I am feeling proud, bordering on smug, about the salad I am eating this month. My fall crop of trout lettuce—so named for its showy pattern of burgundy flecks on bright green leaves—came from seed I harvested several months ago. I'd grown a spring crop of trout lettuce from seed that I bought from the
Hudson Valley Seed Library
(HVSL).
When my spring crop of trout lettuce produced little white seeds in the heat of summer, I shook the stalks into a bag to capture the seeds and then, on September 1, I sowed them for a fall crop. So there've been two generations of the beautiful speckled leaves this year, which feels like a coup that nature and I have pulled off, given the merciless weather. I interplanted arugula with the lettuce and theorize, perhaps naively, that that spicy crop has helped deter the resident woodchuck who dashed my salad dreams in the past.
Whereas I am new to the serious study of extending the window of greens growing, Jaimee Uhlenbrock, a retired SUNY art history professor, has been doing this for years, at home and in the New Paltz Gardens for Nutrition. Most years, she harvests lettuce for her Thanksgiving meal. She harvests spinach until almost that late, and kale even later. As secretary for the long-standing community garden, she sends out periodic encouragement to garden members to start earlier in the spring and grow later in the fall.
Her secrets include raised beds filled with good rich fluffy soil and the unconventional use of a wood plank to keep seeds in place and moist until they germinate. (How they do so without light, I don't know—but it works like gangbusters, people—I've seen it.) She grows many different heirloom and modern hybrid varieties this way.
"Before I used this method, I had such uneven germination," she says. "The soil would dry out too fast or the seed and soil would wash away too easily." Now she sows swaths of lettuce and kale seed, covers them lightly with soil, pats them down, waters with the lightest touch, and covers with the board. As soon as she can see evidence of germination above the soil, the board comes off.

In the springtime, she plants lettuce and other greens just as soon as the soil can be worked in March—and this where raised beds give her an advantage, because the elevated soil in raised beds warms earlier than field soil. Lettuce seed is slower to germinate in very early spring than in the warm temps of summer. Uhlenbrock sows every two weeks until late September. By the time of Hurricanes Irene and Lee, which decimated the gardens, she was into her 15th planting. All the gourmet salad eating she and her partner Bob had done up to that point was a consolation.
What Say the Producers?
For fall greens, seed sowing timing is key. The HVSL's Doug Muller points out a common misconception about fall greens growing. "To have fall or winter greens, you have to sow them in September," he says. "Planting in October will give you baby greens only. If you plant in November, you won't see any action at all until February. They'll just sit there—that's fine if you want really early greens in March or April—but some people are disappointed when they read the packet and it says '50 days to maturity.' That's 50 days in the ideal conditions of spring, not the waning light and temperatures of fall."
Muller and his partner Ken Greene grow greens in the field late into fall, then turn their attention to growing especially hardy greens like mustard and mache (pronounced "mosh") in their unheated hoop house (plastic-sided greenhouse). Greene wishes that mustard greens had more appeal. "I think it's off-putting to some Americans, too suggestive of condiments. For a while I was marketing mustard greens as 'Spicy Library Lettuce,' and sales improved! We put young leaves in sandwiches and salads … give it a try—we love it."
I asked Greene what they eat for greens in January and February, when their unheated hoop house greens start to look weary (in March, the greens start to perk up again). He says, "We are so lucky to have winter markets and CSAs like Winter Sun in our region, where we can buy greens and support our fellow farmers."
One of those compadres is Jay Armour of
Four Winds Farm
in Gardiner. He has his own approach to greens season extension: digging up kale and Swiss chard plants in October and transplanting them to an unheated hoop house. He picks greens until March or April when he needs the space for the new season's crops. And then he goes one step further: "This past year we moved the kale back outside in early April, so the plants would produce seed, which I collected and gave to the Hudson Valley Seed Library," he says. It's all very Circle of Life.
You may not be ready to invest in a big plastic hoop house yet, but what can you do on a home scale?
Stick with the Outdoors
Many of your hardier greens will overwinter and reseed if you don't pull them out in the fall. Then there's extremely late seeding, helped along with a little cover. Commenter Eileen Gunning on the HVSL blog says, "Every year, as a sort of ritual, I plant spinach seeds on Thanksgiving day. Yes, the ground is often frozen. I cover with a straw mulch. In early February, or whenever the snow starts to melt, I have a beautiful spinach harvest. In the 16 years I have been doing this, only one year—when we had only ice, no snow—did I not have spinach."
Row Covers
Floating row covers like Reemay are cloth products that "float" above the crops. Because they are so lightweight, they don't need wire support to keep from crushing plants, you can leave them on all the time, and they allow light and water through their pores. Fabric row covers provide about four degrees of frost protection, which is often enough to extend the life of greens well past several light frosts in the fall and to protect crops early in the spring. Row covers are also often used as a barrier to insect predation.
Low Tunnels
At the HVSL, Greene and Muller started out simply bending heavy-gauge wire into supports that they would throw sheets over, being sure to pull them off the coverings in the morning. They graduated to using low tunnels made of clear greenhouse plastic with sides that roll up. Plastic gives them many more degrees of frost protection than floating row covers or sheets. "Conduit is cheap," Greene says, "so we make our own hoops with a bending tool."
Cold Frames
Cold frames insulate crops from too-cold air and soil temperatures and provide wind protection. There's a great plan for a simple cold frame on the HVSL site, filed under "Seed Starting 101." For about $120 in materials, you can build a long-lasting structure that you can use for seed starting but also to grow spinach, tatsoi, scallions, and mache through the winter.
Doug Muller says that when winter looms, "this stops many gardeners in their tracks, shifting their attention from sowing and transplanting and cultivating to harvesting and getting inside—quick. The wise gardener sees this impulse, honors it, and then—despite the increasing dark and cold—keeps on sowing."
Larry Decker
In October, Jay Armour of Four Winds Farm in Gardiner transplants kale and swiss chard plants from the field into an unheated greenhouse.
Larry Decker
Floating row cover cloth used in conjunction with bent conduit pipe at the Hudson Valley Seed Library.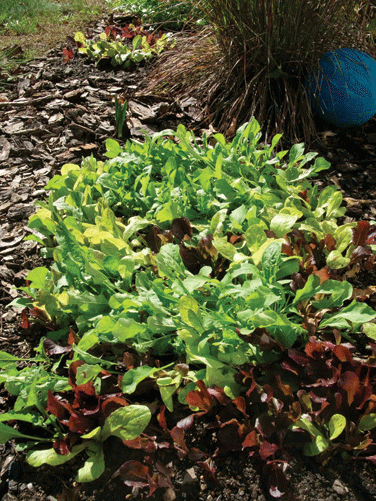 Larry Decker
Plant lettuce seed in late August or early September for salads in November.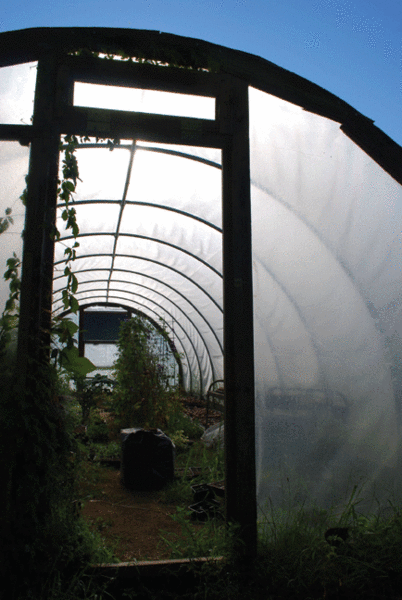 Larry Decker
Hardy greens can be grown in unheated hoop houses (plastic greenhouses) well into the winter.