Personal fitness is often viewed as a solitary endeavor, and with "personal" the first word in the phrase, it's no wonder. But more and more people are finding out that improving one's own level of fitness doesn't have to be a road traveled alone.
Judy Burns is the group fitness coordinator at the YMCA in Kingston, and for the past three she's seen interest in working out in a group setting skyrocket. "The group fitness program, little by little, went from classes of five people to 50," she says. "There really hasn't been a focus on group fitness until recently."
As the YMCA has begun to shift its focus toward seeing to the interests of those who prefer to work out in a group atmosphere, its offerings have expanded as well. Among the more popular classes offered are spinning, Pilates, yoga, and Zumba, a form of Latin-flavored dance fitness that saw as many as 50 participants in each of the YMCA's pair of outdoor summer sessions, held on the lawn outside the building facing Broadway in midtown Kingston. "We enjoyed it immensely," Burns says. "All the cars driving by were beeping at us."
Perspiration Inspiration
For neophytes, the notion of working out for the first time in front of a group might be intimidating. But supporters of group fitness say the experience can actually be inspiring. That's a group that doesn't just include trainers, but also enthusiasts.
Dave Nelson, a Port Ewen health insurance worker, has been taking group classes at the YMCA for the past three years, including spinning, barbell, and a fitness boot camp that focuses on strength and cardio exercises. "Having people in a group setting, everybody feeds upon each other's energy," says Nelson. "Everybody has the same goal. You look forward to going there every day. You can see your friends."
Nelson wasn't always this comfortable with the idea of group fitness, preferring to spend his time doing solitary nautilus workout routines. But it wasn't working out for him. "I was going to the gym on a not very regular basis," he says. "I'd find myself losing interest and having no motivation. You just burn out." Nelson's girlfriend helped him make the transition from going it alone to being part of a group. While he entered his first group class with his own set of fears and preconceptions, he came to find something far more inviting. "I had a goal in mind, and when I first got there, I couldn't do a lot of what I'm doing now," Nelson says. "But the instructors told me to go at the pace that's comfortable for me and work up to a certain level of fitness over time."
Furthermore, Nelson's anxiety over being the new kid in town was assuaged by the other people in the room. After all, they'd all been in the same boat at one time. It's a feeling Nelson has held with him as he's now in the position of being welcoming to people who are new to group fitness. "When I first got here people encouraged me," he says. "And we're all here for the same purpose. You sort of guide newcomers, and I've been here long enough that I can pass on some barbell skills or spinning skills."
Burns sees the look of intimidation on new faces pretty much every day of the week. Usually, she'll see a complete turnaround by the end of the first group workout. "Most people have that fear of walking into that room," she says. "I let them know that nobody is looking at you. There's no time to look at anybody else."
From Gun-shy to Gun Show
Acceptance, or fear of finding a lack thereof, is just one of the reasons the experts say people are often a bit gun-shy about starting a fitness regime that will put them in among a group of people.
Andrea Pastorella, founder of Movita Dance Theater, teaches modern dance and core strengthening at Woodstock's Mountain View Studio. She says the social benefits of group fitness are inherent in dance, and are encouraged in all the classes she teaches.
"Sometimes when you walk into a room full of people, you're very exposed in dance, and even in exercise," she says. "You look to see who's there, what they are wearing, how good they are. My intention is to bring people down to the same level, which is the floor, and start from there."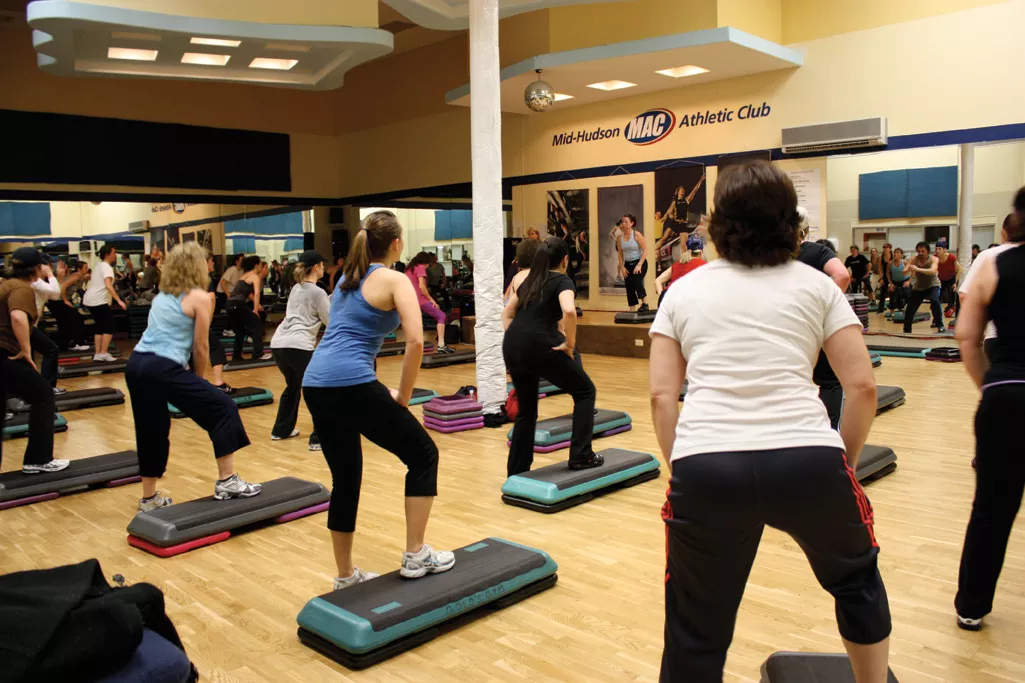 Step class at Mac Fitness in Kingston. Mac Fitness offers group exercise classes at its route 9W location in Kingston.