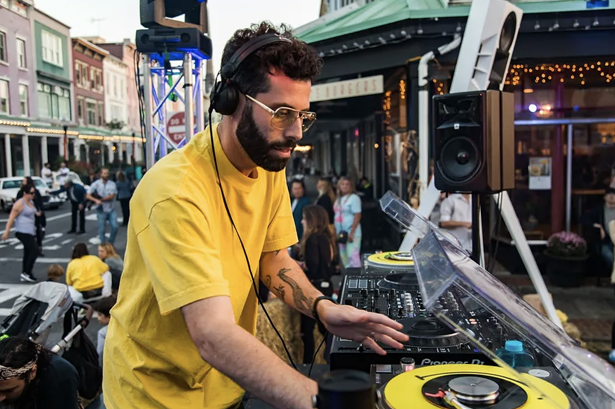 Photos by Steph Mossey
Eli Goldstein of Soul Clap
Every autumn, the Hudson Valley comes alive with a jam-packed calendar of cultural events that invite local residents and visitors alike to get outside in the crisp autumn air and enjoy a heaping helping of community. In just five years since StockadeFaire launched in uptown Kingston, it's become a beloved annual block party that takes over Wall & North Front Streets and kicks off the autumn season in high-stepping style.
Spearheaded by local business owner Sean B. Nutley of bluecashew and Zev Eisenberg of Hudson Modern plus a dedicated group of uptown businesses, StockadeFaire brings together a curated list of vendors and entertainment for a one-day, one-stop-shop retail extravaganza with a focus on makers and small shops set to a backdrop of danceable music. "We have many new neighbors and a lot of them moved here during lockdown," says Nutley. "We want to show them why Kingston is a fun and vibrant place to live, work, shop, socialize, and play."

This year's fair takes place on Saturday, October 1 and is shaping up to be bigger and dancier than ever, thanks to a new partnership with House of Yes!. The internationally recognized, performance-fueled Bushwick nightclub was voted the #2 "Best Things to do in the World" by Time Out New York and is known for producing exceptional nightlife experiences, dance parties, cabaret shows, and theatrical spectacles that defy categorization and transcend genre.

As always, the event will feature a strong street vendor scene comprised of a diverse array of Hudson Valley makers. The list of makers has been carefully curated by Maya Lekach, Director of Events for Phoenicia Flea, a nomadic market of the region's best makers and merchants in categories including handcrafted food, drink, jewelry, apparel, accessories, apothecary, housewares, furnishings, vintage, and more.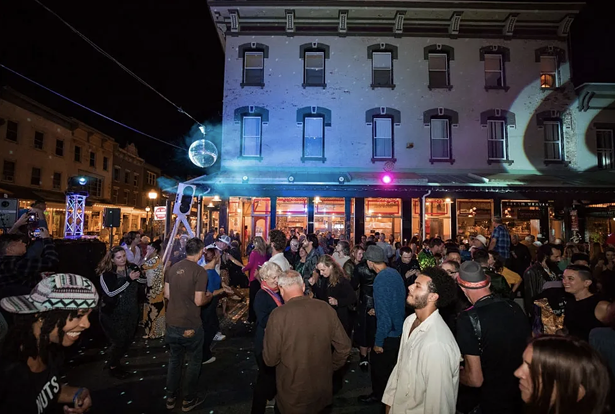 The intersection of John and Wall streets will host the RS/VP (Really Secret/Very Private) Kingston Stage by Hotel Kinsley. Founded by singer/songwriter Al Olender and Levon Helm Studios' Drew Frankel, RS/VP presents free monthly events at various venues with 100 percent of all proceeds passed directly to the artists, designers, and sound engineers. The stage's lineup includes Wild Pink, Matt Sucich, Kira Metcalf, Kendra McKinley, Shayna Blass, and Katie Martucci.
Over at the DJs for Climate Action Stage, you can dance your face off to sets from Tinkerism, ROBERT, Yoj Live, Greg Paulus Trio Live, Laura Lynn, Wolf + Lamb, and Eli from Soul Clap. The stage will be closed out by Hudson-based DJ Tedd Patterson, who spins regularly at New York City clubs Battle Hymn and House Of Yes!, and whose signature sound incorporates an intoxicating blend of contemporary and classic dance music styles. The stage will also host the House of Yes! performance, as well as go go dancers from the artistic team at Le Shag, with sound by White Rabbit Audio and lighting design by Light Hearted Lighting.

As if all that weren't enough, the event will also bring back "Classic Cruisn'" a vintage car show curated by the crew at Pugsly's barbershop that's ever-popular with dads and kiddos alike.

"Nothing brings a more diverse crowd together in celebration like a good old-fashioned street party, says Eisenberg. "Building and strengthening community is something we can all use more of these days."


StockadeFaire 2022: An Uptown Autumn Street Fair will take place Saturday, October 1 from 11am -11pm at Wall and North Front streets in Uptown Kingston. For more information, visit Stockadefaire.com.