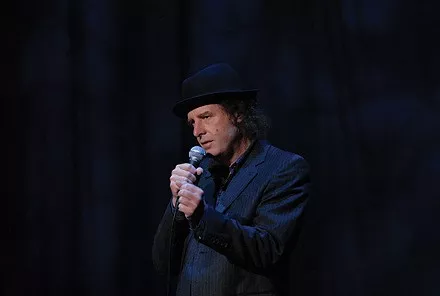 In an era of topical and sometimes unkind humor, Steven Wright stands out in standup. His 1980s HBO special is as hilarious as ever, not something that can be said of a great many comics. He's a Johnny Carson Comedy Legend winner, an Emmy recipient, an Oscar winner—and a delightfully regular nice guy.
"I made up a bunch of rules for myself when I started. I didn't want to swear; I didn't want to do jokes at people's expense. Part of it was that I wanted to get on the 'Tonight Show' and I didn't want to build up a lot of material I couldn't do on there," Wright says. "Part of it is that I just wasn't raised to get up in front of a big bunch of people and swear. I don't think that way about other comedians; it doesn't bother me. But I have noticed that if you swear, the laugh automatically gets bigger, and I wanted to get that laugh without the swear."
And get that laugh he does, a second or so after the audience has had time to parse out lines like "All those who believe in psychokinesis, raise my hand"; "A fool and his money are soon partying"; and "When everything is coming your way, you're in the wrong lane." Wright's humor is edgy without the least whiff of vulgarity, sly without ever punching down. His target is reality itself.
"It's all about the little everyday things," Wright says. "Twisting them around. One of my biggest influences was George Carlin; we do it very differently, but he too liked to talk about the everyday stuff. I knew from the beginning I didn't want to talk about the giant things. I didn't want to talk about the president, I wanted to talk about coasters and the speed of light."
His "Tonight Show" goal has long since been repeatedly reached; his influence on younger comics is acknowledged by the New York Times. His latest CD, I Still Have a Pony, has been nominated for a Grammy, as was I Have a Pony back in 1995. Lately he's done a lot of collaborative work with another delightfully dry and deliciously dark mind, Louis CK, appearing in and co-producing the award-winning FX series "Louie" and nailing a role as a mopey barfly on CK's surprise Web series, "Horace and Pete," which is available from CK's website and avidly reposted on YouTube.
"Isn't it amazing?" he says of the Web series, set in an urban barroom. "Louie is really something else. The actors, the seriousness, the humor; he wanted to do something more like a play." "Horace and Pete" attracted five-star collaborators like Edie Falco and Jessica Lange, and Wright enjoyed himself to no end. "Steve Buscemi, I love him, he's amazing. And Alan Alda is incredible. He's such a completely regular guy. He just turned 80—you'll be stunned at the words he says on our show."
His standup routine evolves constantly, while still retaining favorite lines from his entire body of work. "It's like a giant puzzle," he says of assembling just the right little pieces. "They're all short bits but I can't do it in any old order. There's a rhythm to it. It's amazing how if you even just reverse the order of two things, it can throw it off or be a huge improvement. It's 80 minutes polished by trial and error, all based on the laugh—that's the Geiger counter. Some of it I still have no idea why it works the way it does and I don't care."
Hudson Valley fans can, then, expect a mix of familiar and fresh. "It's like a giant painting that's never finished, a surrealist, abstract mixture of insanity. And I don't want to give away the ending—but when it's over, I leave."
Steven Wright performs at UPAC in Kingston on Saturday, April 22 at 8pm. Tickets are $55, $41, and $31. (845) 339-6088; Bardavon.org.