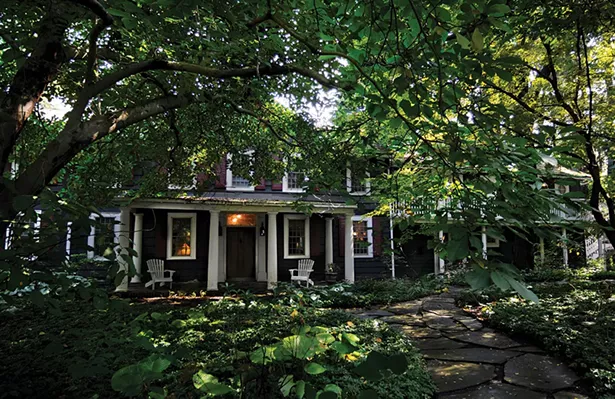 The rear yard at Buttermilk Inn
Sitting on banks of the Hudson River, Buttermilk Falls Inn and Spa in Milton offers all these attractions in one place. Combining historic elegance, farmhouse charm, and sophisticated modern amenities, the B&B is the ultimate Hudson Valley staycation destination. The 75-acre property boasts cascading lawns, woodlands, and winding streams; plus a working farm and animal sanctuary; a full-service eco spa, and a destination restaurant.
Owner Bob Pollock originally envisioned keeping the Colonial-era estate, breathtaking river views, and waterfall to himself, but life happened. "I do realize the contradiction," Pollock told Visit Vortex in 2014. "I purchased the place across the street to keep strangers away, but now I happily welcome 54 guests at a time. Interesting how things work out." (He still spends every weekend there.)
This month, with the Winter Welcome Package, when you book two nights between Sunday and Thursday, get a third night free. The winter special offers a cozy room with a working fireplace; farm-fresh country breakfast made with produce, eggs, and honey sourced steps away from Buttermilk's own Millstone Farm; and a charming afternoon tea service with baked goodies made from scratch. Weekday winter guests also have special access to the spa, which is normally booked out two months in advance. Make use of the pool, sauna, and steam room, or book a luxurious treatment, and feel the stress melt away.
In an era where "farm-to-table" is an ever-more prevalent buzzword, Buttermilk's onsite restaurant, Henry's at the Farm, takes the concept to a new level. Sourcing the majority of their ingredients onsite, the restaurant offers an authentic taste of place in a homey, wood-appointed setting—the perfect way to end a day of adventuring.

From Left to Right: The Grand Laurel guest room; Afternoon tea service; Buttermilk Barn perfect for special events.
General Manager CJ Hartwell-Kelly was a SUNY New Paltz student when she first took the job of part-time innkeeper at Buttermilk Falls. Now, 13 years later, she finds herself presiding over the property's wide array of offerings. At the moment, she's overseeing spa expansions and a website makeover, welcoming couples on "babymoons," and looking ahead to four-course wine dinners and llama shearing. (The wool gets made into gift shop items.)
"This is as far as it gets from a cookie-cutter corporate property," Hartwell-Kelly says, "Bob's vision—renewable energy, the spa, on-site farm-to-table, rescue animals—it's been piecemeal, but he's been at the forefront of quintessential Hudson Valley stuff. Visionaries often need translators, and that's me."
So, go get a closer look at the vision. Do lunch at Henry's, walk to the waterfall, palaver with a peacock, or go all in and treat yourself to a three-night staycation. There's nothing quite so Hudson Valley as early spring light on the river, a freight train rumbling by at a little distance—and we can't let the tourists eat all the lobster ravioli. Buttermilkfallsinn.com