According to a March 24 article in the Guardian, 1.7 billion people, or roughly 20 percent of the global population, are under COVID-related lockdown. While mandated business closures and stay-at-home orders have put many—especially service industry employees—out of work, millions of office workers have traded their cubicles and daily commutes for an unexpected new reality: working from home.
While many of us spent the first several weeks of lockdown working from the couch in our pajamas, we are now collectively settling into the fact that this may be our new reality for the indefinite future. With this reckoning comes a reassessment of our work setup.
"The word 'office' is so open-ended right now," says Jessica Williams, founder of Hendley & Co., a Newburgh-based interior design firm and home goods retailer. "It's not a physical space, it's wherever your computer or phone is." With tools and technology from WiFi to Zoom to Slack, modern companies are better equipped than ever before to make this impromptu transition to remote workspaces.
Still, the lack of a formal office environment combined with the distractions of domestic life—spouse, kids, laundry—can make it harder for people to shift into a productive work mode. (Not to mention the ever-stressful news cycle.) We talked with several Hudson Valley designers and architects, all of whom are currently working from home, to get some insight into how they are thinking about home offices.
Striving for Efficiency
"A home office is a departure from the rest of rooms in your house," Williams says. "It's less about being 100 percent comfortable and cozy. It needs to feel uplifting, but the goal is productivity." With this in mind, when Hendley & Co. designs a home office for a client, the first question they ask is: What is the nature of the work you're doing?
Although you are not embarking on a major construction or redesign project, you can start by asking yourself the same. Do you have frequent video conferences? Do you need a silent space for reading or writing? Do you need ample shelves or surface area to lay out physical materials? Or perhaps it's some combination of the above. If you're living with one or more working adults, these are questions everyone should answer in order to find a communal solution.
Hendley & Co
An Air B&B space in Philadelphia that Hendley & Co designed, meant for the traveling professional.
"If you are going to be working all day, five days a week, the best-case scenario is if you can find a dedicated space for yourself," says Maryline Damour, cofounder of design firm Damour Drake. Kate Cummings of Freestyle Restyle adds, "If you can keep your desk set up and not have to break it down every day, it's a lot easier to get started and jump in in the morning."
Aside from the luxury of privacy, the designers all agreed on one thing: exposure to natural light is a major plus. "If you have the opportunity to choose what space will be your home office, natural light lets you focus more and keep track of the day," Williams says.
If your house or apartment has a spare bedroom, this is the most obvious candidate for a home office conversion or a shared quiet space if there are several of you. No guest room? Fret not, there are still lots of options. "All rules are out the window right now in terms of spaces being defined by their traditional functions," says Cummings.
Photo by Rob Karosis courtesy of Crisp Architects
James Crisp says, "Often our clients insist on a great view from their home office while others find a view too distracting. There is no 'right' solution to a personal workspace except one that helps you get the job done."
James Crisp, founder of Crisp Architects is sheltering in place with his wife, their three college-aged children, and two of their friends in a four-bedroom home in Dutchess County. "It's all about finding that comfortable spot where you personally can work," Crisp says. To create his own private workspace, he converted the home gym in the garage into an office. "I had an old drafting board in there already, so I brought home an office chair and a couple of monitors. In the morning, I just walk out with my laptop and start the day," he says. When it's warm enough, Crisp heads out to the porch to work for some fresh air and sunshine. "With my phone, earbuds, and a laptop, the world is at my fingertips," he says.
Several designers pointed to formal dining rooms as potential office spaces. Cummings, who is sheltering in place with two others, has converted her dining table into the "communal library," a dedicated quiet coworking space, where you can expect to be shhh'd! for talking. Other potential areas for work stations include four-season porches, breakfast nooks, ample second-floor landings, extra-wide hallways, or basements.
Aside from revisioning the function of our spaces, we can be creative about repurposing furniture. In the time of coronavirus, anything flies. As Cummings suggests, "shop your house."
This is the moment when bar carts become standing desks, ottomans become office chairs, and dining rooms become board rooms. "We have labels on everything. Now is the time to shake it up and rethink what these objects are," Williams says. "Maybe that means taking the console table from the foyer and setting it up behind the couch in the living room with stools. Or if you have two dining tables—a breakfast nook and formal dining room—you might designate one a multi-person workstation, bring all your power packs in there, and get everyone set up."
An Integrated Workplace
Wherever your setup ends up being, Williams recommends adding both personal and professional touches to round out your space and boost your mental health and productivity. "One way to take the temporary part of this away is to really set it up like your office. Have your desktop materials—books, magazines, pens, Post-its," she says. "And even though we want to be productive, it's also about keeping our stress levels low. What are those little elements that ease you or calm you? Music, lighting a candle, or for me, having my dog in the room and a bowl of snacks nearby. Little elements to make you feel happy and productive."
The flip-side: if you've set up shop in a communal space such as a living room or at the dining table, you need to break down your station and return the space to its normal function at the end of the work day. Damour points out that dining rooms do well in this regard. "They often have bookshelves, sideboards, hutches—closed storage. You can have the whole office still there, just behind closed doors," she says. Williams adds, "We're used to leaving work at the office, and however you left it, you revisit it the next morning. But because the office is constantly there, we have to get into some new rituals."
If you can't set up a single space that fills all the functions you need out of a home office, perhaps you can cobble together a multi-station situation, either just for yourself or in rotation with the other members of your household. "If you have the luxury to create a couple different areas in the house, I would, because change is good," says Williams. "It all depends on what your agenda is for the day."
And if you are desperate to find that quiet corner just for you, Damour suggests taking a better look at your closets. "If you have a standard three-foot-wide closet but it's deeper than average, say three or four feet, you can put a desk in there with filing cabinets underneath and floating shelves," she says. For this relatively simple DIY project, she recommends going to the hardware store and buying a two-inch slab of smooth wood, such as beech, to use for both the shelves and desk. (Fun fact: This is not the only thing you can do with a deep closet. In the 2019 Kingston Design Showhouse, which Damour created and organizes, she turned a closet into a single-person sauna for the meditation/yoga room she designed.)
The benefit of a closet office? "At the end of the day, you can close the door and never see it," Damour says. "It's one thing to work from home. It's another thing when you're done to see the instruments of work. If you don't give yourself a visual break, a lot of times you feel guilty because you could keep working."
Healthy Habits
Aside from establishing a physical workstation, Damour's point calls into focus the other major challenge of working from home: establishing healthy boundaries, attitudes, and routines around both starting and stopping work.
As far as activating goes, Williams shares a fun, simple tip from her past experience working from home: "Obviously getting dressed is important, but there was really something about putting my shoes on that took me from house mode to 'I'm on a mission.'"
Reset Your Home
A home office designed by Simone Eisold at Reset Your Home, in a house she staged for sale.
But for many, starting is not the issue, stopping is. Damour recalls that when she first began working from home over a decade ago, she had a steep learning curve. "Because people knew I was at home, they would call me all the time rather than sending me an email or waiting until the next day," she says. "Very quickly I was working 15 to 16 hours a day because I would answer the phone when it rang. So I had to give myself a cut off and let everyone know my schedule."
For Simone Eisold of Rest Your Home, establishing routines can be a helpful way to simulate your office experience and maintain a healthy home/work balance. Ask yourself what things you normally do at the start of the workday—say hello to your boss? Write a to-do list? Make a coffee? Find a way to recreate these daily rituals, says Eisold, who is offering pro bono home office design consults by video call.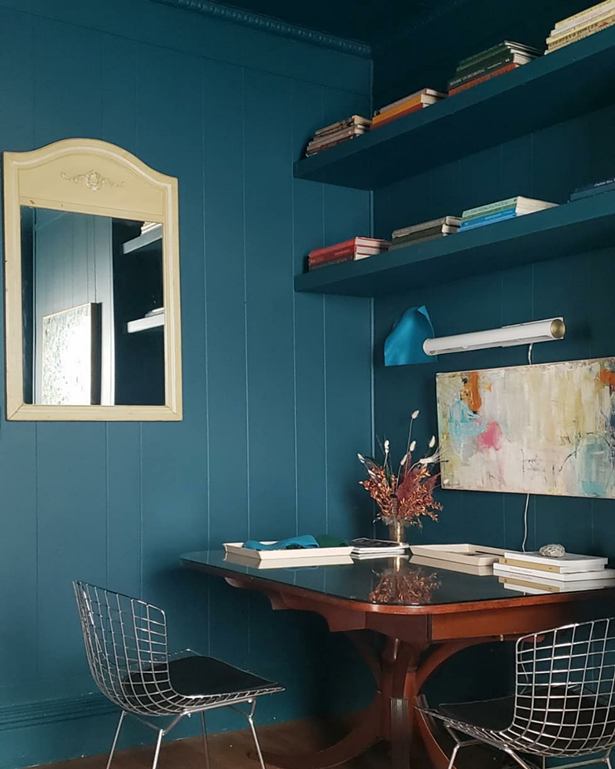 Damour Drake
A home office Maryline Damour of Damour Drake recently set up for herself in the building that housed the 2018 Kingston Design Showroom, which she owns with her partner.
She also suggests bookending the workday with a walk, a faux commute, if you will, to clearly demarcate the start and stop of working hours. "As hard as it is to separate, you really need to train your brain," Eisold says. "Maybe at the end of the day you sign off, take a walk around the block, then come home and change into your casual clothes. There is closure."
Perhaps the lessons, discipline, and boundaries learned in this time will stay with us post-pandemic. "The positive aspect of all of this is it's making you reflect on how you're treating yourself day-to-day," Williams says. "It's a good mental reset."
Fast-Forward
Between 2005 and 2017, the number of people working remotely in the US increased by 159 percent, and this upward trend shows no sign of stopping. Last year, freelancer platform Upwork published their third annual Future Workforce Report, which projected that by 2028, 73 percent of all teams would have remote workers.
With these global lockdown orders forcing millions to work from home, we've proven the viability of a remote workforce perhaps far before we were ready culturally to make the shift. When the COVID-19 curve finally enters its denouement and companies get ready to return to "normal," employers, CEOs, and CFOs will almost certainly be reassessing the overhead costs associated with office space through a new lens. Working from home may just turn out to be the new normal.