Courtesy of Sundance Film Festival
Columbia County stands in for the South of France in "The Climb."
When the
Sundance Film Festival 2020
kicks off in Utah next month, the Hudson Valley will most definitely be in the house. Five films with strong local ties are festival-bound. "In the 20 years that we have been operating, many regional films have been selected and prospered, but never this many at one time," says Hudson Valley Film Commission founder and director Laurent Rejto. "It's a huge honor, and considering there are more than 15,000 entries, a phenomenal feat. We hope it will help many of the filmmakers find distribution, and that it will attract many more low-budget indie productions to our region."
The Climb
Up for consideration in the festival's Spotlight category is
The Climb
, filmed largely in Columbia County in 2018. The film won the Coup de Coeur prize in Cannes and was a hit in Telluride and Toronto. It's the tale of buddies Kyle and Mike as they embark long bike ride in the south of France just before Kyle is about to be married. Early in the ride, Mike reveals he's slept with the bride-to-be. Producer Noah Lang, a Hudson Valley native, found the Hudson Valley filmmaking experience "comfortable, economically viable, collaborative, and visually impactful."
Black Bear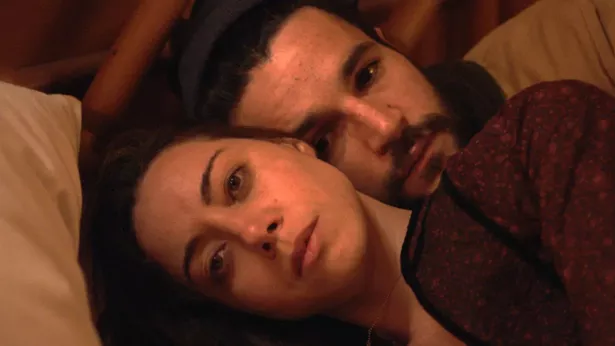 Courtesy of Sundance Film Festival
Black Bear
is set in a remote Adirondacks cabin, where a creative couple find themselves caught up in a "dark game of deception" when a filmmaker comes to visit from out of town. She claims to be looking for inspiration to end her creative block, but she's willing to go
way
over the line to get there, and a tense tale of deceit, gender dynamics, and inner demons unfolds. Just how convoluted can life get for the sake of art? The psychological drama features Aubrey Plaza of "Parks & Rec" fame, Sarah Gadon, and Christopher Abbott. Some filming happened in the Hudson Valley in summer 2019.
Shirley

Courtesy of Sundance Film Festival
Continuing the theme of creatives rubbing elbows and striking sparks,
Shirley
, based on a novel by Susan Merrill, follows a young couple that goes to stay with an aging college professor and his wife, famous horror writer Shirley Jackson. The deal is supposed to be that young Rose will clean house and take care of Shirley, but as things unfold it would seem that Fred and Rose are being manipulated into inspiring Shirley's next horror tale. Starring Elisabeth Moss, Michael Stuhlbarg, Odessa Young, and Logan Lerman, the film was made in summer 2018 and shot in Greene and Ulster counties and at Vassar College.
Save Yourselves!

Courtesy of Sundance Film Festival
Jack (John Reynolds) and Su (Sunita Mani) in Save Yourselves!
What would happen if a hip, tech-addicted Brooklyn couple headed upriver to put down the phones and reconnect, and aliens attacked while they were off the grid? Find out in
Save Yourselves!,
a wacky sci-fi satire of our modern age. "Having access to locations that appear to be so remote while actually being five to 10 minutes away from real amenities and comforts was a dream," say writer-directors Eleanor Wilson and Alex Fischer of their local filming experience. "Special shout out to Krumville!"
Scare Me
Courtesy of Sundance Film Festival
Ulster County native Josh Ruben has been filming in the area since his parents gave him a Sony Handycam for elementary school graduation, and he has no intention of stopping. "My next feature shoots in the Hudson Valley, and I plan to film my third there as well," he says. "What can I say—it's a magic place that photographs pretty well."
His directorial debut,
Scare Me
, is a "metafictional horror comedy" that draws atmospheric darkness from a power outage in a Catskills cabin (yikes), where a frustrated copywriter and a smug horror novelist decide to while away the hours with a story contest—after all, what is there to be afraid of? Losing one's illusions?
Scare Me
has been picked up
by AMC Networks' genre streaming service Shudder for distribution in North America, the UK, and Ireland, so high-five Ruben if you see him around.