With instruments in the violin family—which includes violins, violas, cellos, and basses—there's really no limit to their lifespans," says Matt Stamell, owner and head craftsman at Stamell Stringed Instruments, which has repair/retail locations in Amherst, Massachusetts, and Poughkeepsie. "The instruments just need the right kind of repair and maintenance, and with that they'll always sound good and play well."
And when it comes to the crafting and care of these instruments, Stamell and his handpicked staff of master luthiers are globally revered for the decades of knowledge and skill they bring to their collective calling. Stamell's shops have restored and sold some of the world's finest and most prized vintage instruments, such as a violin made by Alessandro Gagliano (ca.1700s) and cellos created by masters Thomas Kennedy (ca.1840s), Francesco Rugeri (ca. 1685), and David Tecchler (ca. 1742), while pieces made by longtime Stamell luthier Andranik Gaybaryan are today owned by Gil Shaham, Oleh Krysa, Frank Peter Zimmerman, and other leading virtuosos.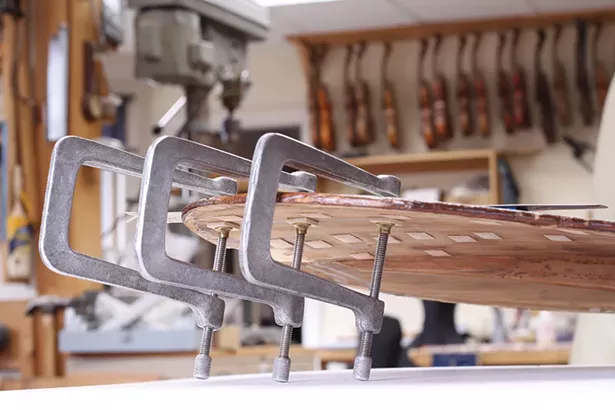 But the instruments Stamell and his staff work with are not strictly the six-figure, museum-level holy grails played by global chamber music stars. The business also caters to casual players and the members of local symphonic ensembles like the Hudson Valley-based Stringendo Youth Orchestra, which Stamell has worked with for 21 years, providing players with exceptional contemporary American and European violins, violas, and cellos for sale or rent, as well as custom-built models and ongoing restoration and service.
"Sound adjustments are a big part of what we do," explains Stamell. "The wood that an instrument is made from is always changing with the seasons. In the summer there's humidity and in the winter there's dryness, which causes wood to shrink and swell, and all of that greatly affects an instrument's sound and stability. We're able to adjust or replace the sound post, the fingerboard, or the bridge—to manipulate the natural material the instrument is made from—which is something that takes knowledge to do correctly. It's something that only a trained luthier can do."
Stamell himself comes from a folk music background and began making and restoring instruments in 1974, before going on to study under the preeminent luthier Don Warnock at Boston University's Program in Artistry. His artisan-employees are graduates of instrument-making programs at the University of New Hampshire's Violin Craftsmanship Institute, Boston's Bennet Street School, and Russia's Rostov Conservatory.
"We're like one shop but with two locations," says Stamell, who opened the Amherst store in 1989 and launched the Poughkeepsie location in 2008. "Customers can come into the Poughkeepsie shop and have access to the instruments and materials we have at Amherst, and vice versa. Our staff is like a family, and when a customer buys or rents an instrument from us, they become part of that family, too."
Besides its founder and Gaybaryan and their dedicated clients, the Stamell family of violin/viola/cello specialists also includes folk fiddler Cedar Stanistreet, mandolin-maker Troy Harris, and bow-maker Roger Treat. For the proprietor and his staff, their commitment to craft, service, and music is paramount.
"I travel the world, looking for the finest instruments and bows," says Stamell, who plans to begin presenting house concerts at the Poughkeepsie store this year. "We've been going for 30 years and we're still here. Music is everything we do—and we love what we do."