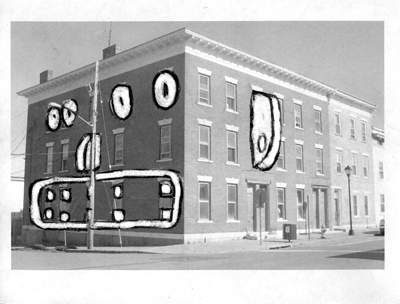 A drawing of Fernando Orellana's The Brousseau Building.
"Plugged In" curator Melissa Stafford invokes Baudelaire in her exhibition statement, writing that her hope for those viewing the multimedia arts project taking place at locations around Hudson May 17 through May 31 is to "seize on some fragment, and like an able dancer, use it as a trampoline, to spring to distant dreams."

The 15 artists selected for "Plugged In" are presenting some very interesting fragments. Jillian McDonald, a Canadian video artist currently living in New York City who will be presenting her interactive video installation
The Sparkling
, has become obssessed in her work as of late with horror films, and playing with the idea of fear as entertainment. In a recent piece,
Vamp it Up
, performed on the elevated train in Chicago, McDonald transforms herself into a vampire via the application of make-up during the course of a train commute.
Fernando Orellana is fascinated by the quiet but constant presence of architecture, noting that it witnesses all, but reveals nothing of what it sees. Seeking to answer the question "If these walls could talk, what would they tell us?" Orellana will be creating a site-specific installation for "Plugged In." The outside of the Brousseau Building at 204 Warren Street in Hudson will be retrofitted with a façade designed to "bring out the inherit personality or character of the building," according to Orellana. Using a computer generated synthetic voice and motion sensors, the Broussau building will "whisper, speak, and scream to pedestrians details of its interior, history, and the current objects that reside in it."
Other artists participating in "Plugged In" are Hudson's own "love artist" Kathe Izzo, Christine Sciulli, Jesse Matulis, Mark Gregory, Jonathan Osofsky + Jasdeep Gosal, Giorgio Handman, Ingrid Ludt, Greg Locke, Michael Oatman, Bart Woodstrup, Chip Fasciana, and Bryan Zanisnik.
"Plugged In" will commence its two-week run in Hudson on May 17 with an opening night party from 6-10pm in the PARC Foundation buildings at 330 and 336 Warren Street. Both locations will host performances, featuring UK-based video performance artists Eclectic Method, and music from Brooklyn's experimental avant-noise trio Lukomski/Majer/Lail and DJs ESE and Mikey Palms. Painter Mike Long will create a six-by-ten foot painting as the night unfolds. www.hudsonpluggedin.com.