The photo shoot took place at the Stockade Tavern in Kingston.
Special thanks to Paul Maloney and Giovanna Vis of the Stockade Tavern for allowing us to use their gorgeously renovated neo-noir speakeasy for our shoot.
Hair and make-up: Kiley J. Winn.
Standing on the bar, from left: Candace Freshko, Zoe West.From lower left: Laurence Descheine, Evan Chapman, Cassandra Hansen, Shalyni Paiyappilly.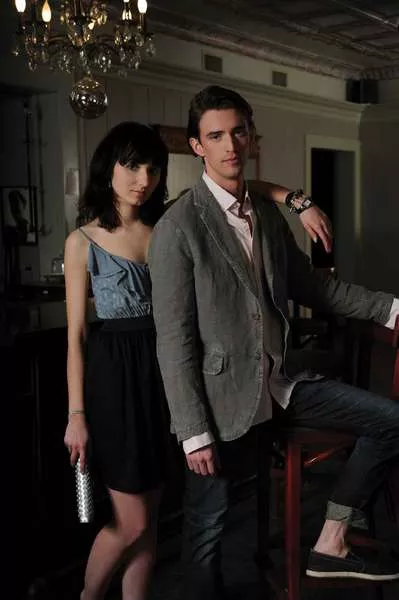 Zoe: Fawn Brittany dress ($87); Urban Behavior Beth weaved clutch ($44); Lamer Riviera watch ($115); Denis and Charles wrap rhinestone bracelet ($32).All items except shoes are from Elizabeth Boutique, Poughkeepsie.Evan: Scotch and Soda jeans ($129); shirt by Scotch and Soda Amsterdam Couture ($123); J W Brine blazer ($350).All items are from Changes For Men, Woodstock.Hair and make-up: Kiley J. Winn
Cassandra: By a Thin Thread Birdcage dress by Allison Vermeullen ($168); shoes by Remixx ($178); MissCo Girl bag ($128). All items, except earrings, are from Echo, Beacon.
Laurence (on left): Frank Lyman dress ($268); Shiraleah clutch ($42).All items are from Echo, Beacon.Shalyni (on right): Elie Tahari dress ($44.99); Annelli Collection jacket ($200); Guess shoes ($25.99); Andean Collection necklace ($43); vintage clip-on earrings ($9.99); Lake Como bag by Bric's ($39.99) All items are from Simplicity, Poughkeepsie.
Candace: Hemp and organic cotton PopomomoLebedev dress ($116); CriDeCoeur Emma shoes ($110); Dialog Olivia bag ($110); Andean Collection bracelet ($25).All items are vegan and are from Cow Jones Industrials, Chatham.