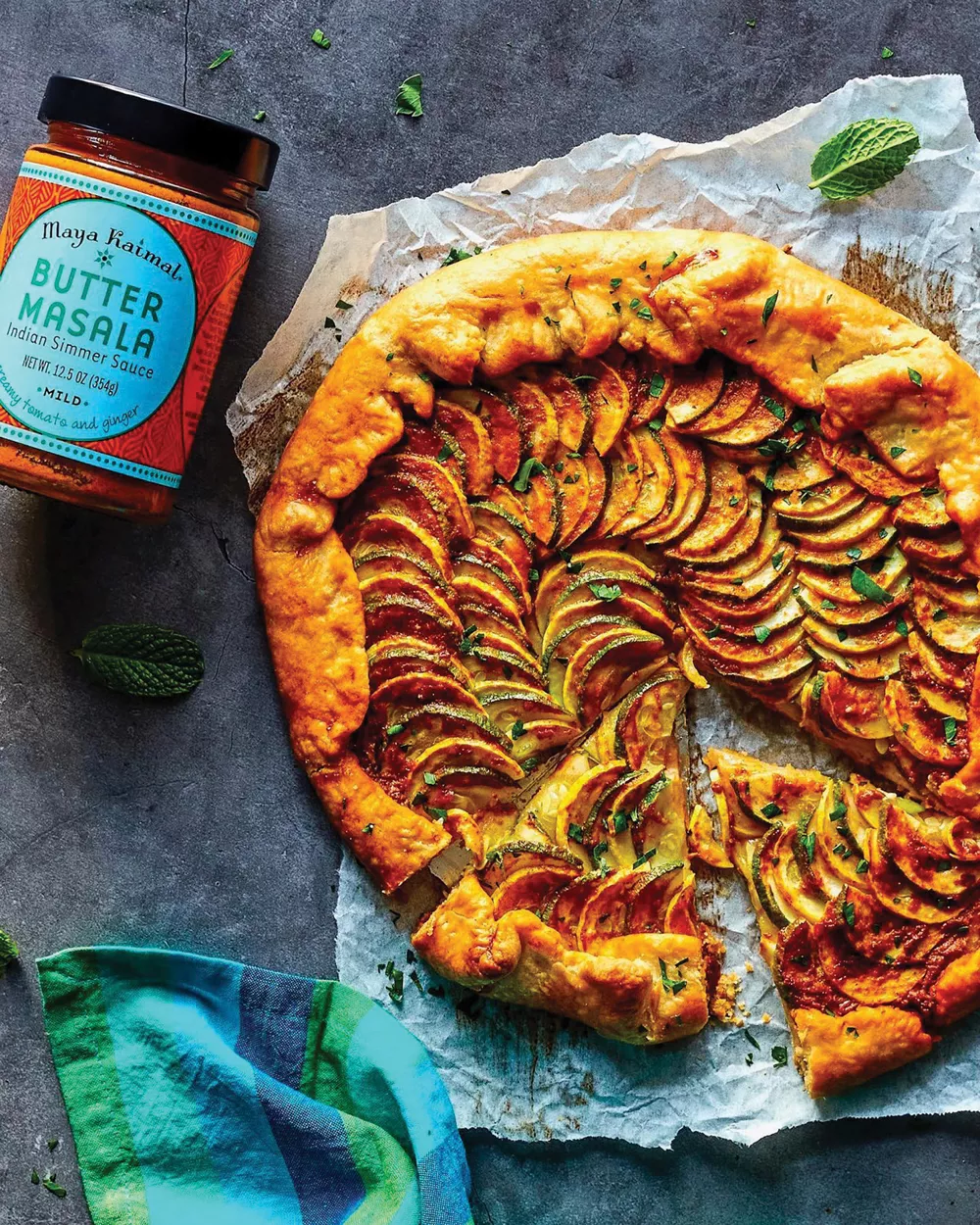 Masala Squash Galette: Flaky pastry topped with seasonal squash, fresh herbs, and Maya Kaimal's Butter Masala.
As we venture out less and cook at home more, even the most experienced at-home chefs are striving to add new flavors into their meal rotation. While most Americans don't typically incorporate Indian spices and dishes to the mix—often swayed by the preconception that traditional Indian cuisine's bold and colorful flavors aren't pleasurable for the American palate—two local entrepreneurs are challenging this culinary hurdle by presenting authentic Indian food in an approachable way.
Aditi Goswami, founder of Calcutta Kitchens in Accord, and Maya Kaimal, of Maya Kaimal Foods in Rhinebeck, both pride themselves on bridging the gap between American and Indian cooking for those unfamiliar with authentic Indian flavors. And they are doing it with an unlikely lockdown food hero: simmering sauces that can be used to infuse Indian flair into just about any home-cooked meal.
"[My sauces] make life a little more convenient and a little more exciting," says Goswami. "People can easily get into a rut and get tired of eating the same food every day, and sometimes having these sauces handy is a good way to make something different."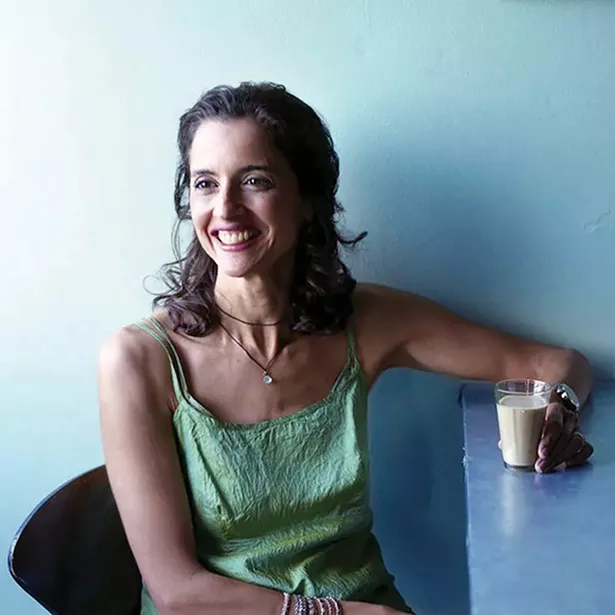 Maya Kaimal of Maya Kaimal Foods
Aditi Goswami of Calcutta Kitchens
Food Communities and Fresh Ingredients
Goswami has fostered a lifelong love for food that she has since passed on to her two boys (Rohan, 20, and Nikhil, 19). She recalls the excitement of being in the kitchen at her home in Eastern India where she watched her mom, dad, and aunts prepare, cook, and talk about food. "It was very clear to me that food was a primary way of expressing your love and care for your family and friends," says Goswami. "Every occasion, every celebration centered around food."
Inspired by memories of her and her family's daily journey to the market, Goswami centers her life and business around the Indian traditions she learned early. "We had to go to the market in the morning to get the day's vegetables, and it was usually local farmers who brought whatever they grew—eggs, produce, fish—so everything was very fresh. I remember the joy in seeing it. It was like a little treasure hunt for me as a child. What would I find in the market that day? That was the only way of life."
She finds the same sense of community and high-quality ingredients at the farmers' markets in Westchester County and New York City, where she still sells her sauces alongside a small sampling of prepared frozen foods and spice mixes. It's also where her business initially started: One of the farm stands was throwing away a bushel of overripe tomatoes, so she took it home and made tomato chutney (a traditional Bengali dish). Two weeks later, she was selling her chutney at that same market, and customers requested sauces they could take home and cook with.
Since then, her business has grown organically, centering around four Indian simmering sauces she's developed over the course of 12 years: Makhani Tikka, a tangy tomato sauce with honey; Bengali Coconut Cardamom, with cardamom, coconut milk, and turmeric; Coconut and Fresh Coriander, a green sauce with coriander (cilantro), coconut milk, and raw almonds; and Parsi Cashew Ginger, a creamy cashew sauce enhanced with ginger. As Goswami grew her line of sauces, mostly by taking requests from her customers, she vowed to never compromise on the quality of ingredients or homemade experience of her foods, which she still makes in small batches. To keep up with demand, she also works with a family-owned copacker in New Haven, Connecticut, (and is looking for one in the Hudson Valley) who uses her recipes to make the sauces. Goswami sources much of the raw ingredients herself and personally supervises each batch while it is being made, ensuring all her products preserve the tradition of flavors she grew up with, which varies widely in India depending on region.
"I grew up in Eastern India," Goswami explains, "which is considered Bengali, and the cooking is similar to Bangladeshi cuisine. There's a common thread through all of Indian cooking, in the methods and ingredients, and the results can be pretty different from region to region."
While Goswami grew up cooking Bengali, she has also lived in other areas of the country and has developed recipes from each. The Makhani Tikka sauce, for example, represents more of a North Indian style of cooking, which is heavily influenced by the Mughal Empire and Persians, who introduced rich spices and meat dishes to the region; and the Coconut and Fresh Coriander sauce is a southern style of cooking, which is the type of Indian cooking Kaimal does best.
"There are certain things, like green chilies and curry leaves, that are growing fresh all year in Southern India instead of in the north, where there is more seasonality to the chili-growing season," says Kaimal. "It's more tropical, too, so, the food tends to have lots of hot, tangy flavors like fresh chilies, lime, and tamarinds, and hot and sour coconutty curries that are served over big piles of rice."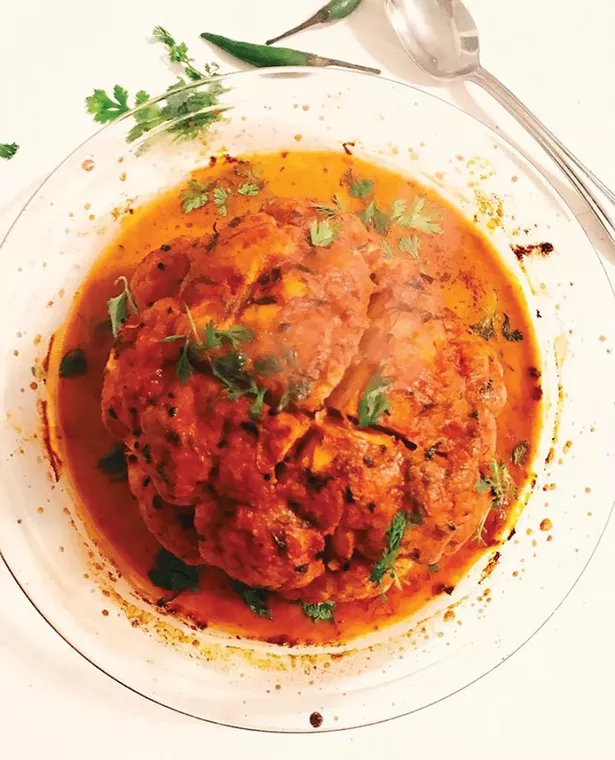 Gobi (cauliflower) Roast with Calcutta Kitchen's Makhani Tikka Sauce
Big Flavors, Strong Connection
As a little girl raised in Boston by her French Canadian mother and Indian father, Kaimal remembers her parents taking her on trips to India and always cooking and enjoying food—her father recreating meals from memory, conjuring flavors that reminded him of home. "Being half Indian was a positive thing for me," she says. "There was more to experience in the world. I had this connection to another place that represented beautiful things, where food tasted good and people loved me."
Kaimal would go on to earn her liberal arts degree and work in the magazine industry in New York as a photo editor for publications like Saveur. She noticed many of the Indian restaurants in New York City didn't represent the high-quality, flavorful South Indian cuisine she'd grown up with, and she saw an opportunity to fill the gap. "There was this whole different side of the cuisine that was unfamiliar to people, unless they actually traveled to South India or knew somebody from there. Getting to turn people on to that was kind of a thrill."
Inspired by the lack of South Indian cuisine and her coworkers' reaction to her home-cooked lunches (which they often paid her to cook and bring in for them), Kaimal wrote her first of two cookbooks, Curried Favors: Family Recipes from South India (Abbeville Press, rev. ed., 2000), winner of the Julia Child Cookbook Award. After 9/11 and the subsequent hit to the publishing industry, Kaimal lost her magazine job—while raising twin girls with her husband, writer Guy Lawson—and launched her food business through the natural, specialty food channel Gourmet Garage, breaking immediately into some of the bigger gourmet grocery stores like Balducci's and Zabar's.
Maya Kaimal Foods has since expanded to include a range of precooked, ready-made Indian dishes, as well as condiments, refrigerated sauces, seasoned rice, and simmering sauces, which Kaimal describes as "speed scratch" because they offer a shortcut to home cooks looking for authentic Indian flavor. "With all the spices, the onions, and garlic, and all the things that take time to chop, caramelize, and toast—that part is done," she says. "And you're getting a really flavorful result."
For a home cook like Kaimal, it was challenging to oversee food production at a larger scale. Working with manufacturers all over the country, Kaimal develops all product recipes in a test kitchen, which she then sends to her manufacturers to "batch up."
"It has been an interesting learning curve for me. Making Indian food is not like making pasta sauce or chili," she says. "You can't throw everything into a pot and bring it to a boil. You have to cook the onions until they're brown, then toast spices, and do everything in stages. We've had to compromise because it can't be time consuming to the point it's unaffordable. But what matters to me is the flavor. I completely insist upon doing it right."
Above all, Kaimal hopes to introduce to a new flavors to a delighted audience, especially with those of her offerings that are unfamiliar to the American consumer. For example, her Everyday Dal line presents five different dals—a staple in the Indian diet made from lentils, peas, or beans—with ingredients that Indians would use but are easily acquired, like butternut squash, cumin, and tomatoes. Her hope is that once people try her products, they will be surprised at how easy Indian cuisine can be to prepare at home.
A Promising Future
It seems the pandemic has opened the door to the new customer base both women were hoping for. Goswami, who plans to add some spice mixes and pantry kits to her offerings, is seeing her sales double in the last year, which were boosted by an increase in online and outdoor shopping. She attributes much of her success, too, to farmers' markets doing a great job keeping people safe. Kaimal is thinking of developing a line of marinades and salad dressings in the near future and she too has noticed a jump in sales with people cooking more at home and working to keep their pantry stocked.
But the biggest thing for both businesswomen has been bringing all the love and tradition and family recipes to a new and (hopefully) receptive audience—changing minds about Indian cuisine. "I always get surprised at how my customers are surprised by how good Indian food is—and how different it is from what they have known it be," says Goswami. "I still do it because it makes me happy to see how much people enjoy it. And at the end of the day, that's really what matters."
To purchase products from Calcutta Kitchens, you can shop their website (Calcuttakitchens.com), where you can also sign up for a subscription box and receive their sauces on a regular basis, or find them at a few local specialty food stores, like the Damn Good Honey Farm in Kerhonkson.
Maya Kaimal Foods has an online shop (Mayakaimal.com), where you can purchase all her products, including Kaimal's cookbooks. Her products can also be found in major grocery stores, like Hannaford and Price Chopper.