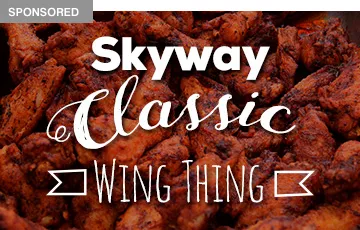 Nothing says summer like hot wings while camping in the company of good friends. This June, plan the perfect camping trip around Skyway Camping Resort's annual Classic Wing Thing. It's simple: you bring the side dishes; Skyway provides the rest – complimentary wings and sauces, both hot and savory.
Skyway's Classic Wing Thing takes place on Saturday, June 17 this year – during Father's Day Weekend. Skip the tie; get your dad a package of quality time for Father's Day.
Less than a couple of hours north of New York City, Skyway provides the perfect escape from the hustle and bustle. Nestled in the foothills of the Catskills, a stay at Skyway surrounds you with the refreshments of nature: cool mountain breezes, stunning scenery, and sparkling stars – the works.
Camping at Skyway doesn't mean roughing it. From classic campsites for pitching a tent to luxury Baypoint rental units, there's something for everyone at Skyway. You won't have to part with your shower, kitchen, A/C, or WiFi. You can be close to nature, while simultaneously being close to quality amenities.
While you're there, you can take advantage of Skyway's June Weekend Special. If you book one of the following weekends in a rental unit that sleeps up to five to six guests, only pay for the price of three guests:
• Grandparent's Weekend: 6/9/17-6/11/17
• Father's Day Weekend: 6/16/17-6/18/17
• Graduation Weekend: 6/23/17-6/25/17
So don't be a chicken. Pack your bags and get ready to smother your face with wing sauce! Call (845) 647-5747 to book your stay and reserve your spot at the event.
Skyway Camping Resort is located at 99 Mountain Dale Road, Greenfield Park, NY 12435. For more information on rentals, amenities, specials, events and more, visit skywaycamping.com.