As new bars, boutiques, and businesses continue to turn their lights on seemingly every week, Catskill, NY has become a vibrant village, now known for its burgeoning arts scene and growing nightlife. Ready to see for yourself? Here's how to spend a killer weekend in Catskill
Saturday
If you've arrived hungry for lunch, head straight to HiLo, a cozy-yet-chic café with an art gallery and performance space. Enjoy light fare like tamales or the Quinoa Health Pile with roasted vegetables, toasted cashews, and other fixings. Make a note to self to come back later for creative cocktails like the gin-based Sonnet 97 or the Yoga Mom (kombucha-meets-Champagne).
Next, check in to The Catskill Milliner, a boutique inn just blocks from Main Street. This Victorian building went through extensive renovations before opening in 2017, but with many original details intact, including exposed 150-year-old ceilings and original floors. When you book the Milliner, you book the entire building with four bedrooms, so it's ideal for families or groups. If it's just the two of you, sans kids or pets, try a stay at the Post Cottage. Two of the four rooms at this historic and elegant B&B offer Jacuzzi tubs and gas log fireplaces, perfect for getting cozy during cuffing season.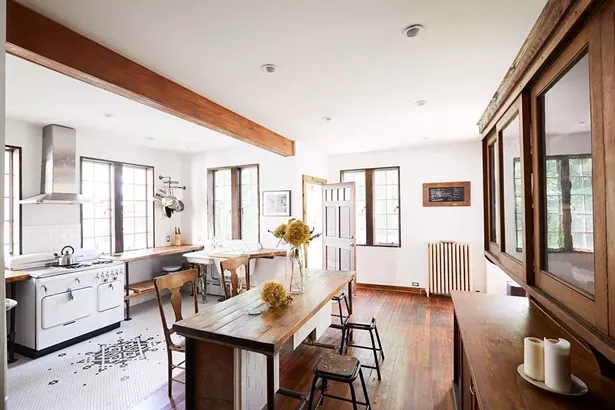 After you've dropped your bags, it's time to tour Main Street's boutiques and eateries. Stop by Village Common Mercantile for natural candles, fragrances, and home sprays, or browse Mahalo Gift Shop's fun and funky offerings—from makeup and toiletries to humorous kitchen wares.

Stock up on local cheeses and other gourmet treats at The Catskill Country Store. Find used books at Magpie Bookshop, minimalist women's clothes at iivi, and hyperlocal beer at Subversive Malting and Brewing. It's the weekend after all, so enjoy a midday glass of wine at 394 Main, a European-style wine bar with a selection of small plates for noshing. Or, leave Main Street and grab Korean cuisine at Avalon Lounge, a recently opened beer, wine, and sake bar. Stick around to catch a show at its attached performance space.
Sunday
Get an early start to peruse original Hudson River School paintings at the Thomas Cole National Historic Site. In warmer months, bring a blanket to picnic on the grounds to enjoy the sprawling views of the Hudson River that inspired the master painter all those years ago. After lunch, stroll the Hudson River Skywalk, a pedestrian path alongside the Rip Van Winkle bridge, which connects Cole's site to Olana, the estate of Cole's most prominent pupil, Frederic Edwin Church. Take in the scenic views of the river below and the blue-hued Catskills range in the distance. After all that walking, you've earned a beer. Crossroads Brewing Co.'s taproom offers rustic-industrial vibes, a spectrum of beers, and growlers to go. Or, skip the brew and catch a play at Bridge Street Theatre's state-of-the-art proscenium space.
When dinner calls, head to New York Restaurant for traditional Polish cuisine in a sophisticated setting. To start, try handmade pierogis with unique savory fillings like black truffle and parmesan or kale and sweet potato. For entrées, enjoy Polish platters like Golabki (ground pork- and rice- stuffed cabbage rolls with polish tomato sauce) or other offerings like an 18-ounce bone-in ribeye, salmon in miso honey, chicken with a mushroom-red wine demi, and more ($17-$32). For late-night fun, look for the pirate-themed bar at Captain Kidd's Inn, with a tiki bar open in the summer.
For a Long(er) Weekend
If you caught the Catskill fever, and two days just wasn't enough here are some other things to check out:
Peep the birds and wildlife at the 436-acre RamsHorn-Livingston Audobon Sanctuary, which offers a mix of tidal marsh and swamps, forests, and fields for a spectacular array of species.
Peruse the works on display at M Gallery, which features the landscapes and portraits of owner Patrick Milbourn as well as work by other local artists and a selection of drawings and paintings from the 19th and 20th centuries.
Chow down on seafood while soaking up beautiful creek and river views at Frank Guido's Port of Call.
For a dreamy bucolic stay, bed down at The Kaaterskill, a functional farm with goats, pigs, donkeys, horses, chickens and more, plus a large pond, a sprawling Dutch barn-turned-inn, and a classic farmhouse. (Psst! It's also a wedding venue.) For an elegant, vintage-inspired stay, reserve one of the suites at The Catskill Village House on Airbnb. Tastefully decorated and close to all of the villages amenities, this is a great place to put your feet up after exploring.
For a delightfully eerie, animal-themed stay, check out the Long Neck Inn, in the former giraffe barn of the Catskill Game Farm. Many of the game farm's old structures remain in place throughout the property, and in the summer you can rent Tentrr sites in addition to the guestrooms in the inn.