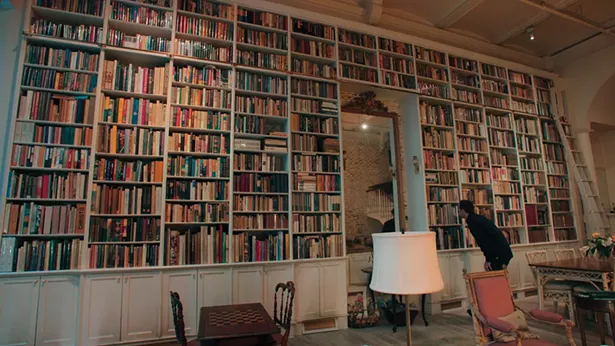 Adam Weinberger examines a bookshel in a still from the documentary The Booksellers, part of the programming at this year's all-virtual Spencertown Academy Festival of Books.
When we headed into summer, no one knew if or how our favorite summer events —performing arts, galleries, annual festivals—were going to survive. Many, if not most of them went online, and so did we. Virtual events work, we learned, and the annual Spencertown Academy Festival of Books, taking that knowledge, has shifted to a virtual festival September 4 through October 12.
Over its 15 years, the Festival of Books has featured distinguished authors and documentary filmmakers, children's programs, and the immensely popular book sale. This year, instead of activities taking place on the Academy's campus, the venue will be Zoom. Some of the featured authors this year include Joyce Carol Oates, who will discuss her latest book, Night. Sleep. Death. The Stars; journalist Robert Kolker; and local children's book author and illustrator Jacqueline Rogers, who will lead art workshops for the kids. Admission to all events is free, but advance registration is required as Zoom capacity is limited.
The festival, which began in 2006 as a book sale to raise funds for the academy's community arts program, has grown into one of the biggest and most eagerly anticipated cultural events of the fall season. Board members David Highfill and Jill Kalotay, who co-chair the festival, didn't want to disappoint anyone. "It's been a learning curve, for sure," says Highfill, who happens to be vice president and executive editor at publisher William Morrow. "We had to consider how much bandwidth we have as a group, and how much can we do as volunteers?"
Just because Highfill's in publishing doesn't mean engaging authors is a piece of cake. It's a who-knows-who exercise among all of the volunteers, and in some cases, Highfill admits, "it's a matter of cold calling agents and managers."
But, as in every year, the lineup of authors is a stellar one, and the co-chairs are particularly excited about snagging Joyce Carol Oates. "She's a giant of American letters, with almost 60 novels, poetry, and prose in varying styles," Highfill says. "A lot of people will have read her new book, which is about racism, white entitlement, and family drama."
Journalist Robert Kolker will talk about his New York Times bestseller, Hidden Valley Road: Inside the Mind of an American Family, about one midcentury couple and their 12 children who were diagnosed with schizophrenia.
Children's book author and illustrator Jacqueline Rogers will read from her latest book, Goblin Moon, a spirited story that captures Halloween fun, and then lead a related workshop for kids 5 and up. A second workshop, "Create a Halloween Book Cover" is designed for older kids.
Other events include a discussion by D. W. Young, director, and Dan Wechsler and Judith Mizrachy, producers of The Booksellers, a documentary about antiquarian booksellers, the impact of technology on the trade, and the importance of books as physical objects.
Richard Gehr will discuss his book, I Only Read It for the Cartoons: The New Yorker's Most Brilliantly Twisted Artists and then interview two current New Yorker cartoonists, David Sipress and Emily Flake. Ed Ward will discuss his book, The History of Rock & Roll, Volume 2: 1964–1977: The Beatles, the Stones, and the Rise of Classic Rock. He'll be joined in conversation with Gerald Seligman, an academy board member who has over 35 years of experience in the music industry.
Then there's that sine qua non of the festival, the book sale. It's back as an online edition and will focus on "The Special Book Room" collection of about 300 books. As in past years, volunteer Wayne Green is spearheading that, assisted by a team of volunteers assessing conditions, writing descriptions, and taking photos of books on architecture, art and design, photography, fine art, and food; signed editions; and more, priced from $5 to $350. The book sale will run through October 12 (or until the "shelves" are empty), and purchases must be picked up by appointment at the academy.
Finally, the festival folds in an event for the academy's second Community Reads book, This America: The Case for the Nation. Author Jill Lepore will discuss her book live with historian Sheila Curran Bernard on September 22.
"We usually make quite a bit of money for the academy, so we're kind of handcuffed this year," says Kalotay. "But as much as we'll miss gathering in person, we look forward to enjoying stimulating literary events at home and, of course, still shopping for fabulous books."