John Garay
The Women's March on Washington
An alarm going off in the wee hours of the morning is, well, alarming. But for many in the Hudson Valley, confronting the divisive rhetoric and policy proposals put forth by the Trump administration has proven more alarming still. Thousands of local residents were driven to answer the middle-of-the-night call of their alarm clocks, embarking on a whirlwind trip to Washington, DC, for the Women's March on Washington on January 21. There, the Hudson Valley contingent joined ranks with an estimated 500,000 demonstrators (some estimates were closer to 1 million) in support of women's rights, universal access to health care, among myriad other causes.
Kingstonian Christina Pickard was one of more than 300 marchers who showed up at the parking lot of Kingston's Dietz Stadium at 1:45 am—signs in hand, anticipation thick in the air—to ride in on one of six chartered buses. Part of a common pattern of multigenerational families in attendance, Pickard was joined by her mother, and expressed concern for the future for her two-year-old daughter as a mom herself.
She credited her mother with instilling in her values that she had felt were shared by America at large, including a "deep respect for nature, thirst for knowledge, and respect for people of all shapes and sizes, colors, and genders." The new administration, she said, threatened this belief system, stating that "my young daughter deserves to grow up in a country which embraces—not rejects—these values."
Jennifer Rawlison, a mom of two young girls from Newburgh, took a Planned Parenthood-organized bus, likewise echoing concerns for the next generation. "The incoming administration not only threatens their future health care access, education, employment, and such," she said, "but their simple place and value as a female in this country."
Ultimately, the motivations behind the history-making march were far from single platform. Organizers for the movement cited "Women's Rights Are Human Rights" as their official mantra, with an aim of protecting and improving upon the rights that generations of women have worked so hard to achieve. But they also nodded to more general themes of diversity and inclusivity, stating, "We stand together, recognizing that defending the most marginalized among us is defending all of us."
While march officials made it clear that this was positioned as a pro-women's march and not an anti-Trump protest, for many marchers there were clear political undertones and general displays of loathing connected to President Trump and his disparagement of women, minorities, and immigrants.
At the rally and ensuing march, signs and shouts revealed the many intersecting issues of the protestors, expanding upon their concerns for women's rights (spanning issues like reproductive freedom, equal pay, and cultural misogyny) to other causes like climate change, LGBT rights, racism and xenophobia, immigrant/refugee rights, education, and health care.
Creative signage prevailed, with messages like "Hell hath no fury like a pussy grabbed"; "Make America Think Again"; and "Science is not a liberal conspiracy." Dozens of march chants rang out. Cries of "This is what democracy looks like" came interspersed with digs at Trump, like "We want a leader, not a creepy Tweeter" and "He's orange, he's gross, he lost the popular vote."
Brazilian-born Debora Avancini, of Nyack, an immigrant who attended with her two daughters, cited, "The disenchantment of having been diminished and excluded in the public discourse of this election either for being a woman, or a Latina, or for having a daughter with a mental illness, being a liberal, being pro-choice, all those I felt personally." She added, "But it soon transcended to looking around and seeing African Americans, Hispanics, the disabled, Muslims, and putting myself in their shoes."
New Paltzer Seana Elias took an Amtrak train down with her nine-year-old daughter, naming one especially close-to-home cause: her two-year-old son with Down syndrome. She explained, "In particular, Donald Trump's cruel and juvenile disrespect of reporter Serge Kovaleski hit a nerve," adding that in their home, they "teach respect and honor for all people, even those who may not look, sound, or behave like them."
Carolyn Siewers of Saugerties drove in with her all-female household, including her wife and 15-year-old daughter, declaring, "We will not stand by as people are verbally or physically assaulted because of their gender, skin color, or sexual identity."
While the causes were serious, the mood was peaceful, friendly, and festive. A sense of sisterhood and solidarity prevailed, and despite the large and discontented crowds, not a single arrest was reported. Many New Yorkers represented the Empire State by donning pink Lady Liberty crowns, while knitted, pink, cat-eared "pussyhats"—alluding to Trump's infamously crude comments about grabbing women's genitalia—became emblematic of the movement.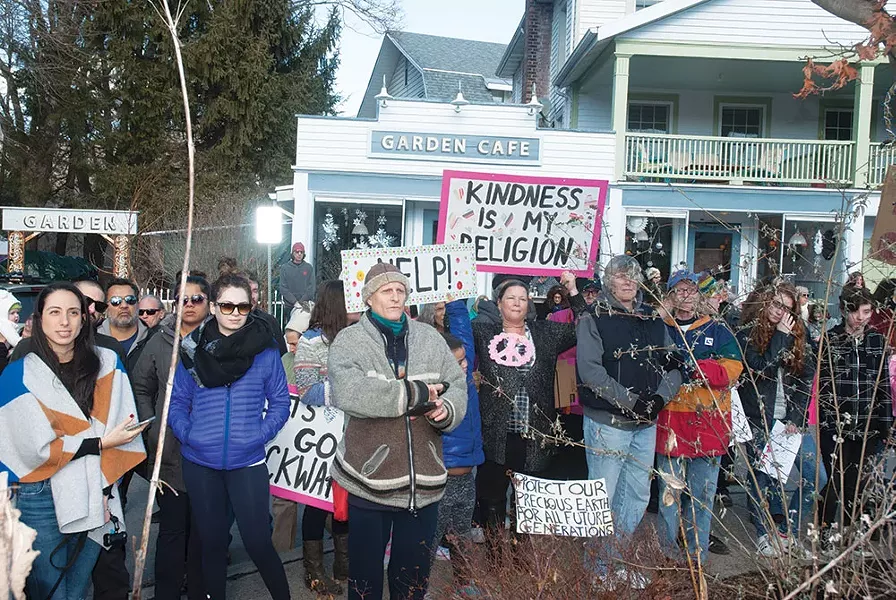 Jimmy McHugh
Woodstock Women's March
The official programming opened with a lengthy five-hour rally, attracting a long (too long, by most sentiments) list of heavyweight speakers, including feminist icon Gloria Steinem, Planned Parenthood President Cecile Richards, and a slate of organizers, politicians, actors, and musicians like Scarlett Johansson, Michael Moore, America Ferrera, Alicia Keys, Janelle Monáe, Ashley Judd, Cher, and Madonna.
Steinem told the crowd, "Thank you for understanding that sometimes we must put our bodies where our beliefs are." Richards added, "One of us can be dismissed. Two of us can be ignored. But together, we are a movement and we are unstoppable."
Despite organizers having to abandon the originally planned route due to the crowd's swelling size, march they ultimately did, en masse, for hours, from near the Capitol and toward the White House.
Quite a culmination point from a concept born of such humble beginnings: a post-Election Day Facebook post by a Hawaiian grandmother that quickly went viral. The call to mobilize to march went on to attract an army of nationwide volunteers, many with little or no organizing experience. Among them, Maryanne Asta, of Woodstock, who stepped in as the volunteer organizer for the upstate New York region, felt compelled to do so in the aftermath of Trump's win. "Everybody I talked to was feeling hopeless, alone, isolated, and scared," she explained, so she decided "to charter some buses myself to get some momentum going."
Asta's efforts ultimately filled up over 100 Women's March-organized buses from upstate New York, with Hudson Valley-area departures from Kingston, Beacon, Albany, New Paltz, Saugerties, Woodstock, Poughkeepsie, and more. Everybody from families with young kids to 90-year-olds hopped aboard—many of them first-time marchers, and about 20 percent of them men.
Bob Janiszewski, a male participant from Tannersville, reflected, "I felt not only welcomed, but celebrated as an enlightened and appreciated activist," adding, "All in all, I was just one of the gang who stood together on a valued set of principles."
Regional attendance was further bolstered by initiatives among local organizations like Planned Parenthood Mid-Hudson, the New York State United Teachers union, and Rockland Pride, with hundreds more organizations signing up as march partners nationally like the Natural Resources Defense Council, American Civil Liberties Union, NOW, and the NAACP.
In a show of solidarity, sister marches similarly unfolded around the globe, attracting millions of participants in more than 670 demonstrations spanning the US and all seven continents. Closer to home, marches unfolded in Albany, Poughkeepsie, Woodstock, and Hudson; New York City saw 400,000 demonstrators take to the streets.
For many women, the movement served as a vehicle for unification, providing a forum for community and catharsis, and a wellspring for inspiration and empowerment.
Now, the goal moves toward transforming the march's momentum into enduring action for change. "I feel we are in danger of riding the energy of the immediate event, and once back home, letting daily distractions lessen the frustrations and drive that brought this thing together," said Rawlinson. "I hope groups can continue to fuel community events and support systems."
Looking to sustain the movement, Women's March national organizers put out a "10 Actions/100 Days" campaign in the event's aftermath, outlining initiatives like writing letters to senators. Asta likewise encouraged grassroots activism and education to continue on a local level, citing calls to action happening all over the Hudson Valley (recent regional events have rallied in support of Planned Parenthood and the Affordable Care Act). On one bus returning to Kingston from the march, organizers from local groups like Citizen Action, Ulster County Democratic Women, and Indivisible Ulster encouraged participants to sign up and get involved.
Hudson Valley marchers seemed to be on board. "My goal," Pickard said, "is to focus on positive change on my own doorstep, while maintaining a healthy awareness of politics on a federal level." Siewers pledged she "will call, e-mail, and write my representatives weekly."
"This march is not the end," Asta concluded. "It's just the beginning."