Photo by Seth Davis
Jonah Bokaer's church turned live-work-event space sits on a quiet Hudson side street. The former St. Matthew's Lutheran church was de-sanctified in 2011 and then bought and rezoned as a house by the previous owners. Even though it was adapted for residential living, the 1869 brick Gothic Revival style building retainsthe well-preserved original architectural embellishments, giving it an otherworldly feeling.
Hudson has a large number of religious facilities, active and inactive, for a city of its size," says choreographer and dancer Jonah Bokaer, describing the approximately 14 churches and one synagogue that grace the streets of his home base. According to Bokaer, that abundance of sacred spaces has precipitated "a fascinating cultural shift" in the little city full of cutting-edge art and music. A prolific creator and cultural force, Bokaer has authored over 63 original pieces of choreography over the past two decades, often setting his performances within museums and visual art installations to create works that are a distinct, original blend of visual art, dance and design.
Photo by Seth Davis
In redesigning the space Bokaer left the church's original sanctuary and pulpit intact. "I wantedto keep everything very respectfully as it was," Bokaer says. With original stained glass windows on either side, the gothic style reredos—the carved centerpiece directly behind the altar—features columns topped with busts of St. Matthew. The crowned pulpit occasionally doubles as a DJ booth.
When he's not traveling to direct and perform his choreographic installations, Bokaer is ensconced in another unique hybrid—an 1869 red brick gothic revivalist church. Rechristened Space 428, his residence-cum-work-cum-event space is as equally suited to fostering community as it is to providing sanctuary. It's a work of art in its own right: A historic and beautifully crafted shelter repurposed to house the eclectic movements and rhythms of a contemporary life.
State of Grace
Born in Ithaca into a mixed Tunisian and American family with a long creative pedigree, Bokaer got an early start training as a dancer at the
North Carolina School of the Arts
, the
Washington Ballet
and
Jacob's Pillow
in Massachusetts. At 18, his lucky break came when he was hired by choreographer
Merce Cunningham
. "That launched me," Bokaer explains. "I felt very fortunate because I had a whole career with Cunningham and then was able to do it again with director
Robert Wilson
."

Bokaer's chapter three began in 2002 when he struck out on his own and founded his nonprofit organization Chez Bushwick, later renames Jonah Bokaer Arts Foundation, which had the dual purpose of producing his own original works as well as maintaining two affordable rehearsal spaces for fellow aspiring creatives in Brooklyn. "It was very important to me to make an original contribution to the field," he says. "At its origins, choreography was the drawing of movement. It's all about responding to space, but my choreography is also quite visual—that's the root of the work."
Photo by Seth Davis
Bokaer purchased the church in 2016 and has spent the last four years "listening to the space," he says. He has piloted a few projects—including a small dance performance—and made multiple structural upgrades to the building. Bokaer commissioned the 10-seat wooden parson's table especially for the space and added achandelier at the entrance.
In 2006, on a quest to find column-free rehearsal spaces outside of New York City, Bokaer began bringing his dance company to Hudson. "Between 2006 and 2012, we were in Hudson very itinerantly," he explains. They partnered with various venues, including Basilica Hudson and the Hudson Opera House as well as utilized Hudson's Grange Hall which had been converted from the former Polish Catholic Church into a rehearsal space. "My fondness for Hudson and also for the arts and community here really took hold over that time," he says. His work was further inspired by Hudson's fecund arts and music scene, as well as both the avant-garde and well-established creative arts movements of the wider Hudson Valley. Over time, Hudson grew from a part-time residency to his true home, and Bokaer began interweaving himself into the local community, making many friends, including local patron of the arts and real estate agent Peggy Polenberg, whom he met in 2013.
Photo by Seth Davis
Previous owners added a full kitchen and an island to partially divide it from the former church nave. However, the open space appealed to Bokaer's aesthetic. "Loft living is dear to me," he says. "You can trace that aesthetic here to the open plan and the clean, streamlined, minimal design."
2016 was a watershed year for Bokaer and his dance company. In quick succession, he was awarded a Guggenheim Fellowship (2015), a United States Artist's Prize from the Ford Foundation (2015), an NYU Mellon Grant (2016), and Italy's Civitella Ranieri Foundation Prize (2016). It was a windfall, and he wanted to use it to make a more permanent investment in the town he'd grown to love. So he called up Polenberg and explained what he wanted to do.
Sacred Geometry
Inspired by other local artists who had taken inactive church buildings and re-appropriated them into a variety of spaces serving the community, Bokaer set his sights on the 6,000-square-foot church, which had been on and off the market since 2015. "We had already been dancing in churches," Bokaer says. "This was the 2.0 version of that." Nestled in a residential area within walking distance to Warren Street, the former St. Matthew's Lutheran Evangelical Church had been desanctified in 2011 and then rezoned into a residence by previous owners. "I had this 'Eureka!' of seeing the space," Bokaer remembers. He thought it would be the perfect site to create a home that could double as both work and event space when needed. Polenberg stepped in to help. "She played an unusual role allowing this to become possible. I have gone every step of the way with her. She is so much more than a real estate agent, she's very proactive in helping to build the arts community in town," says Bokaer. By March of 2016 the space was his—and Polenberg had helped him come up with a name: Space 428.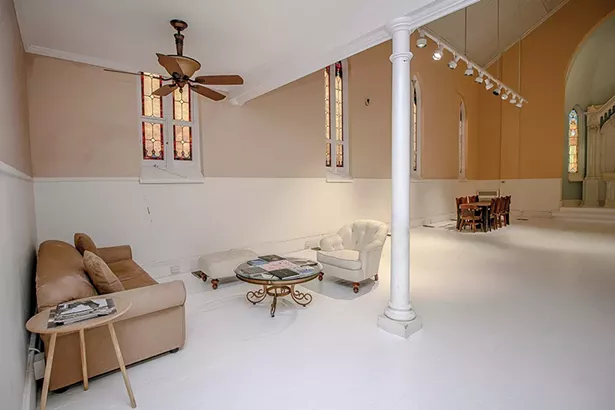 Photo by Seth Davis
A seating area under the choir loft turned bedroom enjoys afternoon light through the stained glass windows. "The quality of light in this region is incredibly special. One of the reasons so many artists have migrated to Hudson over the past 200 years is for the light," Bokaer says. "On winter afternoons around four that light phases through these windows—it's breathtaking."
Like most architecture designed for sacred purposes, everything about Bokaer's home draws the eye, and the ideals, skyward. Raised slightly above the sidewalk, the structure is accessed from wide steps leading to a welcoming and open front porch. Bright blue, pointed gothic-arched double doors are flanked by pointed gothic-arched stained glass windows reaching high into the building's second story. Above the doors, at the very center of the street-facing wall, a rounded petal-shaped stained glass window spotlights a simple cross. The church's sides are lined with stepped, crenelated parapets interspersed with rows of pointed gothic-arched stained glass windows decorated with a simple deconstructed, floral motif. The steeply pitched roof is lined with classic gingerbread verge boards, and is topped by a white painted wooden, octagonal steeple reaching 42 feet above the street.
Photo by Seth Davis
The Previous owners added a full bathroom inthe back corner of the church's former nave.Gothic revival style cabinetry as well as granitecountertops were sourced from local Hudson antique shops and vendors.
Throughout the interior Bokaer elected to keep a pared-down, minimalist aesthetic to enhance the ethereal beauty of the church's architecture. At the double-door entrance, the exposed brick vestibule was updated with a new curved metal chandelier and is simply decorated with Bokaer's performance posters. Two original walk-in closets and the original but updated half-bathroom form the rest of the entranceway. Through an interior pointed gothic arched brick door frame, a wooden staircase winds along exposed brick walls to what was once the choir loft. Bokaer converted the space into a lofted master bedroom, by leveling the once stepped balcony floors and softening the space throughout with carpeting. By completely sealing the church steeple, he was able to create a sleeping alcove under the stained glass cross.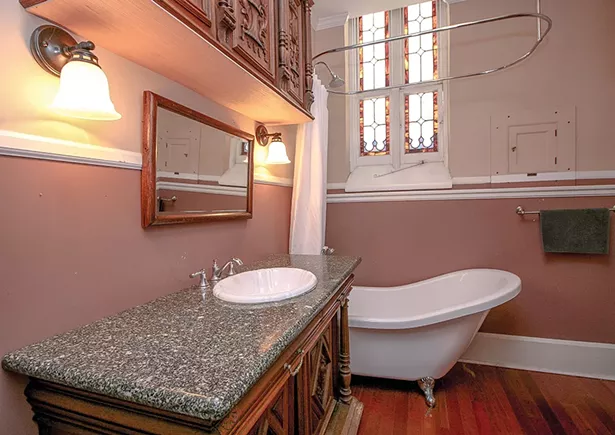 Photo by Seth Davis
A freestanding slipper tub sits in a corner of the bathroom under a stained glass window. "I just loved the slipper tub," says Bokaer. "As a choreographer, I know how important it isto take care of the body."
The church nave reaches 30 feet from the original floors to the pitch of the vaulted ceiling and is lined on either side with the original stained glass windows. In a back corner, previous owners added another full bathroom and an open kitchen to the nave-turned-living space. A long kitchen island separates the cooking area from the rest of the room, and provides an add-hoc bar when needed. Bokaer updated the kitchen appliances to stainless steel variants, which offset the sleek black quartz countertops. Behind the kitchen, a full bathroom houses a freestanding slipper tub and antique dark wooden cabinetry gleaned from local antique shops.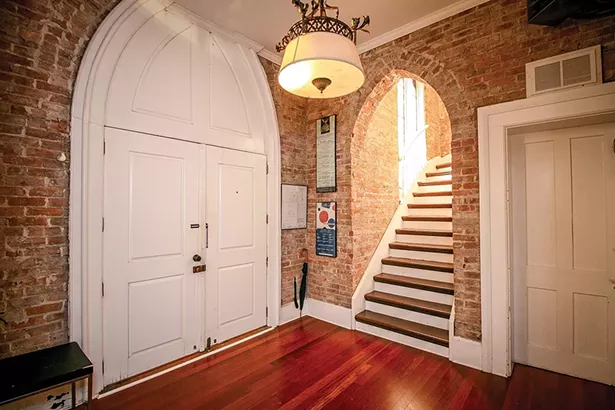 Photo by Seth Davis
A few event posters line the walls of the former church narthex, now the home's entryway. Bokaer sees potential in the future for the church to serve as a performance and event space. "Hudson has some very large venues and then a few very small ones, but there aren't any midsized spaces like this one," he says.
Hudson Devotional
Bokaer repainted the central nave floors and wainscoting white. As contrast, the remaining wall space was finished in a warm salmon beige. At the head of the church, the original altar and sanctuary have been left relatively unadulterated. "I've kept everything very respectfully as it was," he explains. "It's just a slightly modernized version." The white alter and carved pulpit are offset by the rounded ceiling and walls of a surrounding two story alcove painted sky blue. High above the alter, two carved busts of the visage of Saint Matthew look down over the serenely kept space. Behind the pulpit, the former vestry is now outfitted as a small guest bedroom with access to the backyard.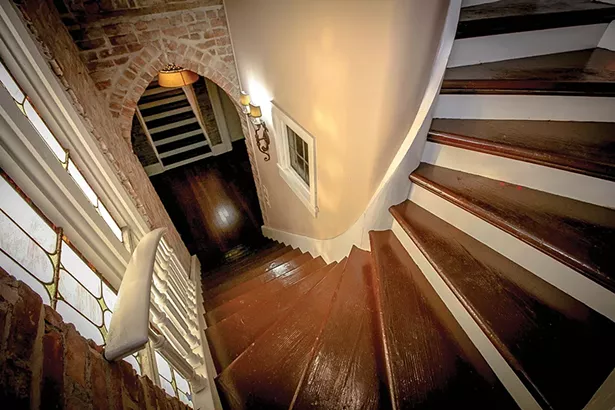 Photo by Seth Davis
A winding staircase leads from the entryway to the lofted bedroom. Bokaer has kept the minimalist aesthetic throughout the home, letting the stained glass, exposed brick, wood trim, and architectural flourishes take the spotlight.
In 2018, Bokaer was contacted by an anonymous benefactor who hoped to start a local arts festival. After some brainstorming with Polenberg, the Hudson Eye Festival was born. Now in its second year, the festival takes the 10 days leading up to Labor Day and showcases between 15 to 20 artists in more than 10 venues around the city, including both Hudson-based artists and returning artists who have been priced out of the area. This year the festival will place a special emphasis on multigenerational artists and feature alternative spaces. "We want to spotlight our elder statesman; but also younger, edgy artists too," he says.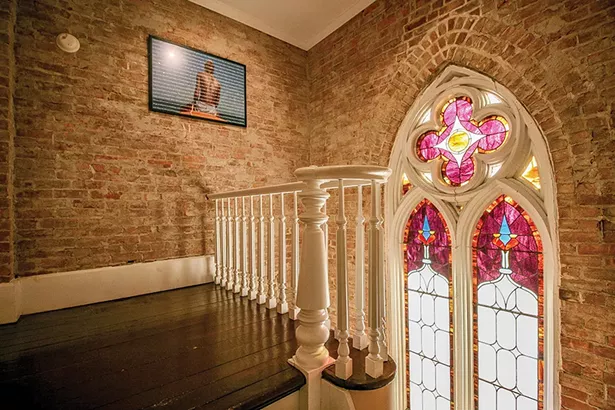 Photo by Seth Davis
A landing at the top of the stairs features original wide plank floors. Bokaer converted the church's former stepped choir loft into a bedroom with an open seating area, by leveling the floors and then carpeting them.
"It's been a real journey," Bokaer explains. "In the process, I've become very devoted to Hudson as well as to the region. The contribution I hope to make is toward further building the culture."
Photo by Seth Davis
To create a sleeping alcove, Bokaer completelysealed the former church bell tower twice. "Thefirst year we entirely sealed the building from mice, and then the next year from bats," he says.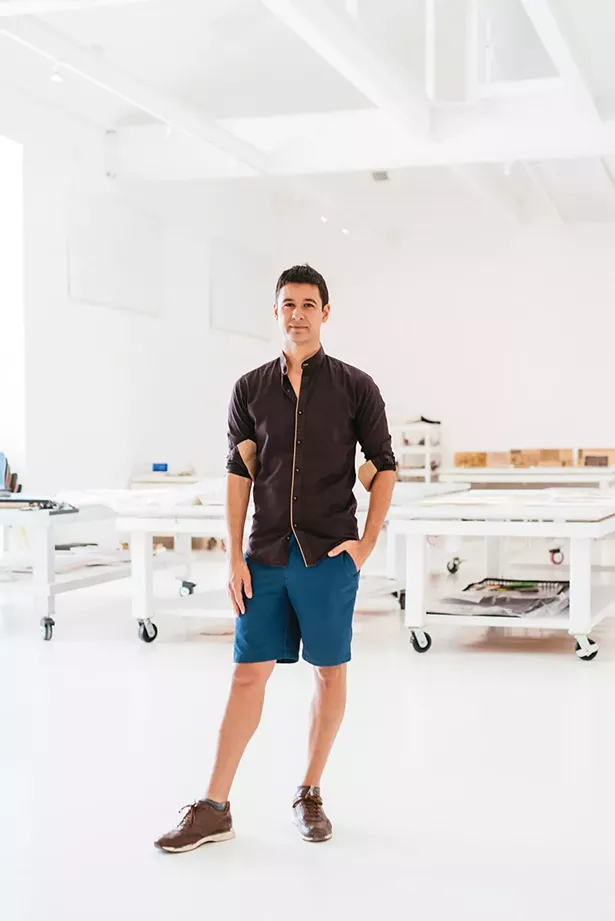 Photo by Mark Poucher
Jonah Bokaer in the Robert Rauschenberg Foundation. "It took a very long time, but now, with a little bit of success, I'm in the fortunate position of being able to take the medium of choreography and really tilting it toward the visuals," he says of his work.