Photo by Peter Freed/Hepworth AG
A worker readying one of the 38,000 marijuana plants at Hepworth Farms in Milton for harvest.
Right before the sun comes up, farmer Phil Spinelli, owner of Nightshade Farm in the Rensselaerville town of Medusa, puts on a headlamp to investigate some 7,000 cannabis plants. His four children, aged eight months to nine years old, are still asleep, but his day has started. He walks into the dark field, inspects the buds for any signs of botrytis, a common plant fungus, or powdery mildew. Luckily his inaugural crop was devoid of any rot, something he attributes to proper cultural habits, like putting extra space between each plant to optimize airflow. Then the reaping begins.
I first spoke to Spinelli in June, for an article about New York farmers' transition from hemp to cannabis, when his harvest was in its infancy, tiny seedlings he tended like a father would a child. He was a part of the state's first cohort of hemp farmers given the green light to grow cannabis some six months ago. Then, he was contemplating the perfect moment to plant the seeds in the ground. Uncertainty about how to proceed in the burgeoning enterprise loomed, but he was still excited by the prospect of being one of the first legal cannabis farmers in New York.
Today, he estimates that his first harvest will yield close to a ton of cannabis—some will become smokable flower and the rest may be used as extraction biomass to create distillate oils for gummies and other THC products to be sold in adult-use recreational dispensaries slated to be operational by the end of the year (this probably will be pushed to the beginning of next year).
What happens to his crop really depends on whether it meets certain standards set by the Office of Cannabis Management's "Laboratory Testing Limits" document, per the Cannabis Control Board's August 15 emergency vote to approve an application process for cannabis laboratories and to create regulations for the sampling and testing of adult-use cannabis. Spinelli is both licensed as a cultivator and a processor, an extractor and manufacturer—he can legally grow the plant, make cannabis oils, and package prerolls.
Photo by Peter Freed/Hepworth AG
But before the cannabis can be tested for potency or microorganisms, it must first be harvested. After Spinelli is done cutting down the branches from a few plants, his wife Kristine drives a tractor to him in the field.
"We take them to our drying facility, hang them, and repeat the process," Spinelli says. Long days and long nights are a part of the job. The couple are the sole workers on Nightshade Farm. "Financially, I just really can't afford to hire outside labor right now," he says.They have a babysitter who helps with the kids, but other than that it is just the two of them.
At the end of harvest, they will be responsible for cutting, trimming, packaging, and selling 2,000 pounds of marijuana. Spinelli has multiple Conditional Adult-Use Retail Dispensary (CAURD) applicants interested in purchasing his cannabis, however their interest and involvement is contingent on them being awarded their license from the state.
Claverack Creek Farm
"Wanna jump on the back of the tractor?" Jonathan Wilson asks me, in what feels like a command rather than a question. It's October, autumnal colors galore, and I'm visiting Claverack Creek Farm, another one of the New York hemp farms that were approved in April to legally cultivate cannabis. Wilson, 44, is the farm's lead consultant, assisting 27-year-old lead farmer Sibby Hanson with the day-to-day operations of managing their first cannabis harvest.
Some 45 minutes east, along Route 9 near Hudson, the setting at Claverack Creek Farm is different from that of Nightshade. The atmosphere feels like a cool college barn party, with about five 20-somethings sitting in a circle, listening to "Mannish Boy" by Muddy Waters, all of whom are equipped with a pair of scissors and a large stem of marijuana.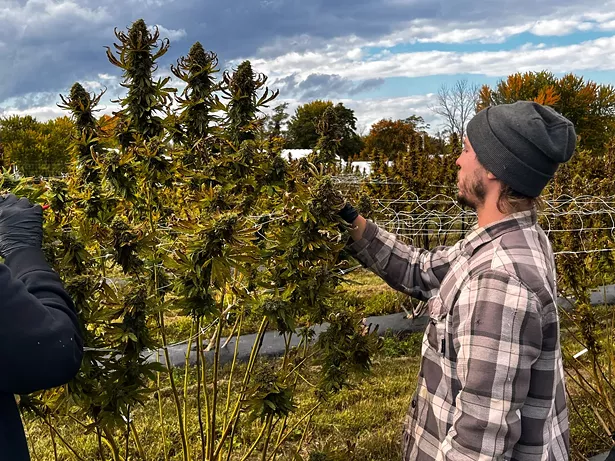 Photo by Noah Eckstein
Inspecting the bud before harvesting the cannabis plant.
They're laughing and working, bucking buds, the process of hand removing large leaves from the harvested cannabis plant. "Once we test the moisture, and it seems like it's adequately dry, we buck the bugs off, put them into bins, then they'll go through an industrial trimming process," says Matt Haering, a farmer at Claverack Creek Farm. He's known Hanson practically his whole life, and smiles when he says so.
Katelyn Neff, 27, works on the farm two days a week, and also works as a garden crew member at the Letterbox Farm Collective in Hudson. She's tall, thin, with long red hair. She smiles at the sight of a snapdragon.
"Different strains like different things," Neff says, en route to collect marijuana with about a dozen black and yellow moving boxes. "We have this strain PuTang that doesn't do well in high humidity and we planted it outside and it got a lot of powdery mildew," she says.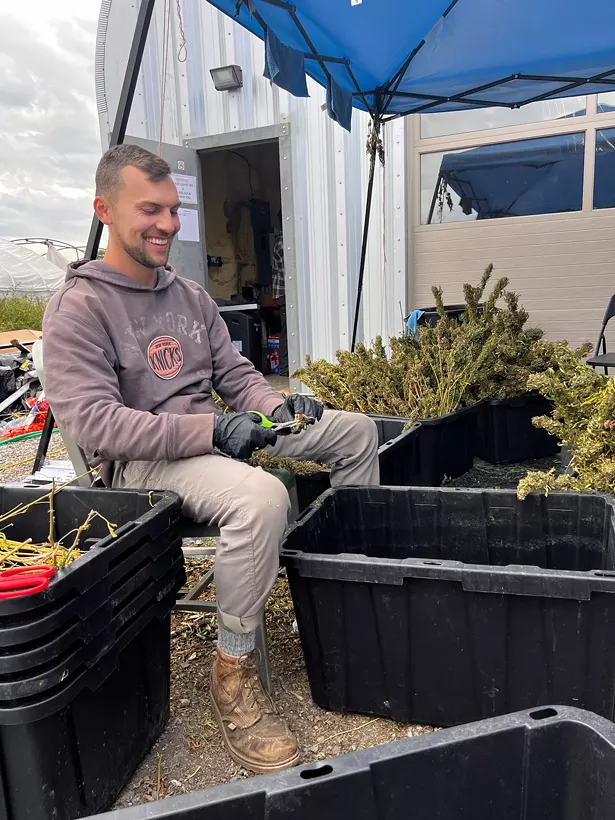 Photo by Noah Eckstein
Matt Haering, a farmer at Claverack Creek Farm, bucks a branch of cannabis, preparing it for an industrial trimmer.
Most of the summer was rather dry, and the plants responded well to the conditions. At night in the Hudson Valley though, it gets humid. In August and September it also started to rain a lot, just as the plants were reaching their largest and densest expression. Because of this, Claverack Creek Farm dealt with powdery mildew and botrytis, colloquially referred to as "bud rot," which destroys a plant rendering it useless. Still, their first harvest was successful. Hanson and Wilson estimate that their yield is between 800 to 1,100 pounds of cannabis.
In the field, Hanson smiles when inspecting a sticky, bright green cannabis bud. Even when he notices bud rot, he is smiling. This is because most of the crop is already harvested, resting in sealed bags waiting to be distributed to dispensaries and to be sold. Yet the government isn't prepared for that stage of the process to commence. The applications to apply for a conditional adult-use retail dispensary license closed at the end of September. So, it's a bit of a waiting game.
Tricolla Farms
"It's putting a lot of growers in a pretty precarious situation right now as we're harvesting since there is no meaningful lab testing available," says Brittany Carbone, cofounder and CEO of Tonic, a line of CBD wellness products, and Tricolla Farms, an event space where she has harvested 1,000 pounds of cannabis in Berkshire, a town 30 minutes south of Ithaca.
She's both frustrated and grateful. The lack of clarity about when dispensaries will open, and what is going to happen to her crop is daunting. "There's this kind of very tense feeling of 'What are we going to do with this crop that we're harvesting now?'" she says.
Carbone also has concerns with a proposed potency tax implemented by the state, that she says would charge customers in retail dispensaries a higher price for more potent cannabis products. "Because the biomass that is 10 percent THC is obviously going to command a lower price per pound than material that is at 15 percent or 20 percent THC," she says. "The higher the potency, the more money you could get per pound."
Photo by Peter Freed/Hepworth AG
Carbone believes in a flat tax rate so that higher taxes aren't pushed on to the consumer. She believes the legal market will have an issue converting people who usually purchase cannabis from a gray-market dealer, and fears high taxes will further deter them.
While it was expected that the nascent industry would experience hiccups, setbacks, and problems along the way, Wilson believes the Office of Cannabis Management is doing the best it can."I think they're doing a really solid job," he says. "Changing a long-standing prohibition in a state with a large population, with a lot of different politics involved, is tough. And they were able to push through really quickly, creating a lot of jobs and opportunity. I think it is a huge step in the right direction. They're 'making the road by walking' pretty well."
Agriculture is such a front-end-loaded business, that all of these farmers are looking ahead to tomorrow, to what they can do to have a more successful harvest next year. "Everyone spends their wad of cash in springtime and crosses their fingers," Spinelli says.
Hepworth Farms
Gail Hepworth, a partner at Hepworth Farms, a 500-acre certified organic vegetable farm in Milton, which is part of the cannabis growing pilot in New York, is hoping that the yield from her farm's 30,000 cannabis plants will be featured at every retail dispensary in New York. She has letters of intent and memorandums of understanding with prospective retailers. "We will distribute to every dispensary, shelf ready," she says. Hepworth plans to begin processing by the beginning of November.
Photo by Peter Freed/Hepworth AG
Hanson and Hepworth, Spinelli and Carbone have a lot to be thankful for. Hanson points to the sky. "I can see all the weather coming in all directions," he says. He gestures to the north. "The weather coming in from Albany, you can see it." He looks to the west toward the Catskill mountains. "You can see the occasional Atlantic storm coming from the south," he says. Hanson embraces the present. And, he looks toward the future, both good and bad. "Cannabis could fall victim to a wet season."