Planning to host a holiday party or a winter solstice gathering at your house? Or maybe yours is the go-to Thanksgiving table. Whatever the occasion, nothing classes up a shindig like fresh-shucked oysters. The family-run business Fishers Island Oysters, based on an island off the north shore of Long Island, has been sustainably farming oysters in the waters of Block Island Sound to supply restaurants for going on 40 years. Now, they deliver briney goodness straight to your doorstep.
A Historic Food
Oysters are an essential part of our region's historic aquatic ecosystem. In the 17th century, the New York harbor had oyster reefs spanning 220,000 acres—an underground infrastructure so large ships had to circumnavigate it. Through pollution, industrialization, and overfishing, the Northeast's many estuaries have lost their native oyster populations, but small sustainability-minded operations like Fisher Island Oysters are doing their part to bring back the bivalves.
"When we started, we knew that we wanted to be involved with a business or industry that didn't harm the environment," says Steve Malinowski, who founded the company in the '80s with his wife, Sarah. They started off as a clam farm, a natural outgrowth of Steve's dissertation on the mollusks, but when some oyster seed from a nearby farm ended up in their water and thrived, they decided to pivot.
How Do You Grow An Oyster, Anyway?
Growing oysters is a three-phase process that takes about 18 months from seed to sale. "We basically learned the trade ourselves," Steve says. "There wasn't anybody doing what we do, the way we do it, when we started. We built much of the operation ourselves, mostly in our backyard." After microscopic oyster larvae are "set" in a controlled indoor environment and fattened up on a careful diet of beneficial phytoplankton, they are transferred to "the nursery," a 35-acre brackish pond on Fishers Island, where they continue to grow in nets, sorted by size.
When they're about a year old, the oysters are moved to West Harbor for the final grow-out. In this phase, the Malinowskis continue to employ suspension culture to get the oysters to market size. The oysters grow in nets suspended by long lines strung between buoys, a method that causes minimal disruption to the ecosystem when removed, while adding habitat and food sources for dozens of aquatic and bird species.
An Oyster A Day...
Fishers Island Oysters harvests for restaurants and direct consumers from September through May. On their website, you can order 100 oysters for $100—not a cheap grocery list item, but the Malinowskis prefer to cut down on packaging by shipping in larger quantities. Plus, it's a reason to gather, they say.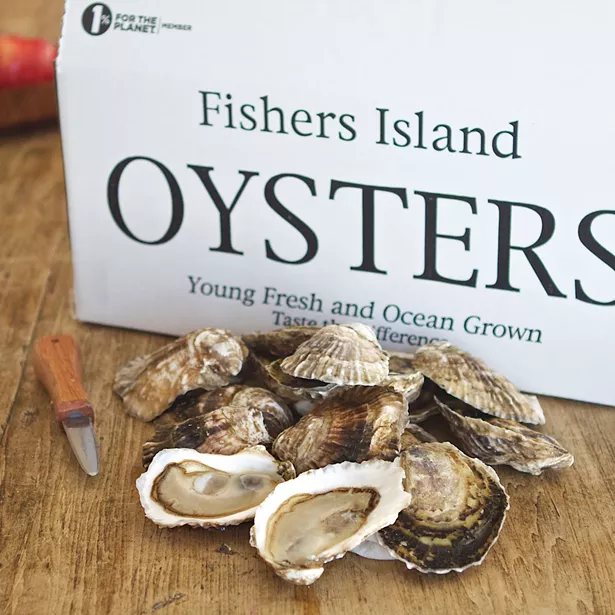 The oysters have a bold, briny nose, thanks to the Atlantic salt water they grow in, punctuated by a zesty savoriness and a strikingly clean finish. When you order online, you receive your oysters the day after they were pulled out of the water. Once delivered, they'll keep for a week or two in the fridge. "I'm not an oyster connoisseur," says Molly Malinowski, Steve's daughter and head of sales for the business. "But I love our oysters, and I think it has to do with the fact that where they grow is pristine. We have been helping the environment there for 40 years."
For more information on Fisher Island Oysters or to order today visit Fishersislandoysters.com.