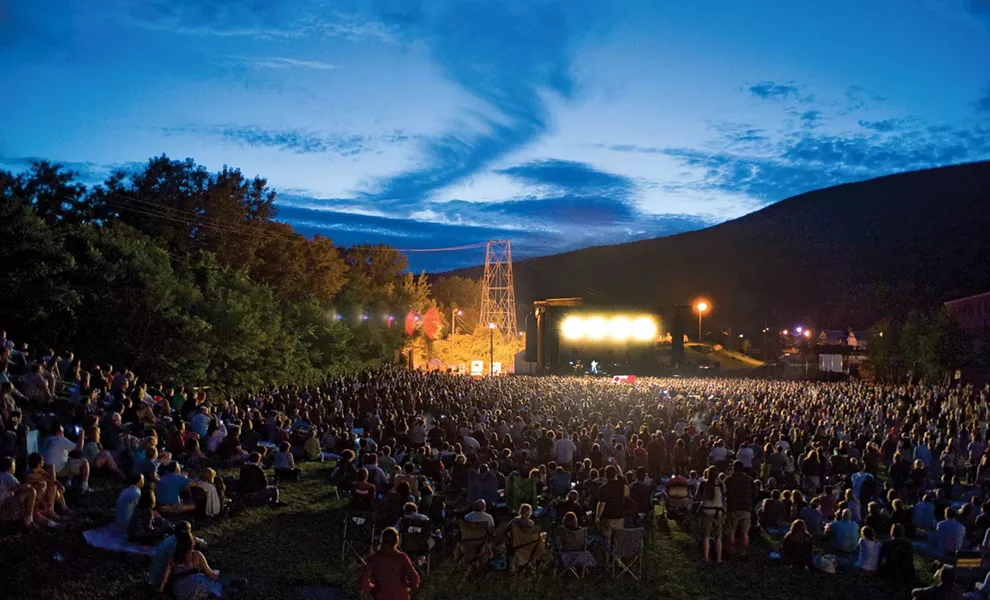 Rick Levinson
Wilco Solid Sound Festival at Mass Moca.
We say it every year, it seems, but this past winter was indeed the One We Thought Would Never End. For real this time. A new Little Ice Age marked by snowfall that was beyond absurd and topped with torturously long, wind-whipped stretches of temps well below seasonal averages. Yet, impossible as it may have seemed in the depths of that late January/early February nadir, here we are: We actually made it! And along with the gorgeous weather our reward is live music, lots of it. All kinds, in fact. Music again being played at festivals that feature our spectacular geography as the backdrop, or at least offering the welcome chance to hit the scenic roads in pursuit of exceptional sounds. There are many such gatherings we simply didn't have room for here, but below are a few of the brightest: some recurring faves, as well as a few new discoveries. So, hey, what are you waiting for?
Wilco Solid Sound Festival
(June 24-26)
This newish musical convergence was founded by Grammy-winning alt-rock juggernaut Wilco. Back again at MassMOCA in North Adams, Massachusetts, its adventurous bill includes the Levon Helm Band, Thurston Moore, Syl Johnson, Pajama Party (featuring Neil Finn), Sic Alps, Here We Go Magic, Dave Douglas and Brass Ecstasy, Sarah Lee Guthrie and Johnny Irion, and Wilco offshoots Pillow Wand (Thurston Moore and Nels Cline), Pronto, the Autumn Defense, and Glenn Kotche. John Hodgman of "The Daily Show" curates the Comedy Cabaret segment starring his cast mate Wyatt Cenac and others.
www.solidsoundfestival.com
JetLAG
(June 24-26)
A Russian-American music festival?
Da!
This intriguing weekend lands at Full Moon Resort in Big Indian to bring, as per concert guide Songkick, "blazing rock 'n' roll drive and soulful campfire songs, fierce acid rave, and the traditional music of a Yiddish
shtetl
. Take a rainbow gathering, add Burning Man, mix with a splash of USSR circa '80, pour in the amazing Russian indie band Auktyon and the post-everything conceptual troubadour Psoy Korolenko, pour in hundreds of drunken Russians. Tents, vodka, marinated herring…" Add to that Ned Rothenberg, Little Annie, Jonathan Kane, and more.
www.jetlag2011.com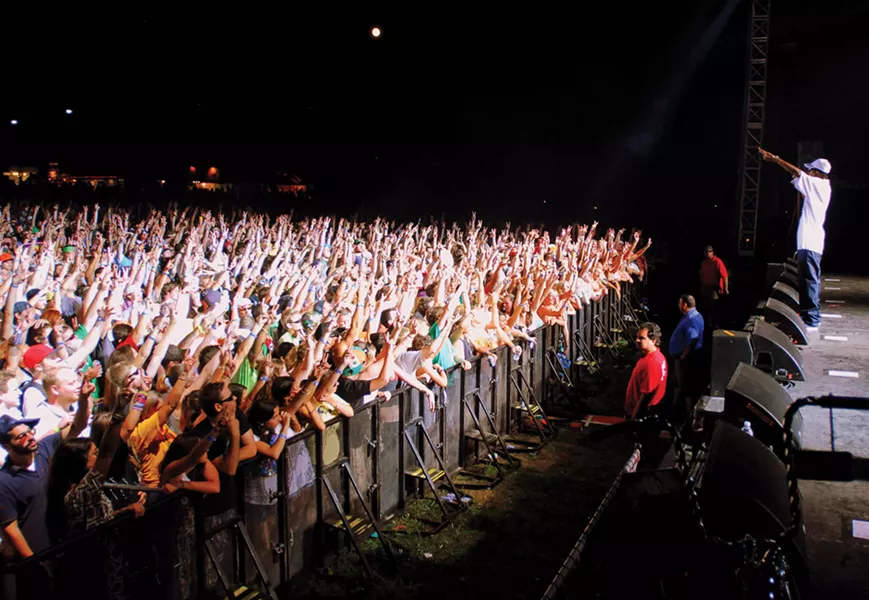 Dave Vann
Snoop Dogg at Camp Bisco.
Camp Bisco
(July 7-9)
Begun a decade ago by jam band the Disco Biscuits, this groovy soiree at Indian Lookout Country Club in Mariaville rambles on over five outdoor stages with its founders, Four Tet, Shpongle Live (first-ever US appearance), Ratatat, Yeasayer, Death from Above 1979, Das Racist, Conspirator, the Japanese Popstars, Black Moth Super Rainbow, Bassnectar, and dozens more. DJ tents will host a "Special Disco Version DJ Set" by LCD Sound System's James Murphy and Pat Mahoney and showcases by the DFA and Mad Decent labels and Roc-A-Fella Records' Damon Dash—but bring your own tent for the on-site camping.
www.campbisco.net
Bard SummerScape
(July 7-August 21)
Once again, Bard College takes the life and work of a single composer as its loose theme—this time it's Finnish master Jean Sibelius—and around that builds a dazzlingly diverse program of musical, theatrical, and dance performances, panels, and film screenings at sites around the Annandale-on-Hudson campus. Besides the usual packed concert schedule, this installment boasts the Tero Saarinen dance company, Henrik Ibsen's "The Wild Duck," Richard Strauss's "Die Liebe der Dance," and Noël Coward's "Bitter Sweet." The magical Spiegeltent returns with cabaret favorites like the reliably racy Wau Wau Sisters, Joey Arias, and the Bindlestiff Family Circus, plus top ethnic music acts and more.
www.fishercenter.bard.edu
Marita Liulia
Tero Saarinen performs at Bard Summerscape on July 7.
Berkshire Choral Festival
(July 16, 23, 30, and August 6)
PhoeniciaVOICEFEST
(August 4-7)
Now held in the air-conditioned Jackman L. Stewart Center at the Berkshire School in Sheffield, Massachusetts, the Berkshire Choral Festival is celebrating 30 years of top choristers, soloists, and conductors and repertoire for voices and symphony orchestra. 2011 offers "Sacred American Voices" (works by Barnett, Bernstein, and Hailstork), Mendelssohn's
Elijah
, Monteverdi's vespers, and more. PhoeniciaVOICEFEST (formerly the Phoenicia Festival of the Voice) continues its town-wide mission of "celebrating the human voice in all its multi-faceted glory." This year features gospel diva Rozz Morerhead, Mozart's "Don Giovanni," Arab musician Shaheen, Vivaldi's "Gloria," kids' fare, and much more.
www.choralfest.org
;
www.phoeniciavoicefest.com
Hudson.Water.Music.
(Wednesdays July 20-August 17)
Hudson Music Festival
(August 12-14)
Hudson has certainly become a buzzing cultural hub, especially when it comes to truly diverse musical offerings, and these two brand-new fests are ear-pleasing testament to that effect. Organized by the Musica music shop, Hudson.Water.Music. happens at Henry Hudson Riverfront Park with the Edna Project (poetry of Edna St. Vincent Millay set to music), "Pump Boys and the Dinettes" composer Jim Wann, Icelandic shoegazers Hellvar, Arborea, Sweet Soubrette, local circus performers, and more. As we go to press, the overlapping, multi-venue Hudson Music Festival is still being assembled, but in the years to come the organizers hope to grow the three-day affair into a weeklong bash. Check website for schedule and more information.
www.goodmusica.com
;
www.HudsonMusicFest.com
The Big Up
(July 28-30)
Starting its ascent in 2007 as the Shirefest and going through a few other name changes, this three-day, green-leaning, DJ/electro/jam band-heavy meltdown at Ghent's Sunnyview Farms presents 50-plus hours of music on multiple stages, along with artistic and cultural happenings and multimedia experiences. Mixing it up this year are EOTO, Tipper, Big Gigantic, Digital Tape Machine (featuring Joel Cummins and Kris Myers of Umphrey's McGee), Marco Benevento, Abakus, Higher Organix, and, dude, so much more.
www.thebigup.com

Grey Fox Bluegrass Festival
(July 14-17)
Falcon Ridge Folk Festival
(July 22-24)
The region's longstanding twin pillars of American roots music are back with the bangs we've come to expect. Held at its second home, Walsh Farm in Oak Hill, the camper-friendly Grey Fox kicks off with host band Dry Branch Fire Squad, and follows with Sam Bush, Del McCoury, O'Brien Party of Seven, Peter Rowan, the SteelDrivers, Crooked Still, Red Stick Ramblers, and lots more. Falcon Ridge, at Dodds Farm in Hillsdale, has Greg Brown, Mary Chapin Carpenter, C. J. Chenier, Mary Gauthier, Eliza Gilkyson, John Gorka, Lucy Kaplansky, Red Molly, Spuyten Duyvil, and others.
www.greyfoxbluegrass.com
;
www.falconridgefolk.com
Warwick Valley Jazz Festival
(August 18-21)
Now in its second year, this Orange County jazz summit presents an array of artists at venues throughout the town of Warwick. Booked as of this writing are 17-piece big band the New York Swing Exchange, the Rick Savage 4tet featuring veteran drummer Elliot Zigmund, the Skye Jazz Quartet featuring Gabriele and Joe Vincent Tranchina, the Chris Persad Group featuring Todd Williams, and the quartet of Jeff Ciampa, Mark Egan, Joel Rosenblatt, and Billy Drewes. Check website for updates.
www.warwickvalleyjazzfest.com

Bluestock
(August 26-28)
Hunter Mountain is the site of this first-ever blues summit, which is off to a decidedly rousing start with the legendary likes of Gregg Allman, Buddy Guy, Elvin Bishop, and hot newcomers like the New Orleans brass band Trombone Shorty and Orleans Avenue and action-star-turned-blues-player Steven Seagal (!). Also: Tommy Castro and the LRBR (featuring Joe Louis Walker, Deanna Bogart, and Rick Estrin), Tab Benoit, Bob Margolin and Matt Hill, Alexis P. Suter, Bruce Katz, Albert Cummings, and many others.
www.bluestock.com

Just over the Horizon
...
Caramoor
Through September 25. Katonah. NPR's "From the Top," American Roots Music Festival with David Grisman and others, Oumou Sangare, beijing guitar duo, classical symphonic and chamber and opera programs, more.
www.caramoor.org

Montreal International Jazz Festival
June 25-July 24. Montreal, Quebec, Canada. Bela Fleck, Hugh Masekela,
Madeline Peyroux, Dave Liebman, Diana Krall, Marianne Faithfull, more.
www.montrealjazzfest.com

Gathering of the Vibes
July 21-24. Bridgeport, Connecticut. Furthur, Jane's Addiction, Elvis Costello, Moe., Levon Helm, the Rhythm Devils, Taj Mahal, Dr. John, more.
www.GOVIBES.com
Grassroots Festival of Music and Dance
July 22-25. Trumansburg. Carolina Chocolate Drops, Tinariwen, Donna the Buffalo, Thomas Mapfumo, Red Stick Ramblers, Johnny Dowd, more.
www.grassrootsfest.org/festival
All Tomorrow's Parties America
September 30-October 2. Asbury Park, New Jersey. Portishead, Jeff Mangum, Swans, the Pop Group, the Horrors, Deerhoof, Mogwai, more.
www.atpfestival.com