If the name Sonder sets distant bells tinkling in the cobwebbed corners of your memory, it is likely because you heard of a bar by the same name that opened in Hudson a few years ago. Even then, the natural wine bar was an unexpected detour. Bagnall had escaped a pandemic-stricken New York City restaurant scene to nurse his burnout in Germantown, contemplating a return to his home state of California and a cushy job as a private chef. But an empty storefront in Hudson called, and for once, the numbers made sense. He opened the original Sonder in August 2020 with an ever-rotating list of low-intervention wines by the glass from unlikely places like Slovakia and Mexico and a small list of veggie-forward plates.
But, shit happens—in some cases literally—like the building's sewage problem. And other wine bars opening. And the growth limitations of a 16-seat restaurant with no outdoor space. "Hudson is a great town, but with our margins as slim as they were, even the slightest bit of additional competition hurt us," Bagnall says. "We tried to offer things as cheaply as we possibly could while getting the best product we could find."
A Rhinebeck Detour
Even with the slim margins and mounting infrastructure problems in Hudson, Bagnall's insatiable entrepreneurial itch led him to open Halcyon All Day Cafe in Rhinebeck in November 2021. "I was going to have both," he says. "I'm not sure why I thought it was feasible, but at the time, I thought I could do the cafe in the morning, get up at 4am, work till 3, then go to Hudson, work at Sonder till 10 and get home at 11." The sisyphean task seemed more doable when he saw a storefront for lease two doors down from Halcyon in Rhinebeck. He would move Sonder to town and consolidate his efforts.
But seven months into Sonder Rhinebeck's renovation, the building was still not zoned correctly for a wine bar, the maze of red tape was seemingly endless, and his money had run out. He pulled out of both leases and, with his fiancee Izzy, planned to beat it to California, where his best friend had a location for Sonder waiting. "Literally a week before we were supposed to move, I found this space," Bagnall says, referring to the spot at 346 Broadway. "I talked to my family, talked to friends, talked to Izzy, and then decided to take this space and keep Sonder going here. It felt right because Kingston has been easily my favorite town in this area."
Sonder's location is on a neglected block of Broadway in Kingston that is bookended by Sunshine Chinese restaurant and a Burger King, with a whole string of empty storefronts in between. "This is the most undeveloped stretch of Broadway, in every sense," Bagnall says. "We don't have pretty bike lanes, new sidewalks, new lamp posts. Broadway was fully redone and it seems like they just didn't feel like doing this block. But it has a little more charm for me. I love it. This is the best spot for us." Despite his block's seeming exclusion from the Great Broadway Reinvention of 2022, Bagnall says that the city has been great with ready support from the city planner and Ward 9's alderwoman Michele Hirsch.
An Iterative Business Model
The building that houses Sonder is an old Victorian, with a boxy brick addition tacked on the front and apartments upstairs. In the storefront, Bagnall has created an airy space, painting the walls, high ceilings, and brick facade white to offset the blonde wood tones and black accents. A long bartop runs against one wall with six vintage Mid-Century stools and with two tops along the opposite side of the room and a table for six at the back. If you want to canoodle, head up to the vintage, yellow velvet couch tucked into a corner below the window.
In some ways, Sonder Kingston picks up where the Hudson location left off while incorporating lessons learned. Bagnall has kept the things that worked—a geographically diverse and ever-changing wine-by-the-glass list; local producer-driven and vegetable-focused food offerings; and good music. "For the original Sonder, the idea was, 'OK, let's survive for three years and see what happens," he says. "It was a bastardization of Parisian wine bars like Le Clown Bar and then wine bars from the city like June or Four Horsemen, but my knock on those is that they take themselves so seriously. My question always was: How do we offer a great product without taking ourselves too seriously? Now, I know better where to draw those lines. I want this to be fun but also adult." The elegant space with a huge, vintage disco ball hanging from the ceiling hints at the balance he's trying to strike.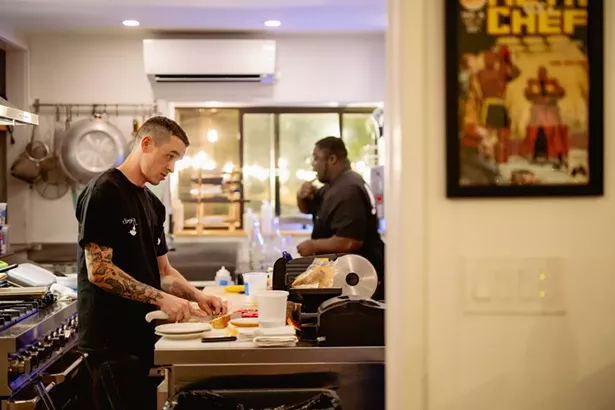 Fun But Also Adult
And what's more fun but also adult than a 4 to 6pm happy hour where glasses of wine that should run $14-$16 only cost $8? The glass list has two options each of chilled red, white, orange, rose, and sparkling (including pet nats). The more extensive bottle list features eight eclectic sparkling wines, including lambruscos, cavas, proseccos, and "hard core pet nats that are red and really aggressively sparkling and weird," says Bagnall. There are half a dozen reds and whites each, plus local cider and beer.
Highlights in early October included the Castello di Stefanago red, made with carbonic maceration, for a smooth, full-bodied, berry-forward glass that, sipped chilled, goes down smooth in any weather. The Weingut Schlossmuhlenhof rosé has a pale, flirty color and a pink lemonade-on-a-hot-summer's-day crushability that could level a squad of varsity cheerleaders. Stans of Lunch Nightly will be happy to learn that co-owner and lead wine guy Gabe Weinstein is now at Sonder, bringing his signature laid-back, radically-unpretentious-but-lyrically-delicious way of talking about wine. (He argues that the Weingut is a night out, yes, but a mature one, with some gravity and deeper searching that I missed upon first sip.)
The Tongue in Cheek skin-contact Gewurztraminer from Accordion Wines (made in Accord)features a delightfully buzzy natural effervescence with a darker, honeyed color than a classic, non-contact Gewurtz. It has a nosy, tropical bouquet with bright florals that woo rather than overpower and a tart finish that is its enchanting coup de grace.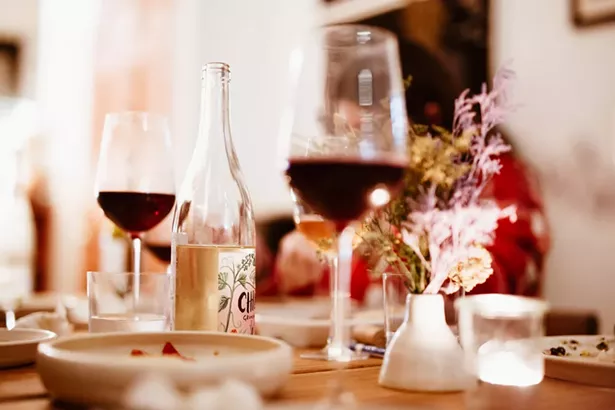 On the food front, Bagnall is also taking himself more seriously. "Hudson Sonder was supposed to just be one person cooking food and wine, wine, wine, wine," he says. "Food kept us in business and I'm grateful for that, but it wasn't the original focus. For the Kingston Sonder, I wanted food to be part of the plan from the start."
The menu is broken down into choose-your-own-adventure bite boards and a more traditional menu with a salad, a few apps, a few entrees, and dessert—brief but sufficient. For the bites boards, you choose one ($10), three ($22), or five ($44) options from a selection of clever offerings which range from coppa, served with chili oil and charred hatch chili peppers, to pickled vegetables, to baked brie, with garlic confit and roasted peppers. "It's all really good ingredients treated with some degree of respect," Bagnall says of the bites. "They are all deceptively complex with really time-intensive prep."
The pickled eggs are genre-defying. Made with a jammy yoke, stuffed with herbed creme fraiche and topped with pickled shallots and charred garlic, they are a triumphant, base-rounding balance of flavor with cloudlike mouth texture. The mimolette has its moment in the sun, an electric cantaloupe-colored hard cheese topped with ruby-red slices of Jimmy Nardello peppers, and drizzled in Catskills honey. It's sweet and occasionally spicy, it's crunchy, it's sturdy. Even the house baked bread (by Bagnall's own omission a "bastardization of Saltie's focaccia"), served warm with a dollop of butter, stands on its own. It should be tacked on to any order.
As Bagnall fans can expect, there is a cucumber dish on the menu (perhaps the only constant through the business's many interactions). At present, cukes are served with beets, black sesame, pickled shallot, and tahini vin ($11). The all-star braised butter beans also make their return served in a vegetable broth with soggy bread topped with parmesan, with or without local sausage ($16, $24).
The roasted honeynut squash ($14) comes with two small halves of creamy, sweet, gourdy goodness topped with crushed mixed nuts (hazelnut, walnut, was that pistachio?) and peppered with what could be a McCormick poultry seasoning blend—in a good way. The nuts offer textural complexity playing off the softness of the squash, while the herbs temper the sweetness. The main main—a local pork chop—is an ode to autumn with cubes of cooked apple, apple mustard (which is more gesturally a mustard than literally), and cider jus ($32). To his credit, Bagnall doesn't overcook the pork but leaves it moist in half-inch slices topped with grilled scallions and served with smashies, which the jus unfortunately robs of their crunch.
Room to Grow
The inside of Sonder seats 24 (not counting the velvet sofa or another tucked away four-stool bar), but the major score is the bluestone patio out back capable of seating 30. A wooden stage will host live music acts (which will also be booked by LN's Weinstock).
"Toward the end, I'd do events at the original Sonder, and they wouldn't work because I wouldn't promote it enough," Bagnall says. "I was spread too thin. I was doing line cooking, cleaning the bathroom, mopping floors. I failed from a business owner perspective. New Sonder's goal is to be a bit more mature, holistically. To be a little bit more of a restaurant. We're going to have really fun blowout parties but they're going to be done properly so people can have a great experience."
Speaking of which, Sonder will host its first party—a costumed Halloween shindig—on Sunday, October 30. The $50 tickets will include all you can drink natural wine and NA sodas, passed bites, candy, music, dancing, and a silent projection of The Addams Family.
"The goal here was just to keep Sonder's essence—still fun and cool, but make sure at the same time that the business works," Bagnall says. "Hopefully Sonder's found its forever home."
Sonder is currently open Wednesday through Saturday, 4-9pm with Tuesday service coming as soon as they are fully staffed.