What do we really know about the fish we eat? Even if we are diligent about buying local and organic produce, grain, and meat, does that care extend beneath the sea? Many species are suffering from overfishing. Fish farming can pollute the ocean, and spread disease to wild fish. Regulation and inspections are either lacking or inconsistently applied and enforced. How do we make sense of all this, while helping to protect the oceans, our health, and our Broadway careers? (Apologies and well wishes to Jeremy Piven.) Trying to understand the state of seafood today is a complex, frustrating, and often bewildering endeavor.
Another challenge is to try to reconcile the often-conflicting variables of health and sustainability. Yellowfin tuna is sustainable but contains mercury in sufficient quantity that vulnerable people (pregnant women, children) are encouraged not to eat it. Salmon is very high in healthy omega-3 fatty acids, but unless it's wild Alaskan or properly farmed, the environmental cost is steep. The sad reality is that the seafood that falls firmly within both categories is a much smaller set than most of us are accustomed to choosing from, and it is unlikely to change any time soon. Given all this, how can we navigate all the conflicting information and choose our seafood as responsibly as we choose meat and produce?
The good news (yes, there is some) is that our desire to be ethical consumers is the solution. And there are people at all stages of the business who are also engaged with these issues and want to help us choose better fish. Carl Rebstock, co-founder of Passionfish, a nonprofit dedicated to promoting sustainable seafood, says "the situation is perilous, but with reason for optimism. The world has made real progress in fisheries management over the last several years. Although most wild fish stocks remain overfished, concerted global efforts have helped broadly stabilize the situation—with heartening developments in certain fisheries." He recommends buying wild fish that carries Marine Stewardship Council certification, which ensures that it comes from a well-managed resource, and referring to some of the websites (see box) that provide extensive information on wild and farmed fish from around the world. And, most important, he says, is to "ask questions. Informed consumers telegraph their interest in responsibly run fisheries through the simple act of asking."
Steve Kraus, owner of Gadaleto's Seafood Market in New Paltz says he tries to carry sustainable or wild-caught fish whenever possible. He describes his customers as "educated" and strives to provide accurate information about the fish he sells. "People do ask, but answers are sometimes difficult; fish is not under continuous FDA oversight, and is wide open to mislabeling and misrepresentation. As the system is currently set up, there's no clearinghouse for information—so although there are lots of sources, they don't always agree." Kraus also attempts to educate his customers, guiding people towards responsibly farmed salmon as an alternative to the seasonal wild Alaskan catch, emphasizing that sustainable aquaculture is going to be the future of much of our seafood, and that it's important to support the people who are trying to do it right.
Kevin Katz is the chef/owner of the Red Onion restaurant in Saugerties. He says that people's tastes have yet to fully catch up to the new realities; Spanish mackerel, which is very sustainable, was "not very popular" on the menu last summer. "It has gotten a bad rap, but if it's diamond fresh and cooked well, it's really delicious; the skin can get very crispy without overcooking." Katz says that chefs also have some learning to do. "As a cook coming up, I learned to cook the fish that people wanted to eat, so I've also had to learn more about some of these more economical and sustainable varieties."
Is the next generation of chefs benefiting from this knowledge? Gerard Viverito is on the faculty of the Culinary Institute of America in Hyde Park, and is also a co-founder of Passionfish. He thinks that educating tomorrow's chefs is an essential component of any solution: "I discuss sustainability on a daily basis in class. The average American consumes 14.6 pounds of seafood a year and 67 percent of that is in restaurants. It is up to us to help consumers make educated choices. They will then go to other restaurants and ask the chef if a product is sustainable, that chef will ask the purveyor, and on up the line. It is an opportunity for a real grass-roots movement."
Gadaleto's Kraus says that the press can also play a role in driving the market towards better seafood. "If the New York Times runs an article on a particular fish, demand for that fish will go up dramatically." He mentions a recent Times piece about Portuguese sardines—a very sustainable choice—which he has sold out of every weekend since. Katz concurs about sardines; he serves them cured as an appetizer and they are popular. But Viverito cautions that "if everyone started eating mackerel and less-glamorous fish, soon they, too, would be unsustainable." Barton Seaver, a Washington, DC-based chef, activist, and expert on sustainable seafood, sums it up succinctly: "More people should eat less of more kinds of fish." In other words, if we control portion sizes (which is a good idea in and of itself) and eat a wide variety of ocean critters, we spread the demand over many fisheries and minimize the stress on a few popular species.
Given the complexity and gravity of the ocean-fish situation, one could be tempted to concentrate on local fresh-water fish as an alternative. Unfortunately, the precipitation into our waters of toxic metals—largely from industrial and power-plant air pollution originating in the Rust Belt—has contaminated many of our local fish. In its 2008-09 health advisories for sport fish and game (available online), the New York State Department of Health advises eating no perch, pickerel, walleye, bass, or large perch at all from our local waters, due to high levels of mercury and other toxins. The report recommends eating no more than one meal per week of trout, small perch, and a few others. So local options are limited, though they can still be a relevant part of the picture, and freshwater fishing is a worthy way for those of us who do not live close enough to the ocean to engage directly with our aquatic food supply.
Seaver puts us at the helm of the outcome. "Consumers, by establishing relationships with sellers and asking questions, drive responsibility up the chain," he says. In addition, he says, we need to diversify our taste. "The recent rise in gastronomy has made this movement possible. We're always looking for the new ingredient: a special olive oil or fancy vinegar. We need to be adventurous with fish as well; there are 584 different kinds of seafood regularly for sale in this country." Seaver sees the solution as being holistic. "The organic movement would likely have failed if not for farmer's markets; consumers became connected to their food. Something similar is called for with seafood," Seaver says. "We need to have a relationship with a resource before we can manage it well. And since fishermen vote, and fish don't, sustainability must include the viability of coastal economies." He goes on to observe that while cowboys are integral to our national mythology, fishermen are not.
In order to help remedy this injustice, Seaver insists that "it is your patriotic duty to eat domestically farmed oysters; they clean our waterways, support local communities, and they're sustainable."
Everyone contacted for this article agrees that consumers are going to drive the move toward more sustainable seafood. As with the economy and energy, there are hard choices and more responsibility on deck for all of us. We need to learn more, and to ask for what we want based upon that knowledge. Retailers thrive by providing us with what we ask for. Today's chefs are ready to amaze us with profound new flavors and varieties. We have unprecedented information available to guide our choices, and to help us cook less familiar things, which we buy and bring home. Fish Forever by Paul Johnson (Wiley, 2007) makes a celebration out of this serious subject, combining authoritative information on a wide variety of species with mouthwatering recipes and an optimistic tone. At the end of the day, it is our love of food that is good—for us and the oceans—that will allow future generations to continue to pull many more meals from the sea.
RESOURCES
www.passionfish.org
www.health.state.ny.us/environmental/outdoors/fish/fish.htm
www.fao.org/fishery
www.nmfs.noaa.gov/fishwatch/
www.msc.org
www.blueocean.org
www.montereybayaquarium.org/cr/seafoodwatch.aspx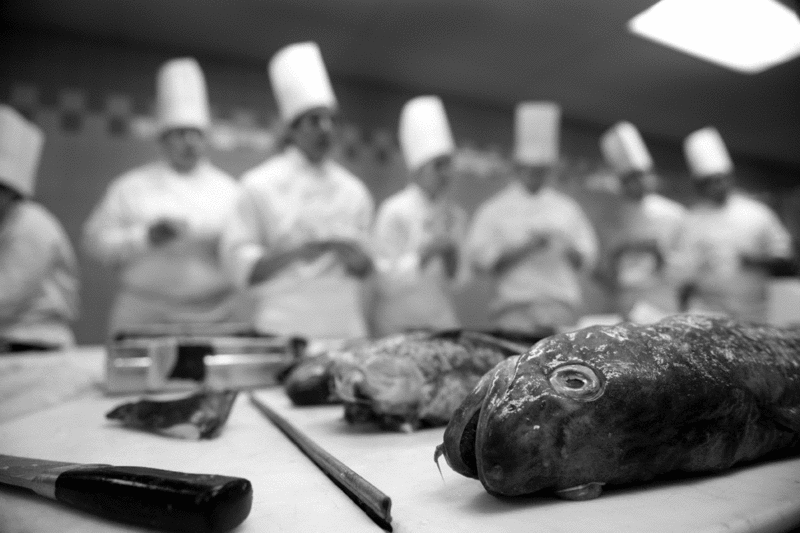 Jennifer May
At the Culinary Institute of America, students learn techniques to identify and fillet a variety of fishes.
Jennifer May
Professor Gerard Viverito leads a fish class at the Culinary Institute of America. Students learn the origins, natures, tastes, and best uses of a variety of fish, and they learn how to fillet whole fish. Viverito is filleting a Pacific Halibut, a sustainable species.