In 1984, Flying Cloud Institute (FCI) was founded as a community education center on a 200-acre colonial farmstead in New Marlborough, Massachusetts. Now, 37 years later, with administrative offices in Great Barrington, they blend science and arts education at public schools, after-school events, and STEM programs for female-identified youth.
Why the name Flying Cloud? Executive director Maria Rundle says the name goes way back to when the founder Jane Burke's father first saw the farmstead it was originally based on. With the big white house, it reminded him of the white sails of the clipper ship Flying Cloud, which set the world's sailing record for the fastest passage between New York and San Francisco in 1854. He named the property after it, also running it as an inn for several years. When Burke started offering science lessons from her backyard in the early '80s, she called the program Flying Cloud Institute.
FCI runs programs at several locations, sometimes even on farm properties where students can investigate vernal pools. "We bring our 3-D printer and robotics equipment and dance and do amazing things," says Rundle.
This approach also helps them take their programs into the public schools so kids from all backgrounds can participate. "The kids we were missing before, who due to transportation or childcare or food security issues were not able to find their way to us, we're making a greater effort to bring our experiences to them," Rundle adds.
Blending Disciplines
"The idea of science and art coming together is such a powerful combination because we all want to make meaning out of our world," says Rundle.
With the aim of helping students find this meaning through educational programs, FCI has programs on-site at different locations with specialists helping children to learn, as well as in area schools. They support public education and partner with school districts, going into schools to help add in educational experiences for the students, whether through residencies or through after-school programs. They teach to state standards, and help educators meet the current challenges of incorporating different sets of skills into their curriculum.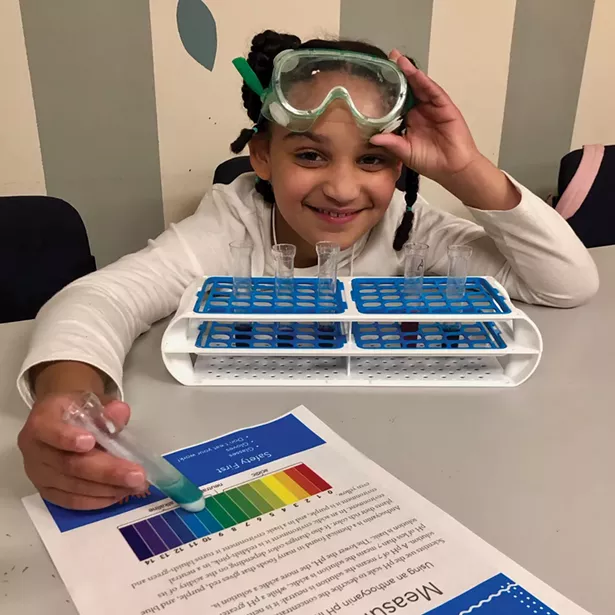 Exploring chemistry at the Girls Science Club afterschool program.
At FCI, students are taught to find creative solutions, even if sometimes silly, instead of always looking for the correct answer. "Kids meet scientists and engineers, then we bring in an artist, who helps students make their thinking visible through performance art, sculpture, writing, dance, or music. Then kids teach the concepts to their peers and families in a performance piece," Rundle explains.
The institute makes sure this hands-on education meets the science, technology, and engineering standards that the state requires. Students get to learn about 3D printing and stop-motion animation, get an introduction to coding and robotics, learn pottery and ceramic making, participate in dance and performance art and much more. It's called the SMArt (science meets art) Schools program and also offers educators professional development programs to integrate the learning experiences into their curriculums.

COVID Challenges
Even with this hands-on approach, FCI managed to meet the challenges of last year. After everything went virtual in March, staff ran their science and art programs in recorded and live sessions.
And they also figured out how to work with youth in person. They put together a coalition with nonprofits in the area to create outdoor learning hubs for the children of healthcare workers, social workers, educators, and immigrant families.
The result was a full-day, five-day-a-week option—outdoors and masked—for kids when they couldn't be in school. And when Rundle says every day, she means it. With community support, they procured winter clothing for the kids and continued through winter as well. They also created a food and security program, feeding kids hot meals and sending them home with fresh food.
Relaunching Young Women In Science
This year, FCI is relaunching in-person programming for Young Women in Science. The 21-year-old program receives funding from the
Women's Fund of Western Massachusetts
, which has been a supporter for the last two decades and made the founding gift in 2000 that helped get it started.
"Research shows girls start losing STEM identity at age nine, then it goes off another cliff in eighth grade," Rundle says. Young Women in Science aims to combat this through a series of educational experiences, one of which is a mentorship where they train and pay high school youth to mentor younger female-identifying students.
Sculpting puppets at Flying Cloud Institute's SMArt summer camp.
Another is their modus operandi, the hands-on experiences. Volunteer teachers include female-identifying STEM researchers and scientists, with alumni often returning as STEM professionals to share work with the next generation.
They also have STEM Summer, where female-identifying students ages nine to 19 visit real research labs at Bard College at Simon's Rock. Last year was the first in 20 years that they couldn't do this, but they did manage to do a version of it at Berkshire Community College
Young Women in Science ran virtually through the pandemic, but Rundle says she's seen a renewed appreciation to learn together. "Kids want to design, experiment, and investigate together with more enthusiasm than I've ever seen. This is a special moment where we can be present to meet that desire to engage," she says.

This fall, they're focusing their work on Pittsfield, in public schools that are underperforming in science and math.
Lessons for the Future
Despite the return to regular programming, Rundle says they've learned some things from the lessons of last year.
The outdoor hubs showed them they have an expanded ability to work outdoors. From collaborations with non-profits, they learned that even with financial aid and free transportation, certain families had insurmountable barriers from enrolling their kids in FCI's vacation programs. "The only way around it was to take the programs to the kids," Rundle says.

So, this summer, FCI started a pilot program that ran camp science and art programs at public schools, focusing on families and students most in need of support. "Students had the first half of the day with the school, got breakfast and lunch, then spent the day with us having a camp experience," Rundle says. "I like to call it a summer that money can't buy."
Registration for FCI's summer programs opens in February and costs around $475 a week. "No one is turned away on their ability to pay," says Rundle, and there are discounts for Berkshire County public school students and a sliding scale available for families.