On the evening of March 27, Scenic Hudson announced it was closing one of its most-visited properties, Mount Beacon Park.
Having to social distance while being stranded at home can be confining, and to cope, nature has become a popular pastime. Between city residents that evacuated to the Hudson Valley and long time locals, community parks, preserves, and trails have been filled to the brim with visitors.
With New York state encouraging people to spend time outside, it seems like no surprise everyone would rush to the trails. On March 20, Governor Andrew Cuomo said, "Outdoor recreation is a solitary recreational exercise. It's running. It's hiking."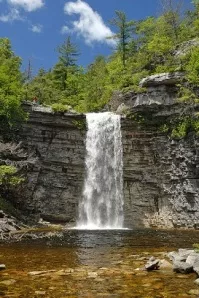 Minnewaska State Park Reserve
Minnewaska is known for their numerous waterfalls and streams along trails.
For many, they took his advice, but the problem of staying six feet apart arose rapidly. In many instances, parks have remained open but issued guidelines on how to hike successfully to prevent overcrowding. Minnewaska State Park Preserve, located in Kerhonkson, advises people to only visit parks for solitary enjoyment. The state is also mandating that upon arrival, if there is a noticeable high volume of hikers to leave and visit another park, or go another day. They have also reduced their parking capacity by 50%.
Minnewaska has also been providing updates on their website about their capacity. On March 26, they announced full capacity at 2:30 p.m. and would not accept any new visitors for the rest of the day. The Sam's Point area of Minnewaska reached theirs at 12:30pm.
To encourage people to go outside carefully, the state waived all fees for state parks for the time being. This automatically leads to the thought: what if everyone visits at once? Well, the thought became reality and in some cases, parks shut down temporarily.
Mohonk Preserve, a nature preserve spreading across 8,000 acres on the Shawangunk Ridge released a notice on March 23 stating that all trails, events, and programs will be closed temporarily due to the density of guests and staff. "Congestion points like trailheads, parking areas and traditional gathering spots on the Preserve were becoming unsafe for both the visiting public and staff," says Director of Marketing and Communications Gretchen Reed.
They had taken previous precautions to ensure spacial needs and limited entry, but eventually could not compete with the high volume of park visitors.
"As always, the health and safety of our staff and visitors are our highest priorities and this temporary closure is a critical component of our response to the escalating COVID-19 pandemic," said Mohonk Preserve Vice President M. J. Martin.
Mohonk's closing was not taken well by park frequenters. One comment on Facebook read: "This is a ridiculously huge step backward for health and sanity. There are plenty of ways to control crowding without closing the entire preserve to everyone."

Others agreed with the closing, complaining about the overcrowding on the trails. One response stated: "They need to temporarily shut down New York State Parks, too much over crowding!"
On March 24, the Town of Hunter issued a statement responding to Gov. Cuomo's executive order. They asked that residents and visitors restrain from using trailheads, public recreational areas, local landmarks, and the High Peaks until further notice.This is detrimental since the summit of Hunter Mountain, one of Catskill's High Peaks, depends on hikers when ski season is over. Because of its rugged terrain, it provides for an intense ski and hike that people travel to enjoy.
However, due to the overcrowded nature of parks, playgrounds, and trails in Hunter, they had no choice. The Town Board of Hunter writes, "This is not acceptable behavior that will help slow this virus down."
The New York-New Jersey Trail Conference, a volunteered based organization that oversees more than 2,100 miles of New York and New Jersey trails, issued a "safest at home" statement telling hikers that the best option is to stay at home. State parks are still open for a "nature break," but have issued guidelines for people looking to hike. The NYS Parks, Recreation, and Historic Preservation website says to move quickly, go alone or with a very small group of family, and to stay local.
Some parks are encouraging people to keep visiting the parks, but with more care than usual. Scenic Hudson is an environmental organization that strengthens the Hudson Valley's environment by creating parks, practicing sustainability, and bringing together communities to appreciate Hudson Valley landscapes. Currently, they run about 26 parks.
Scenic Hudson
Mount Beacon Park is one of the most popular parks Scenic Hudson manages.
Rita Shaheen, Director of Parks and Community Engagement says Scenic Hudson is taking measures to invite people in while also staying mindful to protect both visitors and staff.
"We want to make sure that we provide these places for people. More than ever, this is an important time for people to get out, destress, and walk in nature," Shaheen says. "But we also want to make sure that they're following the rules that we all learned from CDC."
Scenic Hudson President Ned Sullivan posted a COVID-19 update on March 26 encouraging people to follow safe protocols in the current situation. Shaheen also says that they are working on getting physical signs to place in their parks for hikers to read.
"The overcrowding is something we're looking at and it is controlled by the parking spaces we have. If the parking lot fills up, they should be getting the message they shouldn't come here. We're posting something at the entrances that say 'Park is open, following regular hours. If this parking lot is full, please consider coming back later or go to another park," Shaheen says.
Late on Friday, March 27, however, Scenic Hudson sent a press release saying it was closing one of its most-visited properties, Mount Beacon park. The press release read: "To protect the health of potential visitors and residents of the City of Beacon, Scenic Hudson has temporarily closed its Mount Beacon Park. Effective immediately, all access is prohibited."
State Parks, such as Minnewaska, will stay open with strict guidelines and measures for now. So, you can get your hike on at these places—just with a little more solidarity and caution.
To learn how to social distance while hiking, take a look at Tiana Headley's article on trail etiquette.