Marie Doyon
The view of Wilde Beest from the street
One of the most anticipated restaurant openings of the year happens next week when Wilde Beest starts serving dinner on Wednesday, June 13. Located at 310 Wall Street in Uptown Kingston, chef Chris Turgeon has taken over the space formerly inhabited by the pioneering tapas joint Elephant. Given the culinary importance of this transition, the editorial staff here thought it of utmost importance to invite ourselves over for a preview dinner. (The struggle is real, dearest readers.) What follows is the report from our dinner on Wednesday, June 6.
Wilde Beest bills itself as a "farm-to-fork concept restaurant focused on hyper-locality and the cultivation of intimacy with its clientele and community." The key words here are "concept restaurant," "hyper-locality," and "intimacy," and they should be addressed separately.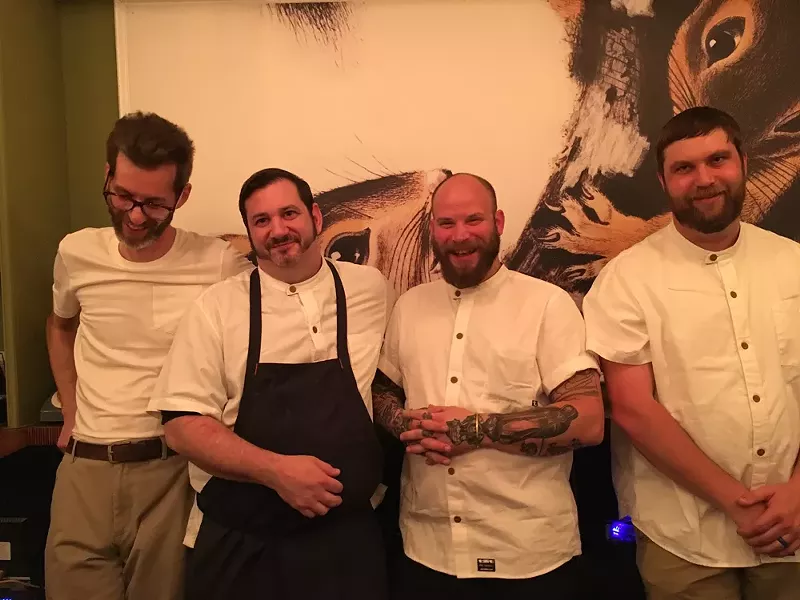 Marie Doyon
The Wilde Beest crew: Greg Ryan, Eric Donaldson, Chris Turgeon, and Russell Prickett
Concept Restaurant
Chris Turgeon is an alum of 42 Grams, Jake Bickelhaupt's temple of cutting-edge modern cuisine in Chicago that served elaborate multi-course tasting menus and earned two Michelin stars before it closed in 2017. Given this pedigree, it's no surprise that Turgeon isn't just opening a "restaurant," he wants to wrestle with the very idea of what a restaurant is, or can be. The menu posted online is ambitious, cheeky, and provocative.

Hyper-locality
Turgeon has chosen to partner with farmer/cult hero Amy Hepworth, a seventh-generation farmer who runs Hepworth Farms on 400 acres that have been cultivated by her family since 1818. Hepworth will be providing much of the produce for Wilde Beest. Another aspect of "hyper-locality" that Turgeon is pursuing is on the house-made and preservation front. "I really want to cook the seasons," says Turgeon. There'll be a lot of canning and pickling, laying up food for the winter months. "I want to reference how people lived and cooked 100 years ago," he says. "If there's Worcestershire sauce on the menu, we'll have made that.">
Marie Doyon
Taxidermied ringtail pheasant adorn the wall at Wilde Beest
Intimacy
The interior of the restaurant has been transformed from a dark clubhouse to a bright, open, airy space somewhere between a modern art gallery and a kindergarten classroom designed by Walton Ford. The walls have been painted white, the black paint has been scraped off the front window, and the upper half of the partition separating the kitchen and dining room has been removed. These changes have brought a communal feel to the space that feels mellow and relaxed. However, the taxidermied ringtail pheasants in flight along one wall and Carla Rozman's slightly menacing paintings of animals provide dynamic counterpoint.
The Food
We were served four courses. First up was a high-concept apple salad consisting of shaved apple, kohlrabi, shattered cheddar, dill creme fraiche, hazelnut and horseradish snow. (Suggested price $10; Tugreon had yet to finalize menu prices when I spoke with him.) The pairing here was subtle: the apple serving as a background flavor the others played off. Each bite was slightly different, depending on what bit of the dish you forked: now nutty, now creamy, now zingy with horseradish. (If you're wondering how to get to "shattered cheddar: just freeze it.)
Marie Doyon
Shaved apple, kohlrabi, shattered cheddar, dill creme fraiche, hazelnut and horseradish snow
Next up was grilled octopus (suggested price: $15), the best I've eaten in many years and the highlight of the meal. It was served with twice-cooked cherry tomatoes, paprika oil, squid ink, Iberico lardo and shishito puree. The octopus itself was an umami delight with a porcine quality that tasted delightfully meaty but not tough. Given my fondness for the octopus itself, the rest of the dish seemed superfluous, but the shishito puree added a piquant edge that well suited the cephalopod.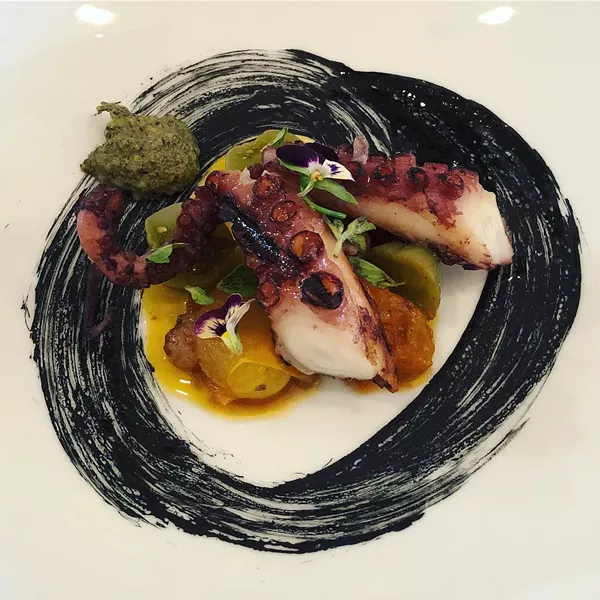 Carla Rozman
Grilled octopus, twice-cooked cherry tomatoes, paprika oil, squid ink, Iberico lardo, shishito puree
The main event was steak (suggested price: $28): sliced strips of Akaushi beef served with red radish fluid gel, compressed broccoli leaf, and double Worcestershire. Akahushi is a Japanese breed of cattle with intense marbling, which was clear from the cross-cut presentation. The radish gel is a bit of gimmicky molecular gastronomy, but looks great on the plate, three pale red gumdrops in a neat row. (Turgeon is finicky about the way his food looks and the presentations of all the plates was German-enginnering-level precise.) The meat was as lush as you'd expect waygu beef to be and the double Worcestershire an appropriate gooey, fishy accompaniment—a tweaked version of a quintessential American dish.
Marie Doyon
Akaushi beef, red radish fluid gel, compressed broccoli leaf, double Worcestershire
For desert we were served sundaes: mascarpone ice cream, salted caramel, red Spanish peanut, and marshmallow fluff that was formed in a ball and charred. Think of it as a deconstructed Milky Way candy bar crossed with a Fluffernutter sandwich. The focus here was as much on texture as it was on richness. A silky, sweet treat to end the meal.
Marie Doyon
Mascarpone ice cream sundae with salted caramel, red Spanish peanut, and marshmallow fluff
Like its predecessor, Wilde Beest will not serve hard liquor, only beer and wine. The wine list ranges all over the map, with a Lebanese Syrah rubbing elbows with Californian Grenache. Bottle prices $35 to $150; glasses $9 to $14. An exceptional pour we enjoyed with our meal was the Silex d'Orfeuilles Vouvray, a French Chenin Blanc which paired wonderfully with the apple salad and grilled octopus.
Given what we tried, we're expecting great things from Chris Turgeon and crew. Wilde Beest is what the next wave of adventurous cooking in the Hudson Valley tastes like.
Marie Doyon
The bathroom door at Wilde Beest