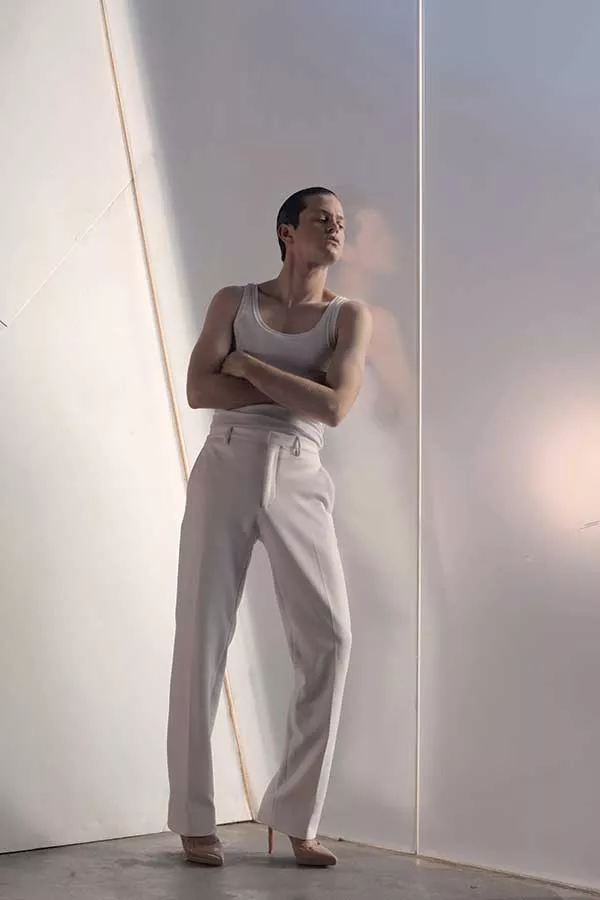 "As dark as Learning's songs can get," says one review of Perfume Genius's 2010 debut, "it always feels like [leader Mike] Hadreas wants the best for the people he sings about, and a good, ultimately hopeful kind of sadness permeates nearly every song." Two albums on, however, and one isn't so sure that's still the case. For much of the new Too Bright (Matador Records), which his band supports with a tour stop at BSP Lounge on March 25, the unrepentantly queer 33-year-old singer-songwriter sounds like he's reached his breaking point in the ongoing culture war that continues to dog the gay and transgender community, hardening his piano-centric sound with layers of distorted guitar and sticking it straight in the faces of reactionary fundamentalists with lyrics like "No family is safe when I sashay" (from "Queen").
According to Hadreas, making the album felt "like I had woken some ancient beast that began to rattle and threaten to rise." A Seattleite transplanted from New York, Hadreas began posting his sparse, confessional compositions and videos under the name Perfume Genius on MySpace in 2008. Among his music's earliest fans were Welsh indie poppers Los Campesinos!, who landed Hadreas a deal with their label, Turnstile Records, for the release of Learning. In a manner befitting the tortured, quietly swelling songs within, the album's reputation began to spread, leading to the all-important nod from Pitchfork and a rerelease on Matador. 2012's Put Your Back N 2 It appeared next, bringing more of Hadreas's stark, wounded laments and further critical praise. One of its tracks, the haunting "Hood," was the subject of a tame but nonetheless controversial promo video that was blocked by YouTube for "promoting mature sexual themes." The song took on added poignancy after the clip's star, porn actor Arpad Miklos, committed suicide, and it was later covered by R.E.M.'s Michael Stipe (other acts who have performed Hadreas's songs include the National and Cate Le Bon).
For Too Bright, Hadreas partnered with producer and Portishead member Adrian Utley and John Parrish, who plays drums on the album and is perhaps best known for his work with PJ Harvey, an admitted favorite of Hadreas's. "I looked to PJ Harvey," he recalls, "How powerful and raw she can be, and thought, 'What is my version of that?'"
The results are in the grooves and will be in the air when Perfume Genius wafts our way this month. "I sometimes see faces of blank fear when I walk by," says Hadreas. "If these fucking people want to give me some power—if they see me as some sea witch with penis tentacles that are always prodding and poking and seeking to convert the Muggles—well, here she comes."
Perfume Genius and guest Jen Hval will perform at BSP Lounge in Kingston on March 25 at 8pm. Tickets are $15 in advance and $18 at the door. (845) 554-3809; Bspkingston.com.