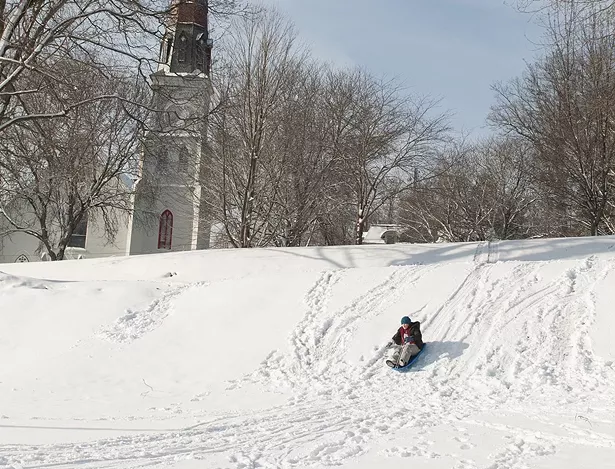 Hillary Harvey
Cornell Park in Kingston
Whether you are a parent looking to get your kid off the computer and outside during winter, or a Millennial hoping to reconnect with your childhood abandon, sledding offers an endlessly fun and free way to enjoy the outdoors in winter. If your house lacks a proper hill, fret not. We've polled the people and rounded up the best sledding hills in the Hudson Valley. So pile on the snowpants, mittens, and balaclavas, and get that shed out of the garage.
Dutchess County
College Hill Park
The highest point in Poughkeepsie, this hilltop park offers a panoramic view of the cities rooftops, and the Catskills peaks across the river. There is also a nine-hole golf course with hills. Pick your incline, and sled away, but make sure to watch out for the trees on your way down.
Mills Mansion lawn at Staatsburgh State Historic Park
5 Mills Mansion Drive, 1 Road, Staatsburg, NY 12580
This historic treasure is a grand setting for an afternoon of sledding, with the beautiful Gilded Age mansion in the background and a lofty view of the Hudson River spreading out before you. Free entry with the Empire Pass card.
Drayton Grant Park at Burger Hill Park, Rhinebeck
Where Violet Hill Road tees with Route 9G, turn right onto 9G, and the Burger Hill parking lot will be on your right.
With its epic vistas and sky-shattering sunsets, Burger Hill is popular summer strolling spot. What feels like a gentle incline when you are walking leisurely, turns into the one of the most popular Hudson Valley sledding spots in winter. The half-mile trail leads uphill through open meadows to a 550-foot hilltop hill. After a snowfall, head here for some prime toboggan time and neighborly mingling.
Bowdoin Park
85 Sheafe Road, Wappingers Falls, 12590
In winter, the park pavilion offers hot chocolate and coffee, which is perfect for warming up after several hours of snow play. There is a portable ice rink (BYO skates) and kiddies love sledding on the park's main hill (designated by orange fencing). A word of caution: sleds with metal runners, snowboards, and skis are prohibited on this hill.
Fahnstock Winter Park
1570 Route 301, Carmel, NY 10512
The Fahnstock Winter Park is an ideal recreation area for the whole family. With regularly updated trail conditions reports you need never head here in vain. The park rents classic and skate skis, snowshoes, and snowtubes, or BYOsled for some free fun. If your kids are old enough, leave them sledding while you head off to explore the snowshoeing trails. ANd afterward meet up at the Acorn Cafe to refuel.
Memorial Park
Robert Cahill Drive, Beacon
Memorial Park's several slopes are a multi-season attraction, offering the perfect place for joggers, power-walkers, and picnicking lovers in summer, and adrenaline-hungry kids on a snowday. Opt for one of the gentler slopes if you (or your tot) wish to avoid the mayhem of kid-made moguls and airborne sleds.
Mount Beacon Park
Wolcott Ave./Rte. 9D, Beacon

Mount Beacon is the highest point in the Hudson Highlands, affording panoramic views of the surround river and countryside. The hike up is intense, but the sled ride down is worthwhile, if you are an able snow-pilot.

Thomas J. Boyce Park
6413 New York 55, Wingdale, NY 12594
It's a short, steep climb to the now-defunct hang glider launch ramp, but the vantage point from the top lets you gaze over all of Dutchess County. Not up for such a trek in your snowpants and snowboots? Stop in the field before the trees and sled the afternoon away.
Ulster County
Hasbrouck Park
Delaware Avenue, Kingston
This is by no means Olympic sledding. The hill at Hasbrouk Park is short and not at all steep, but kids come here in search of quantity not quality (we're talking 8-second runs, max). The hill gives way to an open field and a playground, so if your kiddos tire of sub-par sledding, they can build a snowman or *carefully* play on the jungle gym.
Cornell Park
Wurts Street, Kingston
This little park in Kingston's Rondout district is just a block from Broadway. The double-dip hill offers a sledding option for all levels. The gentle first dip hill is great for littles, and the bigger second dip is exciting for older kids.
Snyder's Farm Hill
Heading west on Route 212, Snyder's Farm Hill is on the right, about .5 miles from I-87 Exit 20, Saugerties.
This big hill is a popular spot for families on snowdays and weekends, with both parents and kids taking turns on the sled. Park carefully on the side of the road, gather your goods, and brave the steep walk up the hill. Sled runs take a long time between the descent and climb back up, but you are sure to make new friends here while you wait for your turn
Comeau Property
Leaving Woodstock, head west on Route 212, the hill is on your left, just past Upstate Films.
Tinker Street/Route 212 just west of the hamlet, past Upstate Films' cinema-in-a-church across from the post office, where many park who can't find room on the roadway. It's great fun, social as all get-out and not far from several hot chocolate hangouts in town.
Orange County
Thomas Bull Memorial Park
211 State Route 416, Montgomery, 12549
This 700-acre park is one of the region's best kept secrets with everything from a boathouse to horse stables to groomed snow tubing lanes with a rope tow. Stadium lighting lets you tube into the evening. There are also other hills and trails for sledding and skiing and a pond for ice skating. And the onsite lodge offers a convenient cozy place to dine and drink after a day of wintery exertion.