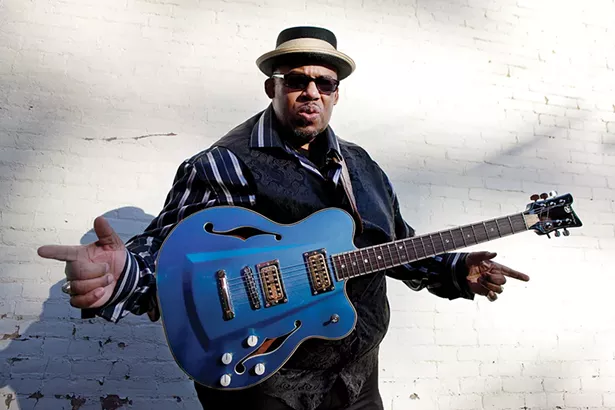 The sacred and the profane. The darkness and the light. The grit and the grace. In the blues, as in humanity, all of these dichotomies somehow exist, inescapably, side by side, in multiple shades. Diametrically opposed and eternally battling it out for dominance, but at the same time balancing each other's presence in the souls and hearts of all human beings and, sonically and metaphorically, in the notes and tension of the music itself. The blues are life, and life is the blues.
"I can sing the saddest song and make people feel good while I'm doing it," says Slam Allen. "I'm about positive love energy, and I manifest that energy when I'm playing music. It comes from a higher power. Like when I'm in church, I know what I feel: an energy up above. But with the music it's a spiritual thing, not a religious thing."
With the given name of Harrison Allen, Jr., the singer, 52, was, literally, born into the blues. "My dad was on stage the night I was born," he says. His namesake father's family originates from Alabama and settled in Monticello, where he grew up in a musical household: Harrison Allen, Sr., a singer, guitarist, and bassist, led the Allen Brothers Band, a working blues/soul/R&B group that also featured his brother, guitarist Cecil Allen (Slam's uncle). The story behind Harrison, Jr.'s nickname is nebulous. "People have called me Slam since I was a kid, it was just what they called me," he says. "But later on—I'm not sure if it's okay to say this in your magazine—I used to say it stood for 'Smooth Like a Motherfucker.'" A mischievous grin flashes across his cherubic face as he lets out a laugh.
Although the junior Allen had been studying classical string bass, at 13 he found himself deputized as the Allen Brothers' drummer and touring the Chitlin' Circuit, which led to some eye-opening experiences. "We would play a lot of the old juke joints that aren't there anymore now, and because I was so young I didn't understand a lot of what was going on around me," he recalls. "Even though I was underage, the club owners thought I was older because of how I played. Once, we were playing this place in Mobile. I think it was called the Pink Panther. During the last song, a guy wearing a long coat walked in. We started to get up and go off the stage and this guy came up and said, 'Play some more songs.' My dad told him we were all done and we didn't have any more songs. The guy looked straight at my dad and opened up his coat...and he had a gun under there that was bigger than me. He said it again, 'Play some more songs.' So my dad looked over at me and my uncle and counted us off, 'One, two, three!' and right away we started up playing again. [Laughs.] It got pretty crazy on the road back then sometimes. But I wanted to be like my dad, and I always loved playing music and entertaining people."
It was his admiration for his father, along with his burgeoning love of playing and performing, that led the aspiring Allen to learn guitar from the elder musician. Another early inspiration was jazz guitar great George Benson, whose silken sound would shape his own: a funky, soulful "uptown" style that also draws from gospel music; deep icons like Otis Redding, B.B. King, Buddy Guy, and Ray Charles; and more modern influences. "[Benson] was just so smooth," says Allen. "I loved the way he ran his lines, and how he blended jazz and the blues together." By his early 30s, the guitarist was fronting his own band, which has cut a clutch of albums imbued with his brand of defiantly optimistic blues: 1998's debut, Things Sho Done Changed, 2009's Soul Working Man, 2010's This World, and the most recent, 2015's Feel These Blues. One of the most receptive and supportive local venues the whole way has been the roots music-loving Rosendale Cafe, which hosted some of the first performances of the Slam Allen Band.
"Slam is one of the very best blues guitar men working today," says the cafe's owner, Mark Morganstern. "His musical product is so real, deep, and grooving that you could miss it if you weren't paying close attention. And you might not pay attention because you're so taken into his open-hearted world. He throws a blanket of love over everyone in the room as he spreads his joyous sound."
In addition to the influences cited above, that sound was informed directly by one of the true gods of Chicago blues: the late James Cotton. "A friend of mine who'd moved to Chicago and was playing drums in bands out there tried to get me to come out there too, and I said no because I was happy playing around here," says Allen. "After 9/11 happened, though, I felt like I needed a change, so I went. At first it seemed like it was dead. I didn't really know anyone else in town, and I started thinking, 'Man, what am I gonna do?' But after a little while, I started meeting more and more people and they welcomed me with open arms." He did gigs with locals like Cadillac Dave & His Chicago Red Hots and bassist Charles Mack, and in late 2001 the latter connected him with harmonica king Cotton—best known for years as a sideman to the legendary Muddy Waters—who hired him as a guitar player and lead singer.
"Getting in his band was a beautiful thing," Allen says. "I just felt so incredibly fortunate, to be playing with him and to be linked to Muddy Waters and all of that history." The youthful guitarist quickly rose in the ranks of Cotton's combo, becoming its music director, playing on records like 2010's Grammy-nominated Giant, and touring the world with the group. Around the time of the release of Giant (for which Allen sang and wrote two songs), however, Allen decided he needed to step back out on his own. "After almost 10 years, James and I weren't always seeing eye to eye and it was getting to be the same old thing, so I left and came back here. But playing with him changed my life, and it was such an honor for me that I got to do it. I learned so much from him, and I still feel really blessed about that."
Upon his upstate return, Allen landed in Liberty, just 15 minutes from his Monticello birthplace. It's there that the multiple-award-winning artist currently bases himself, working the regional circuit with gigs every week and appearing abroad as an international blues ambassador at festivals and clubs across Europe and South America. One plum engagement during his nearly four-decade career was a five-year stint as the leader of the house band on the cruise ship Norwegian Epic. Not bad for a kid from the Catskills who, against all odds in these days of Auto-Tuned monotony and Spotify-as-entertainment, keeps right on playing the blues. Of course, his bottomlessly gregarious personality and warm sense of humor has served him well and continues to win over audiences wherever he sings.
"I'm branded as a bluesman, and, yeah, I am one of the last links to the history of the blues—which is where soul and rock 'n' roll and R&B and hip-hop and everything else came from," Allen muses. "But I see myself first and foremost as an entertainer. Growing up, I loved a lot of the comedians and entertainment personalities who were around then—Redd Foxx, Flip Wilson, the Rat Pack. So I also try to bring that into what I do on stage. And it seems to work pretty good. I remember one of the times when I was playing on that cruise ship. After the set, this guy came up to me and said, 'Wow, I always thought I hated the blues. But, man, I like you."
Slam Allen will perform at Harmony Music in Woodstock on February 9; the City Vineyard at Pier 26 in New York on February 16; and at Windham Mountain Resort on February 17. Slamallen.com.