Image courtesy of Canna Provisions
For anyone who consumed top-shelf cannabis in the 90s or early 2000s, if you saw Chemdog and it was legit, you bought it.
The man behind the Chemdog strain (which secured a permanent place in the Leafly 100 Best Strains of All Time), Greg "Chemdog" Krzanowski introduced some of the most influential strains that helped redefine cannabis in the United States 30 years ago. Today, he's the Director of Cultivation for Canna Provisions, where he oversees the entire Smash Hits cannabis line from seeds to harvest.
"Given how hard it was to find authentic Chemdog in the 90s and early 2000s, and especially Chemdog-grown Chemdog, I paid premium black market prices to get the same stuff I'm getting for less at my own legal retail store now," says Erik Williams, COO and co-owner of Canna Provisions. "It's a wonderful full circle moment for longtime Chemdog fans."


Naturally, the Smash Hits line, which was introduced in 2021, has already won the love and devotion of discerning canna connoisseurs. In fact, just this month its Da Funk strain took home a win in the CroptoberCup Massachusetts Flower Cup, a local competition that recognizes the best craft cannabis and cannabis products.
Suffice it to say, when a fresh batch of Smash Hits cannabis strains drop, it's to thunderous applause. Got your attention? Then scroll down to scope out the deets on six new and noteworthy varieties, then get yourself over to Canna Provisions, or the select shops across Massachusetts that are lucky enough to carry such special and sought after flower asap.
Da Funk
Image courtesy of Canna Provisions
Thanks to its family history of First Class Funk crossed with White Runtz, Da Funk is a slam dunk flavor-bomb of a flower boasting complex mint-cream touches and a heavy gas and floral blanket, accented by berry, citrus, and cookie spicy earth. This strain is known for its stoney, misty euphoria and high-impact body, which then gets loosey-goosey and in range of couchlock—just a few of the many reasons Da Funk took home a win in the CroptoberCup this year.
California Raisins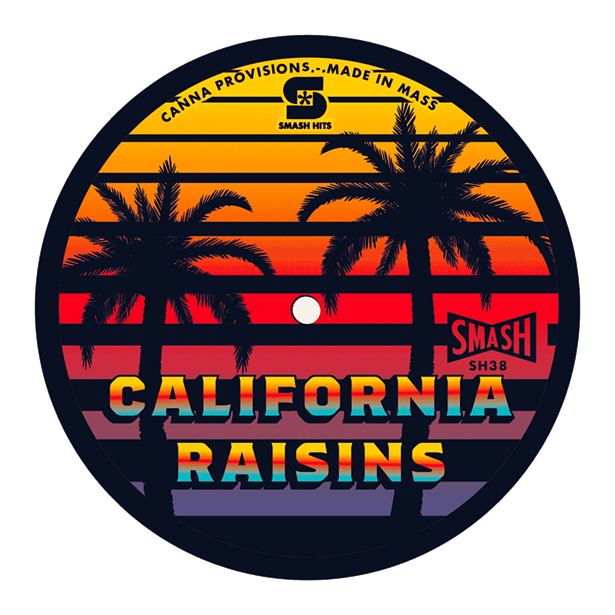 Image courtesy of Canna Provisions
Whatever images the name may conjure in your head, there's only one thing you need to picture with this strain: FLAVOR. The terpene explosion of California Raisins comes courtesy of the lineage of Biscotti and Grape Gasoline, two fan-favorite indica-dominant hybrids, but it's the combination of the cookie batter, petrol, and deep grape flavors and the fantastic cerebral uplift and body calming effects that makes this one a surefire win.
Waffle Cone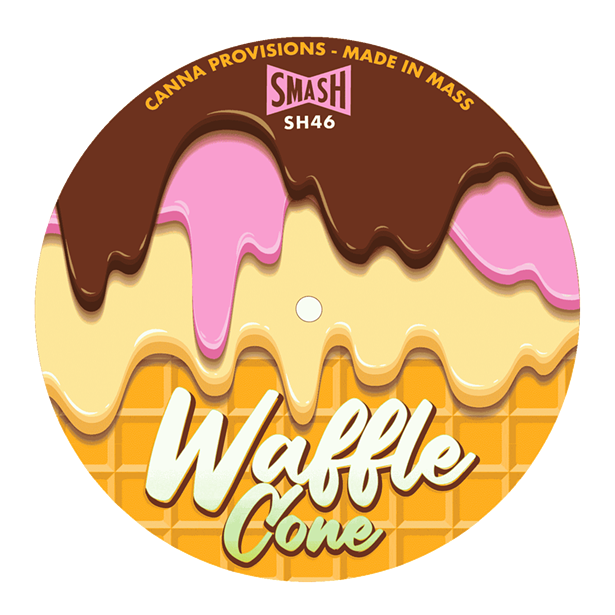 Image courtesy of Canna Provisions
Classic indica lovers can rejoice as hard as flavor seekers with the Smash Hits cut of Waffle Cone. Grown for its impressive lineage (Jet Fuel Gelato and Dosilato), and sweet sugar cream and toasted nuts flavors that are kissed by tart cherries and fruity bouquet, this is a heavy hitter that starts heady, social, and chatty and slowly brings on big, heavy body effects and head-to-toe relaxation.
Biscotti Mintz
Image courtesy of Canna Provisions
Hailing from the true connoisseurs' realm of designer cannabis, this luscious flower (a cross between Biscotti and Mintz) is rich in aroma and flavor from the distinctive terpene profile that yields chocolate chip cookies, minty whip cream, and warming spice. The buds burst with orange hairs and moss green with some violet accents for effects that inspire creative and focused mindsets and a distinct slow, energizing body high that remains relaxed and collected throughout.
Chocolate Peaches
Image courtesy of Canna Provisions
Pair True Chocolate (known for tasting like melted milk chocolate and bringing big indica couch lock and brain-melting highs) with Peaches and Cream (a cross of a Chemdog variety, Super Silver Haze and Maui), and teardrops of the gods, and you have one standout cross from the Smash Hits library. Take its choco-candy flavor and aroma and heavy effects (ie: not for the light consumer), and get ready for giggles and overall vibe correction here.
Durban Poison
Image courtesy of Canna Provisions
The powerhouse of powerhouses, Durban Poison's lineage stretches to South Africa, and is one of the few pure sativas out there. This cut is earthy and sweet, with pine and forest fueling the activities that you'll be seeking out to do after consuming one of these gorgeous buds, deep hued with orange, yellow, lime green, and dark purple tones. When this is available, you purchase it. Especially when it's from the Smash Hits house and Chemdog and the team creating the best version possible.


Want to hear all about the newest strain drops before everyone else gets in on the fun? Sign up for Canna Provisions' email list to get notified before supplies run out. Learn more at