Eliza Starts a Rumor
Jane L. Rosen
Berkley, $23.49
The bucolic town of "Hudson Valley" is the backdrop for this entertaining, timely, and often humorous story of sisterhood, secrets, betrayal, triumph, and complex relationships. Eliza Hunt, a local girl who returned to her childhood home with her loving husband, Luke, to raise their twins, finds herself missing the sisterhood of her single career life. So, she creates the Hudson Valley Ladies Bulletin Board, an online source for exchange and support, bringing her small town into the 21st century and joining women from around the world in embracing online forums with candor and humor. To her happy surprise, "moderating the bulletin board felt like a gift...just what had been missing in her life."
Fifteen years later, while battling a recurrence of crippling agoraphobia and forcing herself to go to the local Stop and Shop, Eliza overhears two "sleek millennial Mommas" discussing a new site called Valley Girls, that they feel is more relevant for their generation—"more dirty laundry, less how best to wash it." Determined not to be seen as obsolete and fearful of losing what has become her lifeline to the outside world, Eliza crafts an anonymous, scandalous fictional post after looking out her bedroom window and seeing a man go from "patiently ringing to obsessively banging" on her neighbor's front door, to revitalize her site. It works.
But little does she know that it would be seen by Olivia, a young woman who becomes convinced that she could be the wronged wife described in the post. When Olivia enlists the help of her new attorney friend Alison, who, like herself, has recently moved to the valley with a new baby (but no husband), her life begins to unravel under the weight of her husband's (Spencer) infidelities. They join forces to get the evidence needed to expose his deceit and lies. Their relationship is defined by young motherhood and the men they chose to have children with; in Olivia's case, the next in line to become the CEO of his parent's cosmetic empire and in Alison's, an up-and-coming New York City politician (Marc) who wants nothing to do with their child until it is politically useful. Into the mix comes Jackie, a single Dad who rather innocently joins the bulletin board (posing as a woman) after being egged on by his commuting buddies, so that he can get the help he needs to raise his 15-year-old daughter, Jana. He and Alison engage in friendly online banter but their relationship becomes complicated when they meet in real life and sparks fly. In the meantime, Eliza's best friend, Amanda, has left her life in LA and her abusive husband (Castor) whose grotesque behavior has been exposed in the #Me Too era, and returns to her childhood home with her two children. She immediately see's that Eliza too is in crisis and needs help to overcome and move forward from her tragic past and like always, their friendship is what gives them strength.
The intersecting lives of Eliza, Amanda, Olivia, Alison, and Jackie makes for a satisfying page turner while balancing a tough array of timely topics and skillfully using humor to showcase the redemptive power of the truth.
—Jane Kinney Denning
Catskills Farm to Table Cookbook
Courtney Wade
Hatherleigh Press, 2020, $20
The recipes collected by Wade, a Catskills native, capture some of the best farms and restaurants the region has to offer, from the Phoenicia Diner and Bull & Garland to Buck Hill Farm and Scrumpy Ewe. The vivid accompanying images will guide you as you embark on a culinary journey through upstate New York. Emphasizing the importance of knowing what's in the food you consume, this cookbook turns the fresh vegetables, fruit, meat, dairy, wild game, and foraged produce native to this region into unpretentious recipes.
50 Plus Years of Pride: The Impact of Bars, Taverns, and Clubs
Michael Boyajian
Jera Studios Publishing, 2020, $9.95
Local author and former human rights judge Michael Boyajian explains how the LGBTQ community created their own safe havens and how watering holes were central nodes in gay activism as well as social life. In a timely discussion about civil rights, Boyajian informs readers of how the LGBTQ community has been secretly and not so secretly discriminated against by society.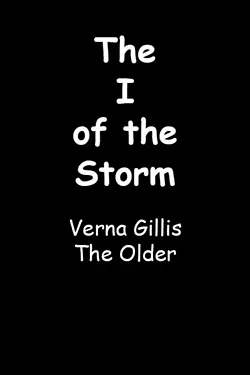 I of the Storm
Verna Gillis
The I of the Storm Publishing, 2020, $10
Sit-down comedian and producer Verna Gillis's dry sense of humor shines in this collection of short form poetry, aphorisms, and amalgamated odd thoughts about age and aging. You'll find sage advice, jokes, witty one liners, thoughts on sex, and warnings about what happens when you get older, like so: "I have discovered the cure for hypochondria: Live long enough and it all becomes real."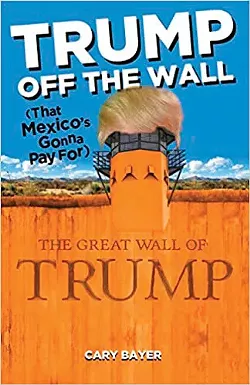 Trump off the Wall
Cary Bayer
Bayer Communications, 2020, $19.95
Life coach and long-time Woodstock resident Cary Bayer honors the long and storied tradition of political satire in America by poking fun at a man so outrageously over the top that he often seems a satirical version of himself: President Donald Trump. Broken up into three "terms," ("Lampoons of the Tweeter-in-Chief, "Trumped-up News," and "You're Fired!") Bayer roasts Donald Trump over 34 chapters, which feature scathing titles like "Dolt 45," "The Predator of the United States," and "From Russia with Love & Collusion."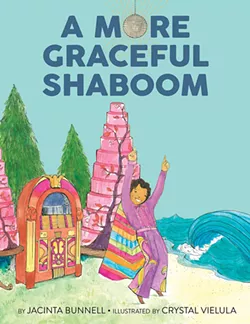 A More Graceful Shaboom
Jacinta Bunnell & Crystal Vielula
PM Press, 2020, $16.95
Hudson Valley resident Jacinta Bunnell makes the complicated and necessary conversation around gender identity and sexual orientation easy for parents and their kids in this new children's book with illustrations by Crystal Vielula. Featuring a nonbinary protagonist and LGBTQIA+ characters, this book delicately weaves together teaching moments into this story of magic, imagination, joy, and purpose.
—Abby Foster