Doug Baz
Making decorations for the town-wide Sinterklaas celebration in Rhinebeck.
SYNOPSIS:
A day-long, colorful celebration of dance, theatre and music all over the village. The spectacular Children's Starlight Parade at 6:30pm, featuring two-story tall, animated puppets carried by hundreds of volunteers, closes the day at twilight. A non-denominational event, Sinterklaas joins residents and visitors alike, people of all ages and backgrounds, in a memorable celebration of children, art and the light of the winter season.
It's about six weeks until Sinterklaas showtime, and the question of who will pay for traffic safety has delayed official approval until early October. "We only have about half of our budget," says Jeanne Fleming. "I think the [newspaper] headlines led some to doubt whether it was going to happen this year and maybe hold off on donating. But not only is it happening, it's fabulous what is going to happen."
A lot of festival organizers would be tearing their hair out. Not Fleming. She's excited about the hummingbirds. "They're this year's official Spirit Animal," she explains. "And we wanted to have the children's enact something. So we made a few hundred hummingbird puppets and a few hundred flower puppets. Each child gets one or the other, and when a hummingbird spots a flower, they'll know they should introduce themselves."
Nothing could be truer to the spirit of the fest, which handsomely fulfills its mandate to put Rhinebeck on the map: Sinterklaas has been written up in the Huffington Post and been listed as one of "21 Things to Know Before Moving to New York State" and "Ten Things to Love About Rhinebeck." Sinterklaas is cunningly designed to entice even shy audience members to become part of the show, to parade with stars and scepters, carry a puppet, soothe a savage beast.
"There are so many people helping hold me up right now that it's crazy," says Fleming, who also produces the New York City Village Halloween Parade. "We're meeting every week to make things happen. There are so many moving parts, and it's all done at the highest quality. We're all really good at what we do, so it's local and organic and yet totally professional, with a kind of shine to it that other events maybe don't have. The right person always seems to emerge. I'm not much on gift bags, for example—I'm interested in the appearance of celestial beings—but a fabulous person with a knack for them stepped up."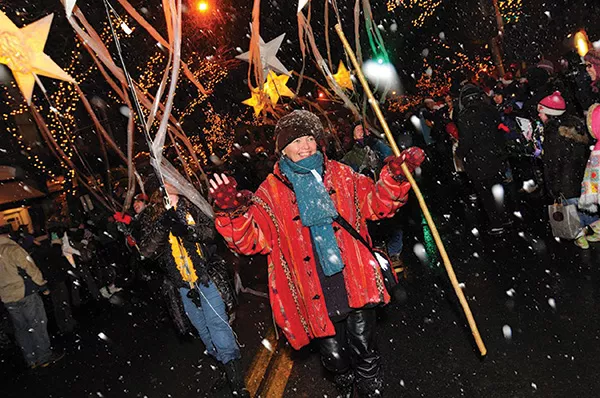 When Fleming, a celebration artist, was first asked to craft an event to replace the relocated crafts fair that had been Rhinebeck's major draw, she knew buy-in would be crucial. A brainstorming session with 100 people defined the community's desires: it should be a holiday event with Dutch roots and a focus on children.
The celebration of Sinterklaas (this year on December 6), a beloved Dutch holiday built on legend that predates the American version of Santa by centuries, seemed made to order. The earliest iteration, nearly 30 years ago, was simply called Old Dutch Christmas. "Twenty-eight years ago, people said, 'Nobody will get Sinterklaas, it's a weird foreign word," Fleming laughs.
Old Dutch Christmas flourished for a while and fell by the wayside, but by the early 2000s, kids with fond memories of its delights began entering the business community. It was time for a revival. "I knew going in that I would need the whole-hearted approval of two particular groups: the business community and the Jewish community," Fleming says. "I brought together a committee of the local Jewish leadership—rabbis, people like the Vanavers. We went round and round. One person, who I think of as the Rabbi of Rhinebeck, said, 'I wish we could have some totally fresh new symbol that could unite us all." That night I dreamed about the stars."
Stars to carry in the parade are sold for $10 apiece on festival day, the only fundraising that takes place on behalf of the event itself. There is no admission charge. Local nonprofits are encouraged to find creative ways to capitalize on the influx of thousands of visitors. "Churches, ski clubs, the Whale Watch—they fed 600 people last year at $10 a pop," says Fleming.
The traffic safety issue, since fully resolved, and the Jewish endorsement were not the only situations in which Fleming and her cadre have learned to think on their feet. When Sinterklaas was first revived, there was the question of Black Peter. In the original Dutch tradition, Black Peter is Sinterklaas's assistant, a Moor who carries a switch for the kids on the Naughty List.
From the beginning, Fleming had nixed the Naughty List concept. "Instead of children being punished and judged, we made children kings and queens for the day, and made the switches into royal scepters. (Children make scepters and crowns for themselves at an open workshop during the afternoon.) But it can't be about the wanting and having, either. They each have to tie wishes into their branch—one for the community, one for the family, one for the world. They understand their responsibility to be a good king or queen."
The Black Peter issue was a thorny one for five minutes. "We had had an actual black Black Peter; he loved the part," says Fleming. "But when we were reviving the event, seven years ago, a woman stood up at a meeting of about 150 and said, 'I Googled this! Rhinebeck's going to be accused of being racist!' I stood there, it was really weird—I still get goose bumps recalling this. I realized I would not win. I said, 'This woman is right. Here's what I'll do. If every man over 50 in this room agrees to be a Grumpus I'll drop the Black Peter. Before I knew it, I had a waiting list. Businesspeople, lawyers, government people. We have 19 Grumpuses. They've all evolved into their own characters over seven years."
If there were to be Grumpuses, there must also be Wild Women. A Zumba class provides the core group. Then there was the horse issue. "At first we used real horses. Those years, the riders were women, and Sinterklaas didn't speak. One year the horse died. Then the replacement horse went nuts. After that we had a puppet. Much better, because the puppet can interact with every child."
Wild Women, the Pocket Lady, St. George and the Dragon, a polar bear who dances ballet when sung to by a child, and "a new character out of the Balkans, a big furry giant with bells all over him": Fleming and company are not at all shy about embroidering the mythology to suit needs and whims. But the heart of the story remains: Sinterklaas, the archetypal Good King who loves everyone. Last year, Sinterklaas was played by a man who donated a kidney to Fleming's son; this year it's town board member Scott Cruikshank, whose construction firm stepped up and donated the funds that resolved the traffic control issue. "It's very real," says Fleming. "Sinterklaas is instructed to interact with every child. It's exhausting and transformative.
"I love getting people to do something they wouldn't normally do—to work with all the senses fully engaged, letting people who don't normally know feel what it is to be an artist, all of us finding a way to walk down the main street of our town together, regardless of our differences," says Fleming. "That's my work, shifting energy in ways that allow everyone to partake. If we can find ways to celebrate together, it shifts the energy just a little in the direction of peace."