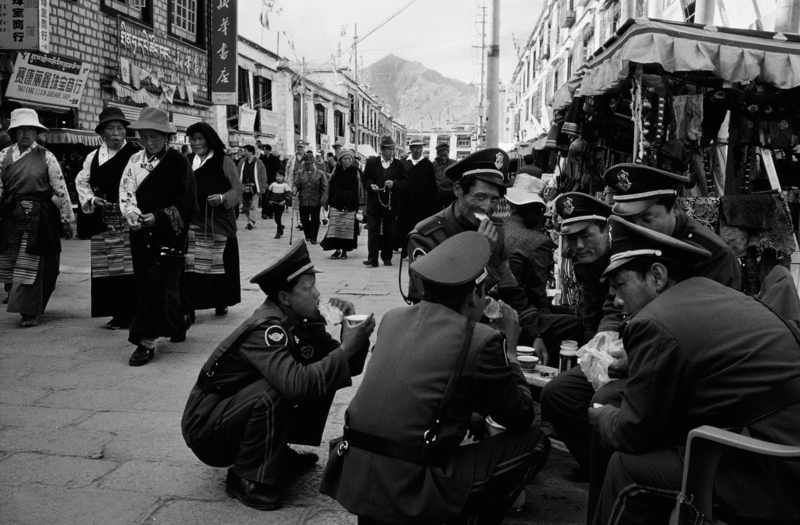 An untitled image of Tibet by Julien Chatelin.
Fovea Exhibitions, Beacon's powerhouse photography venue, has mounted another star-studded show for "Planet China," featuring the work of award-winning photojournalists Julien Chatelin, Alan Chin, and Justin Guariglia through October 5.
The trio examines wildly divergent aspects of the world's most populous nation, though all engage their subjects on a level of street-life portraiture that is striking and immediate. Guariglia, whose photos are taken from his recently published Planet Shanghai (Chronicle Books), documents the tight living spaces of the city's vanishing longtangs in his vibrant color photographs that capture the odd characters and bright lights of Shanghai. Chatelin, who's covered conflicts in Afghanistan, Chechnya, Honduras, and Iraq, spent time in Tibet in 2002 witnessing the uneasy confluence of ancient Tibetan culture with the obliterating influence of Chinese domination. Chin, nominated for a Pulitzer Prize for his work in Kosovo in 1999, covered the aftermath of the devastating earthquake that rocked western China in May. His photographs tell stories of tragedy, survival, despair, and perseverance in the face of an apocalyptic calamity that killed over 70,000 people and reduced much of the infrastructure of Sichuan Province to rubble.
"Planet China" will be on display at Fovea Exhibitions, 143 Main Street, Beacon, through October 5. (845) 765-2199; www.foveaexhibitions.org.