Singularity Botanicals is an African-American-owned business producing medicinal plants and multifaceted training programs in their cultivation and use. It was launched in Chester, Pennsylvania, which founder Pamela Boyce Simms describes as "a small city with grit, heart and indomitable spirit that has also been a toxic dumping ground for the Mid-Atlantic region for decades." The project has developed a network of growing sites in urban church and school yards, as well as rural sites in the Hudson Valley, where Boyce Simms has lived and calls home.
Facing the host of environmental and social inequities in their midst, including health care disparities and climate change, the founding group set about taking control of their health, economics, and consciousness with a unified strategy. They noticed the ivy and burdock, plants with purifying value in traditional Chinese medicine, grew abundantly on the outskirts of the city. In 2019, they created the business that helps residents "re-skill" as herb cultivators while promoting "self-care sovereignty." And they established a business model that is seamlessly connected with personal growth through a sociocratic form of governance.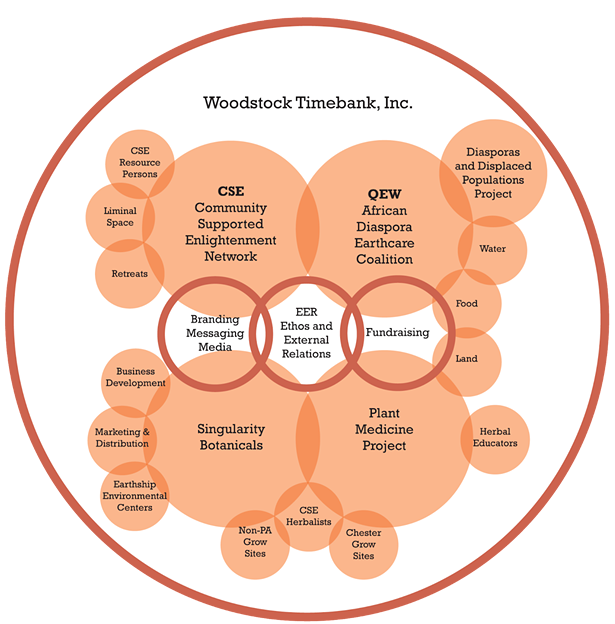 The business operates as a flexible subscription service for monthly bundles—tinctures, teas, exercises and practices, growing protocols for medicinal plants, daily meditations, and recipes. All revenues go toward distributing these goods and services to people who can't afford them through a nonprofit arm, the African Diaspora Coalition. Hundreds of packages of respiratory detox and de-stress tinctures and teas have already been distributed to help Chester residents withstand the pandemic.
When the pandemic hit, Singularity's urban buildings in Chester were closed to workers. The organization pivoted to expand rural growing including a new site at Seed Song Farm in Kingston. Boyce Simms attributes their pivoting skill to the company's cultural "emphasis on personal transformation as well as an adaptive business model."