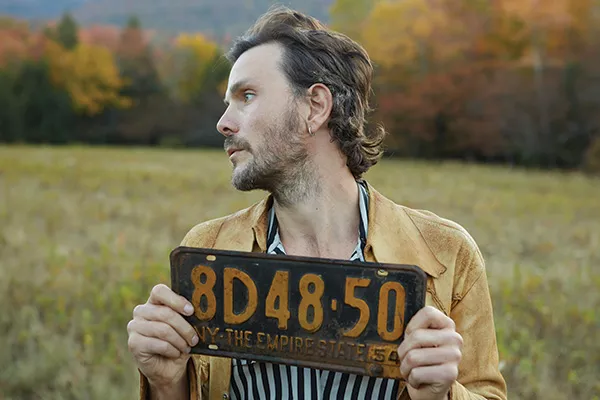 Simone Felice plays BSP Kingston on May 24.
He's spent much of his life wandering far from the tree-thick Hudson Valley hamlet of his boyhood, but somehow Simone Felice always seems to happily end up in the woods somewhere. This afternoon it's the forested English countryside during an eight-week, 40-show tour in support of Strangers (Dualtone Records), his second and newest solo album. "This is great," he says about being interviewed via cell phone. "It gives me a chance to pull off the motorway and take a long walk in the woods." On May 24, however, the prodigal local son will be back on his verdant home turf for a show at BSP Lounge.
For an artist still in his thirties, Felice has been smote with enough biblical trauma to make the most wizened bluesman shake his head in disbelief. Born to a hippie mom who found solace in Joni Mitchell's Blue album during her family's tough times, he and his siblings spent their early years "running like wild banshees" in and around Palenville, the rural Greene County hollow they were born in. At age 12, Simone was afflicted with a brain aneurysm that left him clinically dead for several minutes, and went on to spend two months relearning basic motor skills, reading, and writing.
He started a punk band and dropped out of high school, moving to New York to play at CBGB and beginning a parallel career as a poet and novelist. Busted and beaten down by the big city, Simone eventually landed back in Palenville, where he and his brother Ian began writing and recording songs together in 2001; after some wood-shedding they roped in younger brother James and the Felice Brothers band was born. The group's Band-derived Americana clicked in a big way locally and they hit the road, becoming touring gods and winning swooning press accolades for their studio releases that began with 2006's Through These Reigns and Gone (Independent). Primarily the band's drummer on stage, Simone left the fold following 2009's Yonder Is the Clock (Team Love Records) and tragically lost a child to a late-term miscarriage. He next formed the Duke and the King, which made two albums before surreal drama struck again: In 2010 he underwent emergency open-heart surgery to rectify an undiagnosed and life-threatening aortic valve disorder. After a brief studio return to the Felice Brothers (2011's Celebration, Florida; Fat Possum Records), the singer-songwriter's self-titled debut appeared on Team Love in 2012.
With its literate mix of Bob Dylan-/Leonard Cohen-styled introspection, the new Strangers has already racked up considerable praise in the UK, where Felice has found a lovingly receptive second home. But despite his growing base of fans in England and elsewhere, the troubadour, who penned a tune called "Bye Bye Palenville" for the disc and lives less than two miles from the house he was born in, can't see himself living anywhere else but in the Catskills. "I feel like Rip Van Winkle," he muses. "When I die I'll just return to the earth to be part of the mountains and the valley. And hopefully leave some songs behind."
Simone Felice will play at BSP Lounge in Kingston on May 24 at 9pm. Simi Stone will open. Tickets are $20. (845) 481-5158; Bspkingston.com.