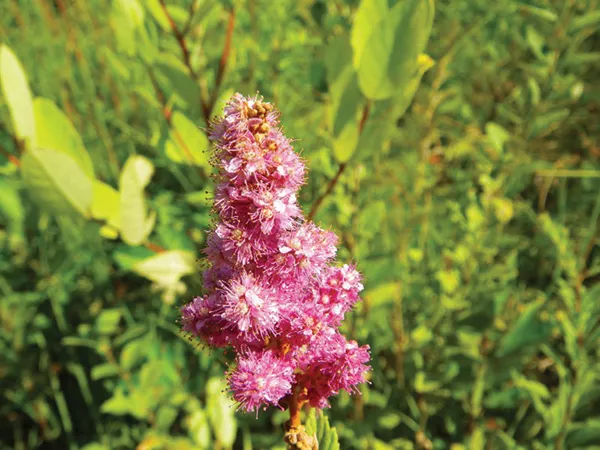 Ethan Dropkin
Native spirea for wet places
When Stormwater Runs Amok
On May Day this spring my husband and I went to down to our community garden plot by the Wallkill River; we found it—and even the parking lot—under water. This is not uncommon for this location—it is a floodplain, after all—but some of the little seedlings that gardeners had already planted were going to be unhappy. We felt chagrined by that, but we once again admired the stalwart trees and shrubs between the gardens and the river. They keep the aftereffects of storms from being much, much worse.
These trees and shrubs were planted in 2004-05, when the Ulster Soil and Water Conservation District, with other partners, put in a marvelous 35-foot-wide riparian buffer of woody plants along 1,200 feet of the Wallkill. The project, according to their signage, was meant to "slow down the erosion process and keep this special place from dissolving into the river." For the buffer, the District and its partners used trees and shrubs that could withstand periodic flooding, like river birches, willows, button bushes, and elderberry.
Here in the Hudson Valley, flooding is a hazard for many people. Even those who don't live on floodplains will often have parts of their properties affected, or even overwhelmed by, inadequate channels for stormwater. This could lead to simply an area of lawn that stays persistently wet and won't support grass, all the way up to stormwater that runs catastrophically off into the basement. And even those of us who do have good runoff would like to keep more of the stormwater in place so as to avoid taxing municipal infrastructure.
Woody Shrubs to the Rescue
Woody shrubs can be used for all kinds of stormwater retention projects, from massive municipal bioswales to tiny rain gardens—you just need to know which ones to select.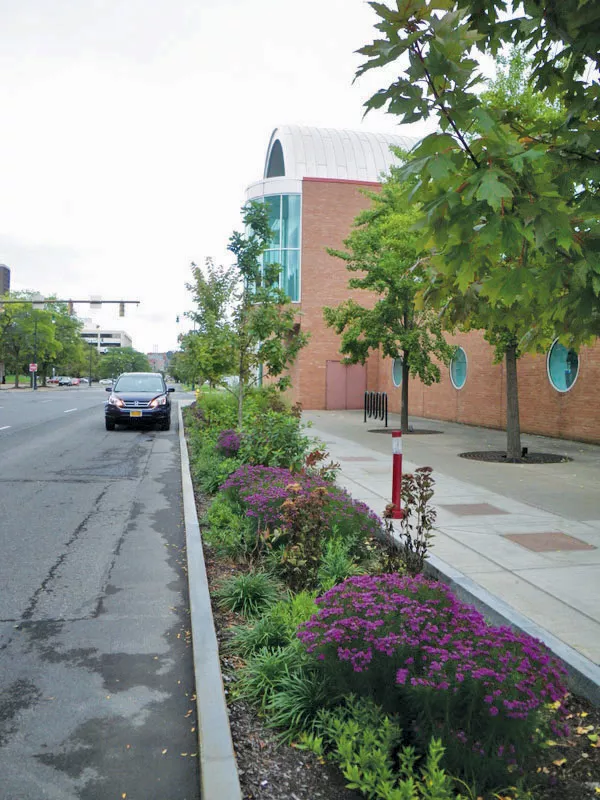 Ethan Dropkin
A bioswale in Syracuse
These shrubs are covered in a comprehensive, 56-page, illustrated free new guide from Cornell's Urban Horticulture Institute, Woody Plants for Stormwater Retention Practices, by Ethan M. Dropkin and Nina Bassuk.
The guide describes the following stormwater retention systems, all of which can be adapted for home landscapes: Vegetated Filter Strips (strips of lawn that help slow water as it moves to a riparian buffer or natural area), Vegetated Swales (constructed channels in the earth lined with turf), Tree Plantings (tree canopy slows stormwater down on its way to the earth), Rain Gardens (planted depressions in the earth used to temporarily retain stormwater), Stormwater Planters (surface or subsurface planters designed to slow, filter, and possibly retain stormwater runoff), and Bioswales (stormwater conveyance systems that ideally rely on a variety of plant materials so as to provide additional ecosystem benefits, like food for wildlife).