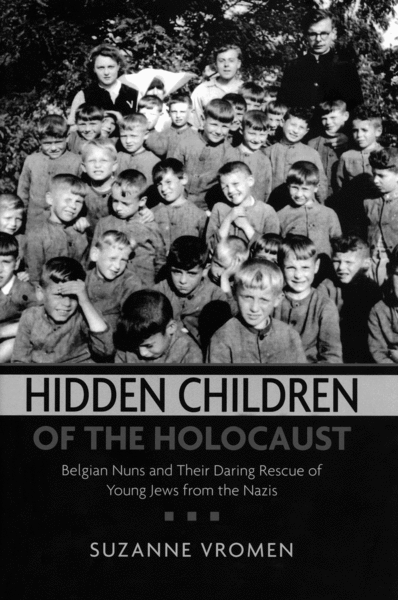 HIDDEN CHILDREN OF THE HOLOCAUST: BELGIAN NUNS AND THEIR DARING RESCUE OF  YOUNG JEWS FROM THE NAZIS
Suzanna Vromen
OXFORD, 2008, $24.98
While Bard professor emeritus Vromen's family escaped Nazi-occupied Belgium, other Belgian Jews hid their children in Catholic convents and orphanages. This insightful account revisits surviving rescuers and now-grown hidden children, with deeply moving results. Vromen will read at Temple Agudas Achim in Kingston, 9/21 at 11.
AUTHEN
TIC WRITING: A MEMOIR ON CREATING MEMOIR
Fred Poole
TINKER STREET PRESS, 2008, $14.95
Fred Poole and his wife, Marta Szabo, have enabled hundreds of area residents to tell their stories authentically. Now it's his turn. In 44 brief pieces, Poole unfurls his life and teaching work, honoring W.H. Auden's dictum, "Writers write what they know, but they don't know what they know until they write it." www.stores.lulu.com/fredpoole.
LIFE IN PARADOX: THE STORY OF A GAY CATHOLIC PRIEST
Paul Murray
O BOOKS, 2008, $24.95
When Bard College chaplain Father Murray taught a course on same-sex unions and Christianity, his bishop accused him of heresy. An "unambiguously and proudly" gay priest, he describes his "realm of contradictions" with elegant clarity. Lecture and booksigning at the Weis Cinema, Bertelsmann Campus Center, 9/16 at 4:30pm.
MIND/BODY TECHNIQUES FOR ASPERGER'S  SYNDROME: THE WAY OF THE PATHFINDER
Ron Rubio
JESSICA KINGSLEY PUBLISHERS, 2008, $19.95
Martial artist, dancer, and "holistic warrior" Rubio mentors young people with Autism Spectrum and other disorders, including ADHD, Tourette's Syndrome, and PTSD. This book presents his techniques for developing mind/body awareness and coordination through focused attentiveness to essentials: breathing, standing, and walking.
SPEAKING ABOUT THE UNSPEAKABLE: NON-VERBAL METHODS AND EXPERIENCES IN THERAPY WITH CHILDREN
Edited by Dennis McCarthy
JESSICA KINGSLEY PUBLISHERS, 2008, $29.95
Kingston psychotherapist and author McCarthy assembled 10 dynamic essays by therapists, social workers, artists, and others who work creatively with troubled children, using clay, dance, sandplay, and other approaches to unlock the healing power of their imagination. Eight of the 10 contributors are Hudson Valley residents.
WALKING AND EATING IN PROVENCE
James Lasdun & Pia Davis
MOON/AVALON TRAVEL, 2008, $18.95
You may not be about to depart for Aix-en-Provence, but peripatetic Woodstockers Lasdun and Davis will set many armchair travelers dreaming with these 38 lovingly detailed itineraries. Go ahead, savor that crème brûlée. You'll burn it all off on that five-hour ring walk through lavender fields and wild thyme.