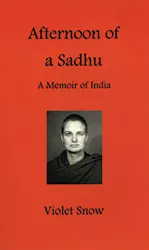 Afternoon of a Sadhu: A Memoir of India
Violet Snow
Lucid Press, 2012, $10
At 22, Phoenicia journalist and actress Snow went on a spiritual walkabout in India, shaving her head and giving away all her money. The young sadhu is plagued by self-doubt: Is seeking charity from the poor a lesson in humility, or a sham? Though she's a phone call away from parents who'd wire her money, the risks she takes are real, and Snow's clear-eyed evocations of predatory men and open-hearted villagers are indelible. Appearing 10/19 at 5pm, Woodstock Library Forum.
Love Your Enemies: How To Break the Anger Habit & Be a Whole Lot Happier
Sharon Salzberg & Robert Thurman
Hay House, 2013, $24.95
Tibet House founder, Columbia professor, and Woodstocker Thurman joins with bestselling author and Insight Meditation Society cofounder Salzberg, teaching readers how to transform the destructive cycle of anger into compassion. Alternating their voices, this lucid, accessible book offers meditations and practical steps to victory over outer and inner enemies, including the "super-secret" foe, self-loathing. Workshops with Thurman 10/3-6 & 10/11-13, Menla Mountain Retreat, Phoenicia.
Serafina's Promise
Ann E. Burg
Scholastic Press, 2013, $16.99
A spirited Haitian girl dreams of becoming a doctor, like the woman who tends her ailing baby brother at a clinic. Serafina is no plaster saint—she begs to attend school, then finds French lessons dull—but she's determined, loving, and resilient when a flood and earthquake strike. Rhinebeck resident Burg, award-winning author of All the Broken Pieces, expertly channels young voices from diverse cultures. Written in clean, evocative blank verse, Serafina's Promise is a miracle of empathy.
Ecstatic Healing: A Journey into the Shamanic World of Spirit Possession and Miraculous Medicine
Margaret De Wys
Inner Traditions, 2013, $14.95
Composer De Wys's memoir Black Smoke details her involvement with the Amazonian shaman who cured her cancer. Ecstatic Healing follows that thread, starting when touching an African necklace at a friend's Rhinebeck home sends her into a convulsive possession. She goes on to work with Brazilian psychic surgeon Joao de Deus (John of God), Umbanda priest Pai Lazaro, and Zulu shaman Credo Mutwa, becoming an ecstatic healer herself.
Bird Medicine: The Sacred Power of Bird Shamanism
Evan T. Pritchard
Bear & Co., 2013, $18
Everyone knows birds sing in the morning; to Native American elders, they pray at dawn, greeting Grandfather Sun. Snowy egrets dance in a circle; crows gather in councils. Pritchard, an academic of Mi'kmaq heritage, examines Traditional Bird Medicine from a scholarly and spiritual perspective. The gatekeepers of the four directions are Eagle, Hawk, Crow, and Owl; their feathers are used in shamanic rituals. Other birds serve as messengers, omens, and spiritual allies.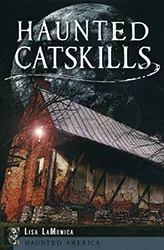 Haunted Catskills
Lisa LaMonica
History Press, 2013, $19.99
Halloween is the perfect time to discover why Washington Irving called the Catskills "a spellbound region." LaMonica details 17 local tales of perturbed spirits—many torn from their bodies by murder—from Maggie Houghtaling, wrongfully accused of killing her baby and hanged in Hudson's jail, to the extravagantly haunted Vanderbilt Hotel. Appearing 10/18 at noon, Hudson Fortnightly Club; 10/26 at 11am, Chatham Bookstore; 10/26 at 1pm, Chatham Winery, Ghent; 10/27 at 4pm, The Spotty Dog Books & Ale, Hudson.