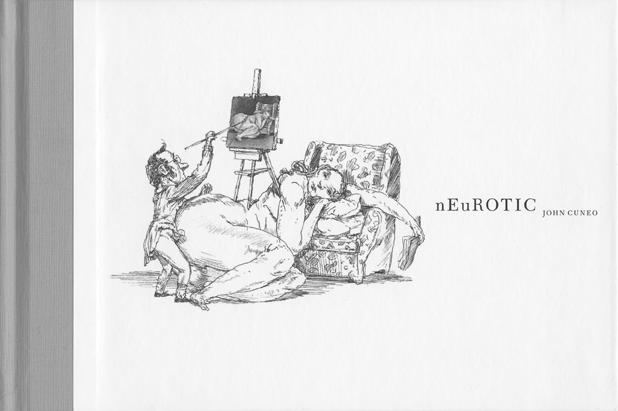 nEuROTIC
John Cuneo
Fantagraphics Books, 2007, $19.95
Graphic in every sense, this twisted collection of nudes by award-winning magazine illustrator Cuneo is "out there"—even by Woodstock standards. Images of bondage, castration, and penetrations of every known orifice are wittily rendered, with titles like "Night of the Neo Cons," "Holistic Circumcision," and "Auto-Erotic Asphyxiation for Dummies."
Where the Blind Horse Sings: Love and Trust at Catskill Animal Sanctuary
Kathy Stevens
Skyhorse Publishing, 2007, $22.95
The big-hearted CAS founder and volunteer staff have created a haven for over 150 neglected and traumatized farm animals on a formerly derelict farmstead in Saugerties. Stevens is an ebullient storyteller, introducing the sanctuary's delightful, rambunctious, and utterly individual residents. Booksigning at Merritt Books in Red Hook, May 5; Golden Notebook in Woodstock, May 19.
The Fertile Female: How the Power of Longing for a Child Can Save Your Life and Change the World
Julia Indichova
Adell Press, 2007, $25.95
The author of Inconceivable and creator of Woodstock's Fertile Heart Studio shares her own story of bucking the "Infertility Industrial Complex" and guiding scores of women to renewed hope and motherhood. The wise, warm Indichova is an emotional doula, offering support, nutritional advice, visualization and healing techniques, and spiritual nourishment.
Traditional Taekwondo: Core Techniques, History, and Philosophy
Doug Cook
YMAA Publication Center, 2007, $18.95
Master instructor of Warwick's Chosun Taekwondo Academy and fifth-degree black belt Cook presents an accessible and comprehensive introduction to the history, philosophy, and practice of the traditional Korean martial arts form that underlies the Olympic-level sport. Includes detailed, step-by-step photos and a section on practical self-defense tips for women.
Power Abused, Power Healed
Judith Barr
Mysteries of Life, 2007, $16.95
Former Hudson Valley resident Barr describes herself as a spiritual midwife and depth psychotherapist. Each chapter uses personal narratives, variations on the fable of "The Emperor's New Clothes," and an interactive review ("Here and Now") to examine abuses of power—both in childhood and in therapeutic treatment—and inspire true healing. www.powerabusedpowerhealed.com.