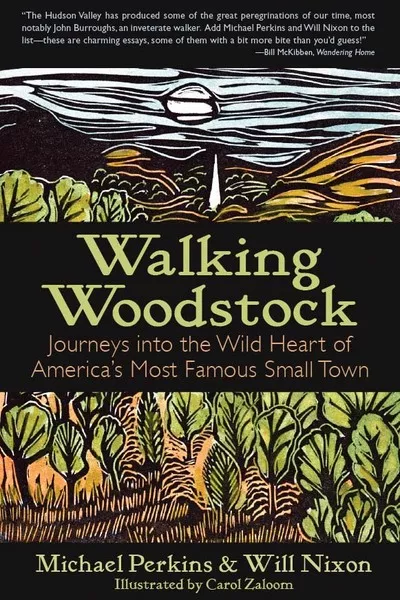 Walking Woodstock: Journeys into the Wild Heart of America's Most Famous Small Town
Michael Perkins & Will Nixon, illustrations by Carol Zaloom
Bushwhack Press, 2009, $18.95
Two clear-eyed poets celebrate their local landscape and a friendship forged on foot in sprightly, remarkably varied essays that exalt the pedestrian in every sense. "Walking is subversive," writes Perkins; Nixon calls it "a radical act." Foot Stompin' Book Party: 12/6 at 3pm, music by Bruce Ackerman, Spider Barbour, Julie Parisi Kirby & Laurie Kirby, Kleinert/James, 34 Tinker St., Woodstock.
The Hudson River Valley School: Nature & the American Vision
Linda S. Ferber
Rizzoli International, 2009, $50
This sumptuous presentation of Hudson River school paintings and related artworks (sketches, ceramics, engravings) from the collection of the New-York Historical Society begins in New York City, then travels upriver and into the wider world. Ferber's text is detailed and informative, and the wide-format layout provides panoramic vistas with every page turn.
Bob Dylan Revisited: 13 Graphic Interpretation's of Bob Dylan's Songs
W.W. Norton, 2009, $24.95
Another Bob Dylan book? Yes, but this one's a feast for the eyes. Thirteen celebrated graphic artists, many of them European, spin visual narratives from Dylan song lyrics. From the poison-laced acid trip of "A Hard Rain's Gonna Fall" to the spaghetti-western "Knockin' on Heaven's Door" and the near-wordless charcoal noir of "Lay, Lady, Lay," each segment suggests a film storyboard.
The Christmas Magic
by Lauren Thompson, pictures by Jon J Muth
Scholastic Press, 2009, $16.99
This mesmerizingly simple story of waiting for the magic that makes reindeer fly is both a classic holiday tale and a parable of patience and inspiration. Vibrant watercolors by Ulster County Caldecott honoree Muth conjure homey interiors—his mustachioed Santa heats with a woodstove and wears bunny slippers—and mystical northern nightscapes.
Hudson Valley Mediterranean: The Gigi Good Food Cookbook
Laura Pensiero
William Morrow, 2009, $30
The owner of Rhinebeck's Gigi Trattoria and Red Hook's Gigi Market offers a mouth-watering array of 120 recipes using seasonal produce, artisanal cheeses, and other local bounty. Interspersed with "snapshot" portraits of such foodie destinations as Sky Farm, Montgomery Place Orchards, and Hearty Roots Community Farm, Pensiero's recipes escort you from farmers' market to table.
Women's Anatomy of Arousal: Secret Maps to Buried Pleasure
Sheri Winston, CNM, RN, BSN, LMT
Mango Garden Press, 2009, $19.95
Exuberant, frank, and revelatory, Winston's "in-depth, illustrated tour of the land of female genitalia, feminine sexuality, and the intimate erotic arts" is the ideal holiday gift for anyone who has, or desires, a vagina. Give it to someone you love (including yourself) and get ready for tidings of comfort and joy.