Image courtesy of Berkshire Food Co-op
<!——————StartFragment——————>
In the early 1970s, a group of families in the Berkshires started a buying club. To save money, they'd buy food in bulk and meet in someone's garage to split up the purchases. About a decade later, that cooperative spirit solidified into the Berkshire Food Co-op in November 1981. Nearly 40 years later, the store—and its membership—has grown a lot but maintains its values of equitable, ethical, and environmentally sensitive shopping.
The co-op now has 4,700 member-owners. Each owner has a share in the business, and a say in its operation—from who sits on the board, to what agencies will benefit from the co-op's community giving programs. Owners can take advantage of savings during quarterly Owner Celebration Weeks, and also get "patronage dividends," i.e., money back in profitable years, depending on how much they spend.
Image courtesy of Berkshire Food Co-op
But you don't need to own a share to shop there. "We don't practice exclusivity," explains marketing manager Devorah Sawyer. She says the co-op's shoppers come from all walks of life, but they have one thing in common: They want good food and products that are thoughtfully chosen.
"We have really high standards, so people don't have to worry about where it all comes from," Sawyer says. As for the quality and sourcing of the produce at the Berkshire Food Co-op, Sawyer is succinct: "If it's not local, then it's organic. That's it. Full stop."
Image courtesy of Berkshire Food Co-op
The co-op's first brick-and-mortar building was the former granary building in Great Barrington. It's outgrown a couple of other homes over the years. Most recently, in 2019 the owners cut the ribbon on a 7,600-square-foot retail space at 34 Bridge Street in Great Barrington.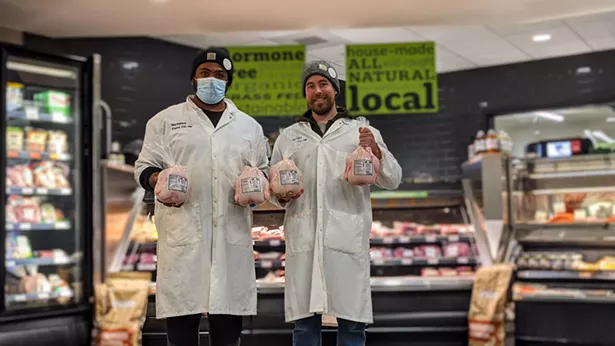 Image courtesy of Berkshire Food Co-op
The store carries top-quality produce, meat and seafood, specialty wine and beer, groceries, and bulk goods, from dry pantry essentials like grains, seeds, and legumes to cleaning and self-care products like shampoo and detergent. The wellness department carries pure and natural products; the specialty foods department features beer, wine, and cheese; and you'll find sustainable cookware, drinkware, candles, and incense in the general merchandise aisle ( "otherwise known as the fun department," Sawyer says). An in-store deli and cafe feature fresh soups, salads, sandwiches, and a hot bar with daily specials.
Berkshire Food Co-op gives back to the community in many ways. Round Up for Change asks customers to round up their totals to the nearest dollar, and owners vote on which organizations will receive the proceeds. Real Good Giving donates funds to local agencies. And on Nickel Back Thursday, four times a year the co-op donates five percent of its net sales for an entire day to a local group in need.
Image courtesy of Berkshire Food Co-op
Community members can enjoy non-shopping perks too, including monthly Coffee Convos, weekly music on the outdoor patio every Saturday, kids cooking workshops, and events like the upcoming Friendsgiving Feast.
What sets the Berkshire Food Co-op apart, Sawyer says, are the people who work there. "There's always a familiar face, and it's an all-around friendly experience," she says. "Time and attention are what we pride ourselves on."
<!——————EndFragment——————>