"Ron Galella is the price tag of the First Amendment."
—First Amendment lawyer Floyd Abrams
Plenty of people have gone down in history being called both a scumbag and an artist in their lifetime, but there probably won't be many that have been called a scumbag for being an artist. That's part of "paparazzo extraordinaire" Ron Galella's legacy. In his on-the-run photography career, which stretches from Katherine Hepburn to Angelina Jolie, he's been portrayed by the media as a stalker, the low-down villain who harassed America's beloved Jackie Kennedy Onassis. He's the obnoxious, soul-stealer who deservingly got his jaw broken by Marlon Brando. When Academy Award-winning filmmaker Leon Gast was approached to make a movie about Galella, he recalls having "a very negative impression of who he was, I expected him to be this guy who had no understanding of the social contract."
Gast still has a good laugh recollecting the first time he pulled up in Galella's driveway. In Smash His Camera, the reaction to Galella's New Jersey mansion is an appropriate "Oh my God, it's 'The Sopranos.'" There are giant, ornate fountains, Greek columns, and fake evergreens around the yard. Gast chuckles remembering going inside. "There were little pieces of cheese, a fruit display," says Gast. Then with great sincerity he adds, Galella "was extremely hospitable, he was completely open, he makes you feel so comfortable." Gast thought to himself, "what a fabulous character this guy will make."
The zenith of Galella's fame occurred when he sued Jackie Kennedy Onassis for preventing him from photographing her in 1973. She countersued for harassment, launching one of the biggest First Amendment rights law suits in United States history. In court, Onassis claimed she and her children were victims while Galella's attorneys countered with photo after photo of her smiling. When Onassis was asked if she was smiling in the photos she responded, "No, my mouth is open."
The combative relationship between Jackie Kennedy Onassis and Galella is woven throughout Gast's film. The title, Smash His Camera, is a command Onassis made to her security team. "He went there everyday," Gast exclaims, referring to the former first lady's New York City apartment. "He went there every single day, he followed her to Greece!" Gast estimates Galella took four or five thousand pictures of Onassis. The question–What was it about Jackie Kennedy Onassis?–is something everyone who's heard of Galella wants to know. In the film, the most Galella offers, half-jokingly, is that he didn't have a girlfriend at the time. "I really pressed the question," says Gast. But even after getting to know Galella and filming him for over 400 hours, his obsession with Jackie O. is still mysterious.
One thing Gast knows for sure: "Society is much richer" for Galella's work. "This guy really had an eye," says Gast. "You can tell looking at his pictures he sees lines, he understands his subject in juxtaposition to a wall or a light, his pictures look like portraits." And what's really remarkable according to Gast, "These are shots he's getting on the run!" Five of Galella's photographs are in the permanent collection at the Museum of Modern Art. But make no mistake about it, there was no risk Galella wouldn't take, no place he wouldn't hide, no line he wouldn't cross to get the shot. Gast laughs and says, "In Galella's words, I never stalked, I staked out."
Smash His Camera will be shown at the Bearsville Theater on June 4 at 8pm, part of the Woodstock Film Festival's Summer Screening Series. Question-and-answer session with Leon Gast and Ron Galella follows the film. www.woodstockfilmfestival.com. $25-$500.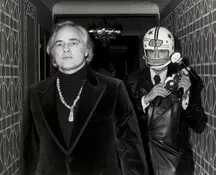 Marlon Brando and Ron Galella in Leon Gast's "Smash His Camera."