Roy Gumpel
Tivoli Tiki Punch
Beer is great, but sometimes, when the weather is sunny and temperatures are climbing, a hoppy brew just won't cut it like a frosty summer cocktail will. In fact, seasonal cocktails are all the rage now, thanks to recent trends toward seasonal ingredients. That means winters warmed by steamy hot toddies or buttered rums, spring enlivened by beverages concocted of fresh herbs just starting to poke through the soil, and autumn greeted by tawny drinks made from ingredients like locally sourced apple cider and Hudson Valley-produced whiskey. But now is the time for all things cool and refreshing, and Hudson Valley purveyors of libations have just the remedy for those sultry summer evenings. Here are their picks for the quintessential cocktails you should be sipping this summer, along with recipes so you can make these drinks at home.
Gardiner Liquid Mercantile
Gardiner Liquid Mercantile owner Gable Erenzo is no stranger to the distilling world. The former chief distiller at Tuthilltown Spirits now has his own establishment using the same painstaking techniques that helped make Tuthilltown the premiere distiller in the Hudson Valley. Situated in Gardiner village, 10 minutes from New Paltz, GLM offers spirits made from local ingredients. Same goes for GLM's menu, where diners can nosh on housemade pickles or organic chicken liver pate, or opt for something more substantial, like a ploughman's lunch or a bahn mi sandwich.
The Farm Bar at GLM features more locally made goodness in the form of wine, cider, and beer, not to mention a boatload of tasty spirits and cocktails. For this summer, GLM is offering an adult take on childhood throwbacks like snow cones and slushies to slake your thirst. Gardiner.
Roy Gumpel
Redemption Snow Cone
Redemption Snow Cone
2 oz. gin
1/2 oz. violet
1/2 oz.lemon
1 oz. blueberry mint shrub
Pour over crushed ice.
The Corner at Hotel Tivoli
Those who frequent the eclectic Village of Tivoli in Dutchess County are no doubt familiar with the Madalin Hotel. Nowadays, that same location is home to Hotel Tivoli, a 10-room boutique hotel owned by artists Brice and Helen Marden. Hotel Tivoli also houses a farm-to-table, Mediterranean-inspired restaurant called the Corner, which is helmed by New York transplant executive chef Devon Gilroy.
The bar at The Corner also offers a curated wine list and utilizes fresh ingredients to stir up cocktails like the Tivoli Tiki Punch, which, according to The Corner's front-of-house manager Janett Pabon, is the quintessential summer cocktail. After all, what says "summer" more than a fruity spiked punch?Tivoli.
Tivoli Tiki Punch
1 1/2 oz. Smith & Cross Jamaica rum
1 oz. fresh lime juice
1 oz. Luxardo maraschino liqueur
5 dashes of Angostura bitters
3/4 oz. fresh grapefruit juice
splash of simple syrup
Shake and serve over ice. Paper umbrellas optional!
Stockade Tavern
Located inside of a former Singer sewing machine shop in Kingston's Stockade District, the Stockade Tavern specializes in Prohibition-era cocktails made with high-end spirits, housemade syrups and grenadines, and locally sourced goodies, poured to exacting specifications right down to the one-inch ice cubes. A bit persnickety for the average imbiber? Perhaps, but attention to detail is exactly why the Stockade is bursting with eager drinkers during the weekend.
Head bartender Joshua Rosenmeier offers his take on the perfect summer cocktail: "My quintessential summer drink utilizes the vast supply of strawberries the Hudson Valley has to offer." Rosenmeier suggests taking a quart of fresh, local strawberries and infusing them into any white spirit. "Tequila, gin, vodka, rum, even pisco work wonderfully when infused for 24 hours," he says. "But the longer the better." Kingston.
Gilded Lily
2 oz. strawberry infused spirit
3/4 oz. lemon juice or lime juice
3/4 oz. simple syrup (you can get creative here and use a flavored simple syrup that pairs well with strawberry!)
1/4 oz. campari
Combine ingredients into a shaker and fill with ice. Shake vigorously and strain into a cocktail glass. Garnish with a mint leaf.
Wm. Farmer & Sons Boarding and Barroom
This boutique inn and eatery is one-stop shopping for those looking to spend the weekend in Hudson city. Wm. Farmer & Sons, located just a block or two from the riverfront, offers not only a place to rest your head at night but also a mercantile, bar, and restaurant. In fact, if driving isn't for you, take Amtrak into the Hudson station and walk to Wm. Farmer & Sons. From there, the rest of charming Hudson is mere steps away.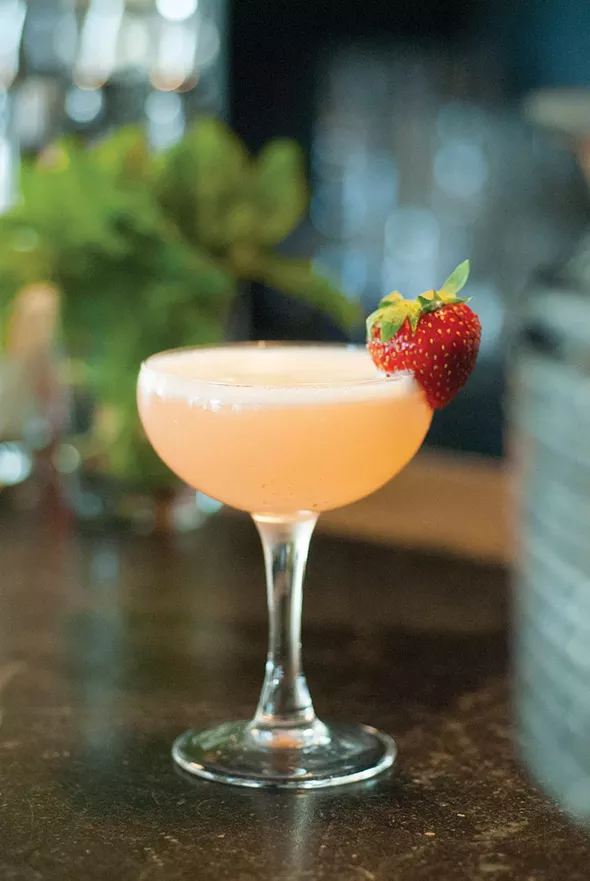 Roy Gumpel
Gilded Lilly
The barroom's cocktail menu consists of favorites like mint juleps and dark and stormys, as well as specialty cocktails like the Penicillin (Scotch whisky, lemon juice, honey, and ginger, clearly for medicinal purposes of course) and El Guapo (tequila, lime juice, cucumber, and Cholula hot sauce, in case Penicillin isn't quite enough to cure your ills).
"For the quintessential drink of the summer," says Wm. Farmer & Sons' Kristan Keck, "we go to the islands." A "simple take on a classic mojito," the Queen's Park Swizzle was once the house drink of the now defunct Queen's Park Hotel in Trinidad.Hudson.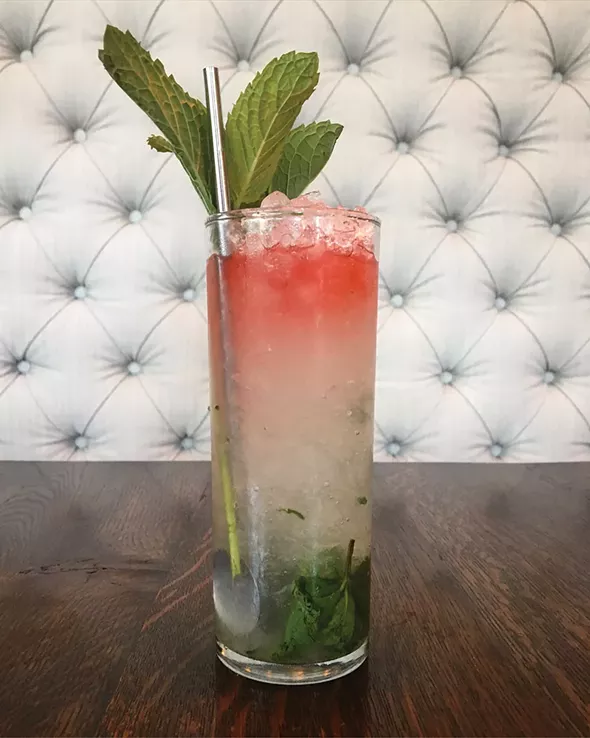 Roy Gumpel
Queen's Park Swizzle
Queen's Park Swizzle
1 demerara sugar cube
3/4 oz. simple syrup
1 oz. lime juice
2 oz. white rum
grip of mint
Peychauds bitters
Angostura bitters
crushed ice
1. Gently muddle six mint leaves, sugar cube, lime juice and simple syrup in a Collins glass.
2. Add rum and top with crushed ice.
3. Swizzle (the act of using a swizzle stick or bar spoon to agitate the crushed ice whilst at the same time marrying all the ingredients).
4. Garnish top of drink with equal dashes of bitters to create a pink layer.
5. Top off with crushed ice.
6. Add large sprigs of mint for garnish.
Birdsall House
Beer and cocktail fans alike will love the Birdsall House thanks to a craft beer menu featuring 20 draught beers and over two-dozen bottled beers. They also have a dinner menu packed with stick-to-your-ribs fare like steaks, burgers, and sandwiches, and brunch is served on Saturdays and Sundays.
Birdsall House is no slouch in the cocktail department, especially during the summer. Refreshing concoctions like the Lazy Afternoon (4 Roses bourbon, macerated peaches, mint, lemon, and demerara syrup) and Summer Sipper (Tito's vodka, watermelon, basil, lime, and simple syrup) would hit the spot on a hot day, as would the Lavender Lemonade, which Birdsall House owner Tim Reinke touts as a quintessential summer cocktail. It's simple, explains Reinke, "but tastes like summertime in a glass. Gin and St. Germaine (an elderflower liqueur) play very well together in almost any cocktail, and the lavender syrup and fresh lemon juice give it that summer feeling."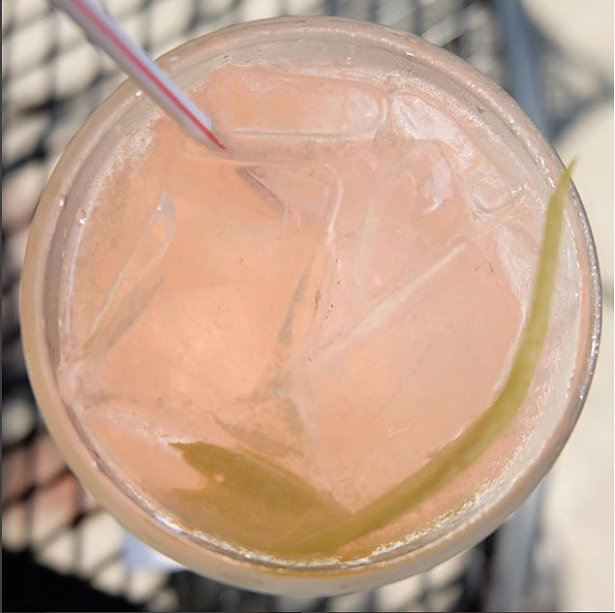 Lavender Lemonade
(created by BH bartender Heather Campos)
1 1/2 oz. Greenhook gin
1/2 oz. St. Germain elderflower liquer
1/2 oz. house-made lavender syrup
1/2 oz. fresh lemon juice
Build over ice in a cocktail shaker. Strain into a cocktail glass with fresh ice. Top with soda. Garnish with a lemon twist.