Page 2 of 2
Blue was also fascinated by the history behind Indian textiles. "India has lots of hands and a lot of poor people. Mahatma Gandhi wanted to bring back the art of spinning, but it was more than just the art, he wanted to give people something to do. The fabric is often so irregular because it's all handmade."
Inspired by what he'd seen, Blue moved back to the US and designed his own line of meditation clothing. He was living in Provincetown, Massachusetts and studying with writer Norman Mailer when his line of meditationwear caught the attention of Bloomingdale's head buyer. "I was just designing the clothes as a hobby," Blue remembers. "But he told me, 'I think you may have a calling.'" So Blue flew back to India and began working with local tailors to design what was to become the brand Kensington Blue. "I was the first contemporary designer to synthesize meditation and fashion into a product," he explains. The line was a great success, supporting him as an artist, winning him awards, and taking him everywhere from Portugal to Hong Kong.
"My grandfather said, 'Buy things you love and don't sell them.'"
After years of globetrotting, Blue decided he wanted a New York base and a quiet place to continue with his writing. He found Manhattan too distracting, and a friend suggested High Falls. "When I came up to the Hudson Valley, I thought it was fantastic. I could have acres of land, buy rustic old houses and antiques, and I could play with the Woodstock artists," he remembers. The creative pedigree of High Falls with its plethora of actors, artists, and musicians—including a neighboring property where the painter Chagall once lived—also inspired him. "It's full of characters," Blue explains. "And I'm a character."
Photo: Deborah DeGraffenreid
Blue added an additional bedroom to the home, searching salvage markets in the area for antique wood beams and windows. "I tried to pick pieces that made sense," he says. Whenever he couldn't find something suitable, he worked with local craftspeopleto create pieces that matched the home's aesthetic, though he admits, "It's hard maintaining all the wood in this environment, with the constant contraction and expansion—it's sort of like our lives."
When he found his rustic two-horse barn, he took to it right away. "This was a place I could write," he remembers. Owned at the time by jazz composer and trombonist Don Sebesky, the house's two upstairs rooms were dominated by the original stone fireplace and still had a hole in the floor (with a ladder) where hay was once dropped to the animals below. Sebesky had added an antique European stained glass window next to the home's original red round-top Dutch door, as well as a bedroom downstairs. Another previous owner, the painter Ben Bishop, had outfitted the original barn with a small kitchen space and a small bathroom. Blue bought the property from Sebesky in 1984, negotiating to keep the stained glass at the entrance.
"Adopt, don't shop."
Over the ensuing decades, Blue developed a career as a "ghost" fashion designer. He worked behind the scenes designing and advising for Ralph Lauren and Tommy Hilfiger, eventually becoming a creative director for Coogee and FUBU. With each new success, he gradually added onto the house and the surrounding grounds, always trying to remain true to the spirit of the original property. Throughout the house, Blue salvaged all the original rough-hewn oak floors and beams and scoured vintage stores and antique markets for furniture and art to fill the interiors. He put in extensive gardens around the perimeter of the home and added a deck with a hot tub and a jacuzzi.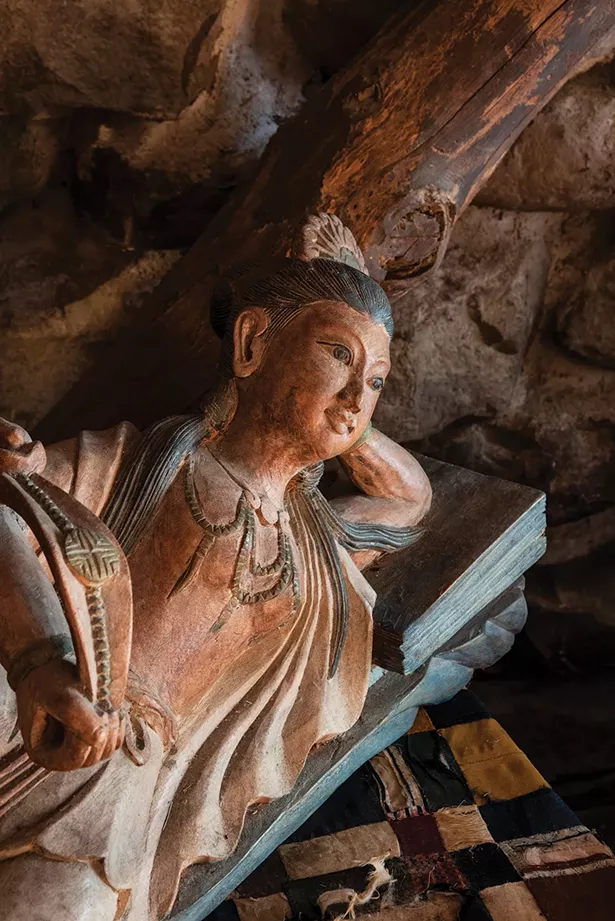 Photo: Deborah DeGraffenreid
Blue has filled the home with art and mementos he collected over the years, including pieces found during his many years in India. "I like history being told through art," he says.
In the late '80s, a fire—started by the frayed wiring of an antique clock—burned part of the home's interior. With the help of firefighters, Blue was able to save most of the home and turned the mishap into an opportunity to add to the space. He remodeled the existing kitchen and bathroom and then added a new bedroom suite with a full bathroom, decorating the spaces with artifacts from his time in India and family photos. Blue finally closed up the hole in the main floor and added a new staircase to the downstairs, utilizing salvaged windows, frames, doors, and wood that he found at Zaborski Emporium in Kingston. He also added multiple new entranceways to the downstairs as well as new exterior decks.
Photo: Deborah DeGraffenreid
Blue salvaged two antique windows from a church in Vermont and put them in one of the home's bedrooms. "I used to go antique hunting and buy stuff at auction," he explains. "The whole house is filled with art I found overthe years." However, he is ready to let the stuff go and now focus on living things—most especially rescuing animals worldwide. "I'm selling the art. When you collect things, you don't own them anymore, they own you."
While Blue is still involved in the fashion world, he sees his next gig as ghosting for animals. He was first moved by the plight of other sentient creatures—everything from elephants to the subcontinent's nine indigenous dog species—when he was living in India. He has since helped shut down circus acts and supported many no-kill animal shelters. He is also currently working on a project telling the story of the Havanese dog breed-inspired by his pup KC. "Often," he explains, "it's the animals that rescue us." He's happy to trust wherever this path takes him next. "Tomorrows have a habit of becoming todays, todays have a habit of slipping away. That's why I prefer to live in the moment."