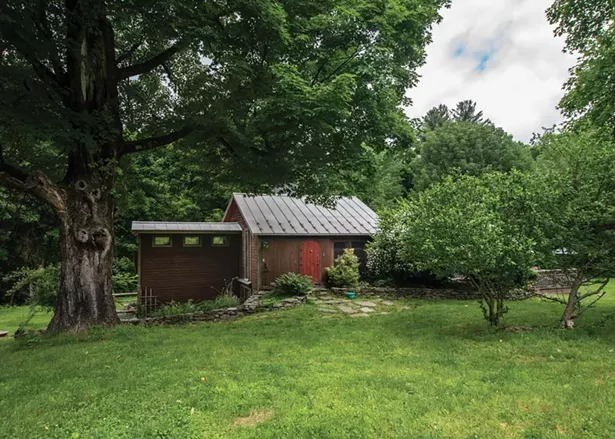 Barrie Blue insists he's a ghost. The dapper, lively man always accompanied by his little white dog K.C. has made a living, and a life, by remaining behind the scenes and lending his talents as a writer and fashion designer to more well-known names.

"I prefer not to be in the spotlight," he explains. "When you're a ghost, without being attached to the outcome, you can be free."

He's no shrinking violet, but it's a role and philosophy that's allowed him to travel the world and successfully metamorph between multiple creative disciplines.


"I love chasing my shadow," Blue explains. "I've had a magical life, and my house is magical as well."
Photo: Deborah DeGraffenreid
Barrie Blue and his Havanese, KC, in the upstairs living room of his 200-year-old converted horse barn home. When Blue bought it this original room still had a hole in the floor to drop hay to the horses below and he's spent the past 30 years renovating the property. "It's been my passion," says Blue. Behind him a stained glass window, entitled "Hope," was brought over from Europe and installed by a previous owner. "I always liked stained glass," Blue says. "I thought there was hope that someone would put it there and we all have to have a little hope."
Like its owner, Blue's four-and-a-half-acre property probably has a few stories to tell. Tucked away in the woods and built into the side of a hill, the original wood-and-stone structure was once the two-horse barn of a much larger farm. Blue believes it to be approximately 200 years old, "but they tell me they can't really trace it back," he explains.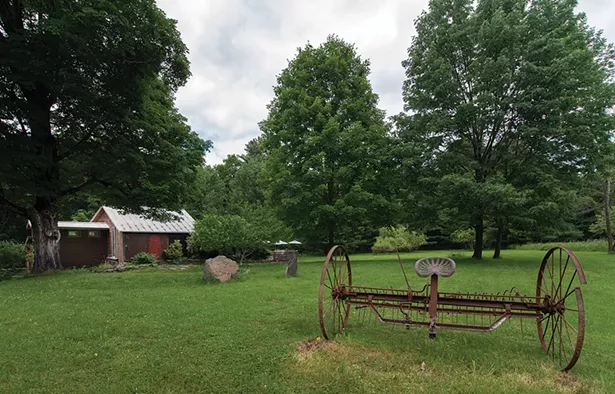 Photo: Deborah DeGraffenreid
The 4.5-acre property features many original historical details, including stone walls and the remnants of a stone guest cottage. There is even evidence that the painter Chagall lived very close by and kept his "muse" on the property. "We always hear about love stories and ghost stories, but we need to really see them," says Blue. "To me, it's very interesting that all these people pass through this region, and no one really knows about it."
Surrounding the house, a large meadow is threaded with original stone walls and punctuated by old-growth trees, vibrant gardens springing forth with new life, stitching a green perimeter around the home. Blue bought the property in 1984 and has spent the past 30 years adding to and refining it, creating a rambling 2,000-square-foot space. With two living rooms, two bedrooms, and two bathrooms, it remains stylistically true to its origins and honors local history, while the multiple entryways leave it open for the next chapter.
"I've already forgotten what I don't remember."
"You know I never really tried to do anything in my life. Everything just sort of happened," Blue says. "It's been very serendipitous." Born in Manhattan to Eastern European immigrants, he spent his childhood going between his parent's house in Brooklyn and his grandparent's apartment on the Upper West Side.
This was before Manhattan's gentrification, when both boroughs were rougher than they are today. "I was a street kid, but I was always reading and writing," remembers Blue. "I wasn't just inspired to write, I was compelled. All the poets were my heroes—everyone from Ferlinghetti to Joni Mitchell—I loved painting pictures with words."
Blue began writing poetry and aphorisms while he was still in school. After graduation, his talent for wordsmithing, along with his attraction to the "economy of a good one-liner" led him into the world of songwriting. "Song lyrics are really poetry, you just have to figure out a tagline," he explains. A connection in Los Angeles got him a job with a record company writing lyrics for rock 'n' roll bands. It was his first chance to "be a ghost," and he found that working behind the scenes suited him. "It was the time when A&M Records was occupying the Charlie Chaplin Studios," he remembers. "All of the record companies had 40 ghost writers on staff."
Photo: Deborah DeGraffenreid
Year by year, as his success as a designergrew, Blue added onto the house, always trying to stay true to the home's original spirit. After a fire in the late '80s, he added this downstairs dining area with vaulted ceilings and installed salvaged French doors from Zaborski's Emporium in Kingston. He alsoadded a new exterior deck. "I renovated it in stages of my life," he says.
Laurel Canyon became his haunt, and he spent his nights out and about rubbing shoulders with all kinds of people. "I could go into any club and meet anybody just sitting there," he remembers. However, soon the lifestyle and the heavy drug use of the era began to get to him. "It wasn't in my nature to be partying like that. I wanted to be high, but not get high," he says. But his time in Los Angeles had helped him blossom from a poet into a writer.
"You breath in, you breath out. If you stop breathing you're not here."
Blue left the music scene and took a job as a journalist with the
Herald Tribune
, which first landed him in Paris, then sent him to India. Blue's move to India would be a major turning point in his life, becoming his part-time home for the next 18 years. "I fell in love with India instantaneously," he explains. "It propelled me into designing. It's where I really learned to be a citizen of the world." For the
Tribune
, Blue worked as a stringer covering newsworthy events, and, when he wasn't writing, he began practicing meditation. "I loved the whole idea of it. In meditation, the breath is everything. Meditation got me high without drugs."
When Prime Minister Indira Gandhi severely restricted the press and Blue had to find a new job, it was his meditation practice that gave him his next idea. "In the old days, Indians and yogis wore oversized kurtas and loose pajama-like pants to meditate," he explains.
Photo: Deborah DeGraffenreid
"Everything was very rustic," remembers Blue,describing the home's original first floor. Originally small horse barn, Blue sealed it and sheetrocked part of the interior to keep out dirt. However, he was able to preserve the space's original stone walls and oak beams. The original horse entrance was converted into windows.