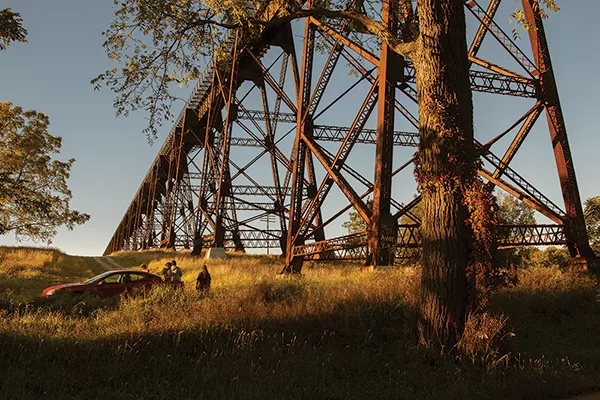 Ruedi Hofmann
The Moodna Viaduct train trestle just west of Cornwall.
If you've never been there, or haven't been lately, you owe yourself a ramble around the northeastern part of Orange County. On the banks of the Newburgh Bay, framed by the majesty of the Hudson Highlands, Newburgh and Cornwall are a study in contrasts—New York's Other City and her pastoral gem of a neighbor, two natural beauties packed with history and boiling over with culture and innovation.
Cornwall is a delightful place. Take the kids to the Hudson Highlands Nature Museum: The newest attraction, interactive playspace Grasshopper Grove, opens for the season on April 16. Spend a few hours soaking up the Storm King Art Center, or climb the mountain that gave it its name. Take a kayak tour of this superlative stretch of river. Eat farm-to-table, continental, or cafe style—Cornwall restaurants impress New York Times critics—or grab some pizza or Chinese, shop for fiber art supplies, unique gifts, metaphysical books and crystals. There are things you'll find in Cornwall that you won't find anywhere else.
Bill Braine
Kayaking on Bannerman Island with Storm King Adventure Tours
Meanwhile, up in Newburgh, the Hudson Valley's Sleeping Beauty has shaken off the evil spell and is ready to rock. The second half of the 20th century was a rough ride for Newburgh, for reasons that would fill a book. Suffice to say that in 1952, Look magazine dubbed Newburgh—with its booming economy, unparalleled architecture, stunning location, and bodaciously wide Broadway—an All-American City. By 2004, it had a spot on New York State's shortlist of most stressed communities, having endured a lurid notoriety as a murder capital along the way.
Tom Bushey
The Storm King Fire Department Fair in 2011.
A Brighter Future
But the seeds of a brighter future were planted even then, and the blooms are opening at last. Habitat for Humanity Newburgh was founded at a kitchen table in 1999; this year, they'll dedicate their 100th house. Housing and arts organization Safe Harbors of the Hudson began in 2000, turned a blighted hotel into a showplace, and has been running full steam ever since; this spring, they're running acting workshops with Shakespeare on the Hudson and planning a new park. Plans were laid for a branch of SUNY Orange; today it's a state-of-the-art urban campus. The ferry to Beacon began running again in 2005, connecting folks to the train while offering a brief but breathtaking and wonderfully inexpensive river cruise. Hunter College urban planning student Cher Vick started a lively blog, Newburgh Restoration, in 2008, highlighting positive news and available historic properties. New people were showing up, with guts and plans: a cafe, a brewery, an art supply store, a museum, another gallery.
Ruedi Hofmann
Newburgh Rodeo
"We are especially lucky in that we attract all the eccentrics, the disruptors, the mad-as-hell-and-we're-not-gonna-take-it-anymore crowd," muses Hannah Brooks, vice chair of Safe Harbors' board and president of the Newburgh Heights Association. "We are just newcomers. but I knew we were starting to do some good when the people who felt ignored and badmouthed over the past decades began to come out and speak up and attend meetings."
NoBro
"In 2013 we were able to apply for funds from the National Mortgage Settlement," says Newburgh Community Land Bank Executive Director Madeline Fletcher. "We saw the opportunity to capture the moment, not with full rehabs but by making strategic investments: structural stabilization, asbestos remediation, measures that make the historic properties feasible. The cost of renovating is higher than the projected value, so we try to absorb that as much as we're able. We've brought a lot of different groups to the table, which is great; we work with Habitat for Humanity and RUPCO."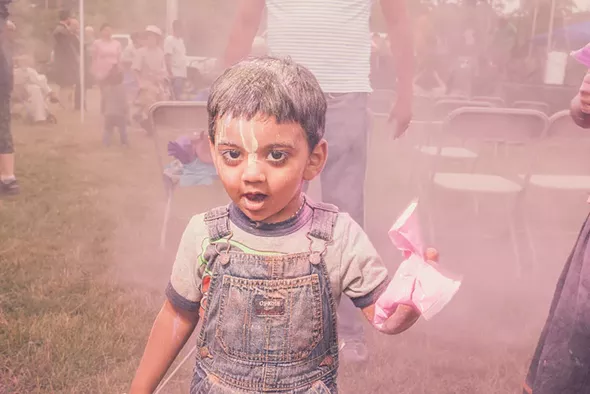 Ruedi Hofmann
Bliss Kitchen and Wellness Center hosted a Holi color festival in Newburgh last summer.
The land bank owns 40 properties in a section of the East End north of Broadway and is preparing to transfer them for redevelopment over the course of 2016, creating affordable rehabbed rentals, Habitat ownership opportunities, and some great deals for private buyers, ultimately adding 70 units of quality housing to a devastated neighborhood now being reinvented as NoBro (North of Broadway), and fanning the flames of revitalization along the Liberty Street corridor, where some of the earliest stirrings of new life were felt.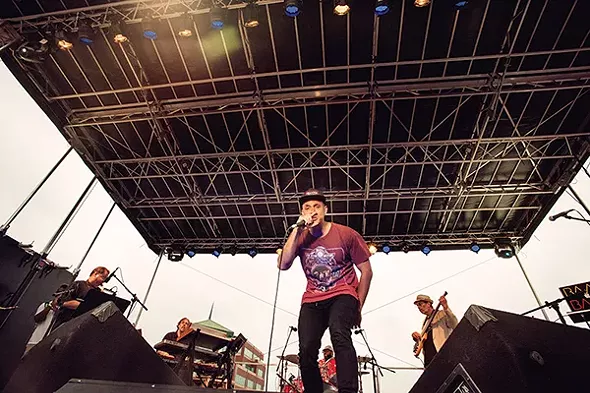 Ruedi Hofmann
Hip-hop artist Decora performing at the Newburgh Illuminated Festival
A River of Opportunities
Zoning's been completely revamped. A new website dedicated to commercial real estate, A River of Opportunities, aims to attract light manufacturing to join furniture makers Atlas Industries, which relocated here from Brooklyn in 2013 and shares its elegantly renovated factory with a growing maker's hive housing nearly three dozen small businesses.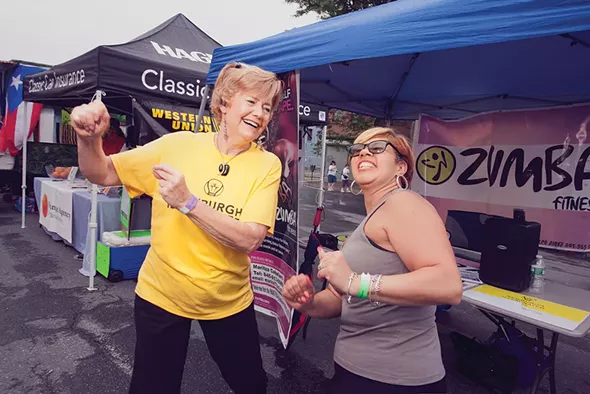 Ruedi Hofmann
Mayor Judy Kenney with Maritza Caballero of Zumba Fitness/Newburgh Armory at the Newburgh Illuminated Festival
"A lot of new businesses opened in the last year," says Shay Sellars, founder and managing director of SASRE Properties, a revitalization-focused commercial acquisition and redevelopment firm born in Brooklyn and now based in Newburgh. "Web designers, architects, interior designers, makers of lifestyle products—there's a lot of entrepreneurial energy coming in. A lot of us are disruptive; we have our own ideas of what community is, we're comfortable navigating red tape—and the community has responded by making things easier. 'We need you guys; tell us what you need.' Friends of mine started a studio in Atlas; now they're employing four part-time interns."