Most of us aren't overly fond of the subject of insurance. It's dry, it's technical, and it involves contemplating fun things like serious illness and mortality. It's the kind of thing that's easy to keep putting off.
Barry Feldman of
Wallace & Feldman, Ins
understands. "People don't trust insurers," he says. "Much insurance is awful; there's a lot of manipulative marketing out there. The only way to help people is to be absolutely honest with them."
Photos via Wallace & Feldman on Facebook
Wallace (pictured right) believes everyone should be protected.
It also helps if you've studied up on the ins, outs, and technicalities—something Feldman has done so you won't have to. Although, he considers educating people to be a big part of the job.
"I do a lot of work with older people," he says. "I don't pick products for them, I pick with them."
It was a family tragedy that awakened him to just how crucial life insurance can be.
"My brother died suddenly at 37, leaving behind his wife and 18-month-old," he says. "Probably he'd just been putting it off, but for the lack of spending $20 a month, he missed out on leaving them with a million dollars. I know no amount of money heals the wound, but getting a tax free check for a large sum of money will take away a ton of practical pressure, that's for sure. I'm kinda evangelical on this one. I get into arguments with young parents sometimes."
But that's the only hint of sales pressure you'll experience. Feldman picks and chooses carefully what products to offer and will be quick to let you know what you don't need, not just what you do.
Photos via Wallace & Feldman on Facebook
He'll typically spend an hour and a half with a client joining Medicare, helping them set up the most care for the least expense; he's been known to do pro bono consulting with the Medicaid-eligible and workshops for seniors at the library. He works with small businesses and entrepreneurs sorting through the thickets of employee benefits and group health plans.
As an independent broker, Feldman's not beholden to a corporate bureaucracy, which is exactly the way this jazz man (he collects Fender guitars, plays in his spare time, and produced a highly acclaimed series of pre-war blues re-issues while working for RCA) likes it.
"I'm advocating for you, not the company," he says. "I'm sorta not typical. Oh, Wallace? Wallace is my golden retriever. My daughter's an artist. She said, 'Put Wallace in the name and logo,' and everybody liked it, so I was like 'arright, arright.' So there's a dog in my logo. He doesn't really pull his weight with the accounting, though. "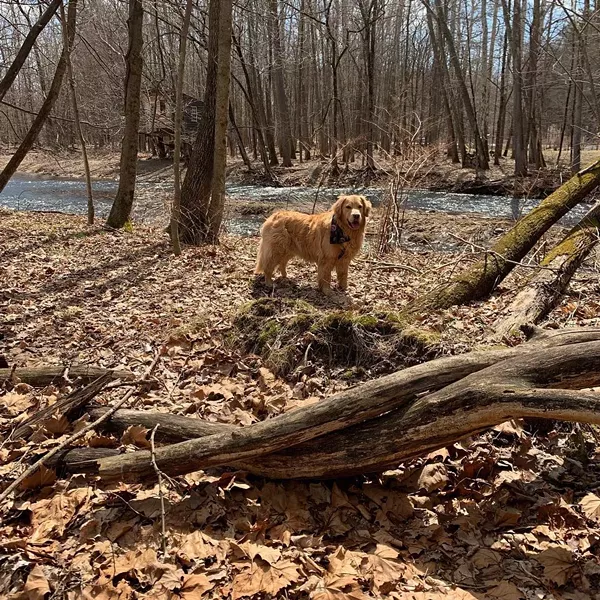 Photos via Wallace & Feldman on Facebook
Wallace and Feldman have happily swapped Long Island for Woodstock.
Wallace and Feldman, based in Woodstock, offers life insurance, Medicare coverage, group health policies and a suite of small-business services, long term care insurance, and annuities. Get a free life insurance quote on the website, or call (516) 690-7029.