2Taste Food & Wine Bar
4290 Albany Post Road, Hyde Park. (845) 233-5647.
www.2tastefoodandwinebar.com
Watch your food made before your eyes at 2Taste Food & Wine Bar's open kitchen, featuring new American cuisine with a touch of French style. With a changing seasonal menu, Chef Dale Andrews uses local Hudson Valley ingredients and produce from Migliorelli Farm and Earth to Table Farm. Start with the popular truffle and porcini mac and cheese ($12) with herbed breadcrumb gratin. Try the pan seared sea scallops (market price) with summer corn risotto (fall potato risotto, spring pea risotto) and drizzled with balsamic glaze. Savor the slow-cooked braised lamb shank with a rosemary jus, served with Parmesan gratin potatoes and roasted vegetables ($28). Finish the meal with a seasonal pie for two ($14), including blueberry, strawberry, plum, apple, and pear, depending on the season.
Cafe Le Perche
230 Warren Street, Hudson. (919) 690-9911
Inspired by the Le Perche region of France, owners Allan Chapin and Jennifer Houle have opened Cafe Le Perche in an 1830 preserved building on Warren Street. Cafe Le Perche is a boulangerie, patisserie,  and restaurant with a wood-fired oven that was imported from France and reconstructed in the rear carriage house of the building. Choose from an array of breads, including the baguette classic ($3.50), walnut sourdough ($6.95), and pesto rolls ($0.75), and pastries, including pain au chocolat ($3.25), raspberry coffee cake ($3.25), or apricot beignet ($2.75). Hungry for more? Try the French ham sandwich ($9) with Gruyere and Dijon mustard on a baguette, or the roasted vegetable grilled sandwich ($13) with roasted red peppers, zucchini, eggplant, and goat cheese. For a larger dish, check out the chicken paillard ($17) with arugula, shaved parmesan cheese, marinated tomato, and lemon. Cafe Le Perche sources its drinks from local Hudson businesses: coffee and espresso are from Strongtree Organic Roasters and the tea selection is from Verdigris. Liquor license pending.
Cinnamon Indian Cuisine
5856 Route 9, Rhinebeck. (845) 876-7510
Husband-and-wife team Chaminda and Shiwanti Widyarathna have opened their first Indian restaurant with all high-quality, fresh ingredients from surrounding local farms. Chef Chaminda serves up a mix of different Indian regions, including Sri Lanka and southern Indian food. Start your meal with the Lasuni Gobi ($6.95), cauliflower florets tossed with aromatic, freshly ground spices. For an entree, savor the chicken Vindaloo ($14), Goan special sweet-and-sour chicken with potatoes. Or, try the Kobbari chops ($19), New Zealand lamp chops grilled in tandoor, cooked with ginger, garlic, coconut sauces and served with vegetables. If you're not sure what to try, check out the Sunday buffet ($10) to sample a variety of dishes.
Mario's Trattoria
33-37 John St, Kingston. (845) 338-2033
Kingston gets a taste of New Paltz's La Stazione, with the same owner, chef, and menu at Mario's Trattoria. Mario's mixes southern and northern Italian traditional dishes and uses fresh vegetables from Wallkill View Farms in New Paltz. Try the gnocchi Bolognese ($16), ground veal, tomato sauce, peas, and a touch of cream. Or, taste the fish with zuppa di pesce ($21) with clams, mussels, shrimp, calamari, and scungilli with marinara or Fra Diavolo sauce over linguini. Cavatelli con salsiccia e broccoli rabe brings ground sweet sausage, broccoli rabe, EVOO, garlic, and Parmigiano-Reggiano together, all for $16. Mario's offers homemade Italian ricotta cheesecake for $6 and tiramisu ($6) as well as traditional Italian wines with a few New-World additions ($20-40 bottle, $6-8 glass).
MOD

20 S. Front Street, Hudson. (518) 828-1880
www.modhuson.com  
After five years on Catskill's Main Street, Mary DiStefano and Dana Wegener have moved their comfort food outpost to Hudson. Try Mary's Meatloaf ($15), with the CH Evans Kickass Brown ale pan gravy served with caramelized carrots and your choice of white rice, potato, or homemade chips. Or try their popular Hudson Valley Mac and Cheese ($12), a blend of Hudson Valley-made cheeses like Herkimer Black Wax Cheddar with toasty panko breadcrumbs. Herbs and vegetables are hand picked right from the restaurant's garden and desserts focus on locally grown fruit. Spend the lazy days eating at MOD's Sunday Brunch. Savor the berry toast ($10) with thick-cut French toast and a side of seasonal berries and bacon, or the MODWICH ($6), a farm fresh fried egg with cheddar and bacon on a roll, served with greens.
Rusty Tomato Snack Bar
134 Church Street, Millbrook. (845) 264-2991
www.rustytomatobbq.com
When owner/chef Chris Steiner was looking for a place to start a BBQ joint in Millbrook, he learned that Best Creations Bakery owner Beth Perry was spending most of her time at farmers' markets and was looking for help in her shop. The two partnered up and Steiner opened a snack bar in the corner of the bakery, serving lunch. Although the luncheonette is too small for a BBQ joint, Steiner blends Southern and Latin flavors into a short, inexpensive menu. Customer favorites include the tacos with grilled beef or shredded chicken, topped with homemade salsa and queso fresco (three for $4.25) and the tartines ($4.50) with options like roasted red pepper hummus with black olives. For BBQ items, customers can order the St. Louis ribs or the pulled pork sandwich, both $5. Steiner also offers BBQ catering.
The Phoenix
5340 Route 28, Mount Tremper. (877) 688-2828
www.emersonresort.com
Chef Curt Robair introduces his own style of cooking at the Emerson Resort & Spa: Contemporary Catskill Regional Cuisine. Taste the Hudson Valley in every bite as Robair uses fresh, local ingredients as well as herbs and vegetables from the Emerson's garden. You never know what to expect with The Phoenix's two menus that change weekly. The bar's Tavern menu is offered at The Phoenix bar with options like classic calamari ($9) or a Hudson Valley Burger ($12): half-pound black angus with bacon, sauteed mushrooms, and crispy onion rings with a citrus miso-wasabi dressing. Or try the Chef's Offerings menu: a three-course dinner ($35), including the hand-cut spinach fettuccini with kalamata olives, capers, wild woodland mushrooms, and caramelized onions in a delicious cabernet sauvignon marinara. Enjoy your meal either inside or on the summer deck with a view of the Esopus Creek. Everything can be made for room service and nonguests are always welcome to dine. Robair also teaches weekly three-hour local gourmet cooking class at the spa ($125).
Smoked
1 Landmark Lane, Kent, Connecticut. (860) 927-7141
www.smokedrestaurant.com
A new restaurant and BBQ joins Connecticut's restaurant world with husband-and-wife chef and owners Andrew Hayes and Elizabeth Owens. The pair offer fine dining and a casual atmosphere with a Southern accent. They provide all the best in local food, including farmstead cheeses from Sprout Creek Farm and Jasper Hill. Smoked changes its menu a few times a week to keep things fresh. Start with a snack like deviled egg with guanciale ($2) or the friend green tomatoes with pimento cheese ($5). Move onto an appetizer like the green gazpacho with smoked mussels and garlic croutons ($7). For an entree, try the spicy shrimp and grits ($23) with sea urchin, lobster, and basil. Don't forget the BBQ ribs ($19) or chefs' choice ($16). Oh, and make sure to leave room for the chocolate banana cream pie with sea salt caramel and roasted peanuts ($7).
The Vanderbilt House Hotel
161 Main Street, Philmont. (518) 672-9993
www.vanderbilt-house.com
A new owner and remodeling at this 1860 hotel has brought a restaurant focusing on new American cuisine. "We draw our influences for our food from all the cultures of the world," says owner Bob Mansfield. "We believe that what made the American nation great was the assimilation of many cultures." Vanderbilt sources food locally and recently hired a new chef, Brian Alexander, a graduate of the Culinary Institute of America. This fall, try new items like the port wine-braised beef short ribs with local sweet corn ragu and sauteed swiss chard ($21) or the apple Dijon-glazed grilled pork chops with braised local red cabbage and German potato cakes ($18). Taste the baked lemon-pepper tilapia with roasted beets, blue cheese, walnuts, and basmati rice ($16). Try the banana split pie ($6) or the bread pudding ($6) for a nice finish to the meal.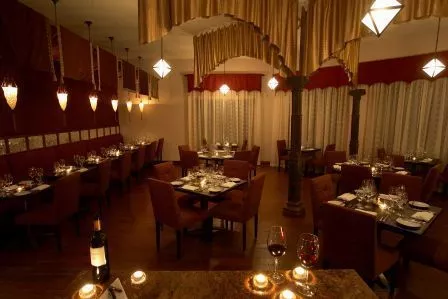 The Phoenix in Mount Tremper.