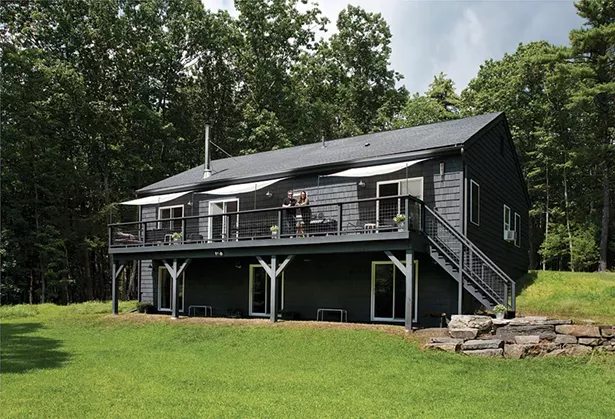 Deborah DeGraffenreid
Kate Cummings and Griffin Stenger on the deck of their New Dutch Vernacular home. Their 12-acre property is bordered by a pond on one side and the beginnings of the Kripplebush Creek on the other.
Kate Cummings is fascinated with stuff. Whether it's antique or modern, whether it's printed on paper, made of fabric, or crafted from wood, every thing tells a story, and Cummings wants to understand what that story is. With her company, Freestyle Restyle, the interior designer specializes in helping clients work with the objects and desires that are most important to them—whether it's an heirloom blanket or starting a family—and then consciously use those things to build the home, and the lives, they want. If they don't know, she'll help them figure it out: Cummings is passionate about understanding clients and helping them understand themselves. "We constantly reinvent ourselves throughout life, but our homes often stay static," she explains. Instead, Cummings helps clients chose elements to build a new story around. One part therapy and one part spatial relations, with an emphasis on the art of manifestation, her practice is "a little off the beaten path," she says. "I'm interiors, but to the left."
The 2,000-square-foot cabin style home she shares with husband, Griffin Stenger, is a great example of this quirky philosophy in action. Built between 2009 and 2011, the home is filled with the couple's cumulative lives together. Each piece exists in its own right but is expertly blended to tell their shared story. Like one of the ever-changing collages that line their walls, it's a colorful mix of artful design and surprising juxtapositions. And, like any good story, it's constantly evolving.
Paper Epherma
The couple officially met in 1998 when they both worked at an advertising agency, but they suspect their paths first crossed years before. In the `80s, Stenger was attending Parsons School of Design in Manhattan and tearing tickets at the legendary Quad Cinema on 13th Street. Cummings and her parents lived close by, and the family often attended the art house screenings. "We realize he must have taken my ticket at least once," explains Cummings.
Deborah DeGraffenreid
The couple renovated the home's original kitchen. They hired local blacksmith Jonathan Nedbor to create a Parson's table frame expanding the original kitchen island. Barra & Trumbore Stone Fabricators created the Jet Mist granite island top and white quartz counters. "This is the most fun kitchen we've ever had," explains Cummings. "We've had 14 people in here cooking and still were able to move around comfortably."
Fast forward to their brief romance in the `90s. "She dumped me," Stenger recalls bluntly—but it was really only the end of their second act. Stenger, whose father and grandfather were both ad men, repurposed that role for a modern era—working with multiple agencies and eventually becoming a partner at Concept Farm, a Manhattan-based advertising firm. Cummings followed her true calling into interior design, a field she knew well from the women in her family, who all had a flair for decor and business savvy.
Cummings honed her craft at multiple design offices, reimagining the interiors of everything from large estates to city apartments. Along the way, she realized that not only did she inherit the family talent for color and texture, she had a knack for translating her clients' values and aspirations into their material environments. A job at Lillian August, a large furniture retailer and design center, moved Cummings to Connecticut. When Lillian August opened a new store in Manhattan, Cummings decided to return. That's when she and Stenger reconnected. This time their bond stuck, but professionally Cummings was ready to strike out on her own and began "Freestyle Restyle" out of their Manhattan apartment.
Suntan Pantyhose
In 2012, the two began looking for a weekend house upstate. An avid bicyclist, Stenger had fallen for the Hudson Valley's wooded backroads while visiting friends and knew he wanted a permanent residence in the region. Cummings has a passion for historic homes and a long smoldering crush on country houses. Each separately found the Accord property online during the workweek and scheduled a viewing for the following weekend. When they got a chance to compare notes, they realized that not only had they discovered the same place, they'd both requested a viewing.
Deborah DeGraffenreid
The "renovation station" at the entrance of their home. Cummings describes herself as "part sentimentalist, part archivist." "I like to remember things and I collect paper ephemera—everything eventually ends up turning into collages on the walls." 
Cummings spends time in each space before she begins a project. "Every space has a particular energy," she explains. "Some are innately happy, others are innately peaceful." The four bedroom, four bath home was painted tan inside and out (or "suntan pantyhose," as they like to call it) with dark interiors, brass fixtures and a kitchen dominated by a giant diner stove—all of it decorated with the occasional piece of barbed-wire art. "Maybe we had beer goggles on, but we didn't notice those details—it was the wood that sold us," remembers Cummings. Solidly crafted from red oak and sugar pine milled from the surrounding 12 acres, the home featured wide plank floors and exposed ceiling beams. With two master suites, an unfinished walk-out basement, and an adjacent two-story barn it also had space enough for the couple to grow. By the spring of 2012 the house was theirs.
Rock, Paper, Scissors
Over the ensuing five years, they have renovated the home into a light-filled, airy haven that integrates all the disparate elements of their lives into one eclectic, living collage. Each space, anchored with a piece from their respective pasts, is decorated with a mix of both high and low art; a blend of treasures they've gleaned from flea markets and antique shops, sentimental artifacts, and practical pieces from mainstream outlets. Colorful framed prints line the walls, interspersed with photos and mementos inspired by the wooded surroundings and patches of Fornasetti wallpaper depicting a stormy sky.
By tearing down a wall of one master suite, the couple extended the upstairs into a large L-shape with an open kitchen and living and dining areas. They added a picture window at the home's entrance and expanded the front door frame, replacing it with double French doors of glass. Along the threshold, rubber kitchen matts demarcate a six-by-fifteen-foot mudroom area—capturing seasonal debris while adding a twist of industrial style. Between the hall closet and the entrance area, an office nook serves as the couple's "renovation station," where Cummings has transformed two corner walls into a vision board pinned with sketches, postcards, magazine covers, and the even the occasional seed packet to provide inspiration.
Deborah DeGraffenreid
The couple's living room is decorated with a blend of pieces from each of their lives. "I'm trying to create a haven for people," Cummings explains about her work. Successful interior design is a combination of understanding the integrity of an individual space, as well as the people who are living in it and how they want to live."  
The kitchen's transformation exemplifies Cummings's technique of taking existing ingredients and tweaking them to fit a new story. The original corner kitchen included a woodblock island set at an angle. "You had to run a marathon around it to cook dinner," Cummings remembers. To maximize the space, they pivoted the island and then hired local blacksmith Jonathan Nedbor to build a six-by-seven-foot stainless steel Parsons table frame. Barra & Trumbore stone fabricators created a marble slab top and matching counters. They replaced all the appliances (including the diner stove) and added a white ceramic tile backsplash. The cabinetry was kept—but updated by replacing the center panels with frosted glass and painting the remaining wood white. The home's three upstairs bathrooms were similarly updated by framing the mirrors and adding new hardware to the original vanities.
Past the kitchen, the dining area and corner living room look out two south-facing glass sliders over the deck to woods and a fern gully below. Between the sliders, where there was once a wall, is now a white Malm fireplace on a black, rolled steel hearth created with help from architect Steven Keith and designer/builder Jack Decker. To extend the forest ambiance, Cummings found curtains printed with the stenciled outline of bare trees. Gray sliding barn doors separate the living area from a small guest room behind. The remaining master suite was left intact and has an additional glass slider leading onto the deck.
Deborah DeGraffenreid
The couple's bedroom overlooks the back deck and is decorated with pieces inspired by their wooded surroundings. The artwork above the bed, Ursa Major Lost At Sea by Aliene De Souza Howell, was purchased from One Mile Gallery in Kingston.
The Hullaballoo
Downstairs, the furnished but not quite finished walk-out basement is a nostalgic ode to creativity, childhood, and the couple's evolving story. Two guest rooms and a studio space are all connected by radiant heat concrete floors shaded red and glass sliders leading into the backyard. Cummings's old writing desk and textbooks sit under a framed map of Paris in one room. The second is outfitted with two sets of bunk beds and a large costume closet for the couple's seven nieces and nephews. A hidden shelf of Stenger's old toys sits behind the bunkbeds, and the room is decorated with artwork from their school days. "These rooms are filled with great memories," Cummings says.
Deborah DeGraffenreid
The couple's dog, Jonsey, keeps watch over the home's light-filled entrance.
Case in point: The remaining downstairs room—windowless and empty when they moved in has been reinvented with a projector, screen, and comfortable seating. Once the couple bought the home, they decided it was the perfect setting for their next act: They were married in the backyard. After the ceremony, family and close friends piled in to watch a movie. This time, however, there were no tickets to tear, the couple sat together, and the show was less high art and more hijinks: Austin Powers: International Man of Mystery set the tone for their next chapter. "You always take your old story with you," Cummings says.
Deborah DeGraffenreid
The whole family gathered on the back deck. Decorated with simple awnings and a beer garden table, it's a popular summer spot. A high powered telescope—a wedding gift from Stenger's office—helps them take advantage of the dark, upstate nights and keeps them starry-eyed all year long.  
Deborah DeGraffenreid
"Something I love about Kate the most are her collages, which are everywhere and always slightly different—it's like a living house," explains Stenger. "Once I was up here when I was horribly sick.  I was just lying on the couch, feeling terrible and looking down. Then I noticed, down in the corner next to the sliding door there was a little collage—even in that corner no one would normally notice. There are little collages everywhere."