Seasoned Delicious opens at 10 Cedar Street on September 26.
Tamika and Martin Dunkley are used to going with the flow. In 2016, when the couple founded their Caribbean catering company,
Seasoned Delicious
, and were met with an influx of recipe requests, they launched a line of seasonings, sauces, and marinades. When they outgrew their manufacturing facility in Saugerties, they found another in the Finger Lakes and increased their volume to meet the growing wholesale and online retail demand. And earlier this year, when their cooking for
Ulster County's Project Resilience
spawned a tidal wave of inquiries about their nonexistent brick-and-mortar, they thought, why not?
"We really had toned back the catering side of our business, because the distribution and manufacturing had taken off so rapidly," Tamika says. "But when Project Resilience came, we fed close to 2,500 people. And people would call about our brick-and-mortar and call back the next week and the week after asking. Finally we were like, 'OK, we cannot deny this.'"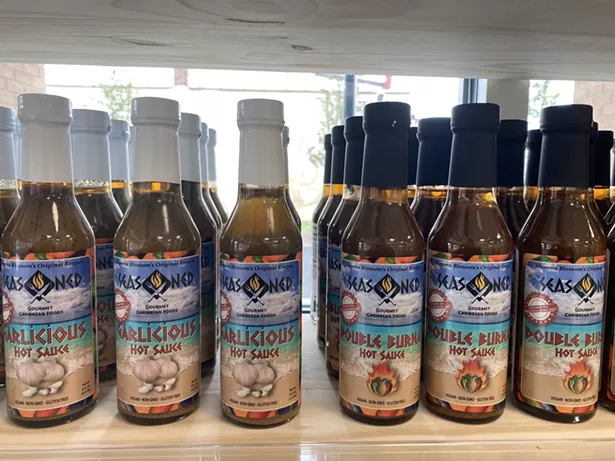 So, tomorrow, September 26, Seasoned Delicious will celebrate the grand opening of its market and cafe at 10 Cedar Street, part of RUPCO's recently completed Energy Square building. The small menu features Carribean and Southern favorites like jerk chicken and pork, fried fish, mac 'n' cheese, and potato salad. You'll be able to customize your order, getting your protein as a main with sides or turning it into a sandwich.
The marketplace carries a range of foodstuffs and personal care products, from their own line of sauces and spice mixes to fruit preserves, body butters, snacks, and pantry staples from small businesses. "We've pledged to have 90 percent of our products be from minority- and women-owned businesses. Right now, it's 98 percent," Tamika says. Some of the products on the shelves are from local businesses that the Dunkleys have mentored in the past year through their nonprofit Seasoned Gives, which offers support and business advice to minority entrepreneurs, from how to navigate manufacturing, to securing financing, to navigating pandemic stimulus support.
The product selection hints at the Seasoned Delicious's broader community-minded mission. "In any community where you invest, support, shop, it's important to see a reflection of yourself in the businesses that surround your community," says Martin, who is Jamaican-American. "Unfortunately people in the Black and brown community don't get that. We don't go to the store and see ourselves, we don't go to the bank and see ourselves. The most impressionable thing you can do for a child is give them something tangible, give them something that they can visually connect with."
The same ethos of visibility drove the Dunkleys to launch the Caribbean Carnival in 2018, in Saugerties of all places, which is where they live. The first year, the festival drew over 3,000 people, and by the second year that number passed 10,000. "It was just a sea of black, white, and everything in between," Martin says of the festival's diverse attendees. "It doesn't matter who you are or where you come from. We want to infuse the same type of energy here, where everyone can be free to express themselves and feel like family."
They are planning on hosting live music on Friday and Saturday nights with food specials. The Support Your Neighbor program will offer customers a discount on their order when they buy extra products to go into the free community pantry. "Everything Tamika and I have thought about as far as entrepreneurship has been to give back," Martin says. "We want to amplify the pulse and the vibration, and raise the community up with us."
The restaurant will serve as a space for Seasoned Gives mentorship meetings, and they'll also collaborate with Energy Square neighbors Center for Creative Education (CCE) and Midtown Arts District (MAD). Free wifi will be available for students and adults studying and working remotely during the pandemic. The Dunkleys have plans to winterize and heat the covered patio to expand seating space. And if COVID gets bad again, both the restaurant and market will be open for online ordering and curbside pickup.
"Everything we do is borderline insane," Martin says with a laugh. "Opening a restaurant in a pandemic, starting a Caribbean festival in Saugerties. I don't want to say we go where we're not wanted, but we do break barriers. If you aren't going to invite us to the table, we're going to build our own. And if we fail, we fail. We'll get up and brush ourselves off. But—knock on wood—we haven't failed yet."
The grand opening is on Saturday, September 26, with a ribbon cutting at noon and live music starting at 5pm. In the mood for celebrating new Kingston businesses? After you lick your fingers clean at Seasoned Delicious, hop over to Tilda's grand opening at 630 Broadway, Kingston from 4-8pm.

Seasoned Delicious will be open Wednesday, Thursday, Sunday, and Monday form 11am-8pm, and Fridays and Saturdays, 11am-11pm.